Brian Walker II on Mask-Making, Indigenous Spirituality, and Cultural Renewal
October 2023
By Francesca Du Brock, Chief Curator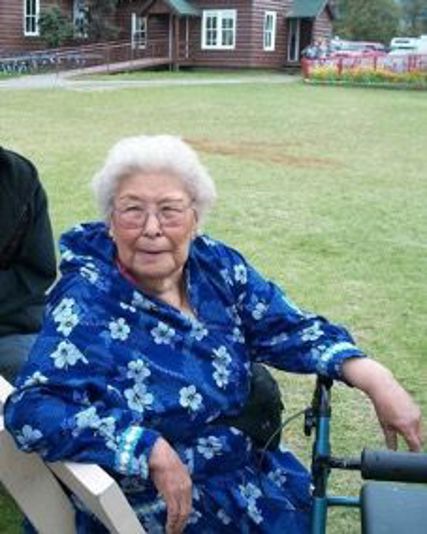 The artist's grandmother, Helen Pushruk, at the Alaska State Fair in 2012.Artist Brian Walker II is Iñupiaq from King Island on his mother's side and Deg Hit'an Athabascan on his father's side. He grew up in Eagle River, training in traditional games (Native Youth Olympics, World Eskimo Indian Olympics, & Arctic Winter Games). He spent his teenage years carving with his uncle Tony and learning stories and songs from his grandmother Helen Pushruk. He says, "I was learning from my grandma and then immediately going over to my uncle's house to carve King Island masks to dance with. It was a cool mix of absorbing traditional knowledge and then having a chance to immediately implement it." From there, he went on to study with Sugpiaq master artists Alvin Amason and Perry Eaton. He later continued his studies at the Institute of American Indian Arts in Santa Fe, New Mexico, where he graduated with his BFA in studio arts with an emphasis in sculpture in 2020.
Through studies with Amason and Eaton, Walker learned about his ancestor's Deg Hit'an mask traditions. He did not grow up with a strong sense of the artistic legacy of that side of his family, so he began producing masks inspired by his research as a means of reconnecting. Early reproductions of forms began to morph into a practice where he aspires to "take what my ancestors have done and move it forward." To accomplish this, Walker has experimented widely, incorporating found materials, metal, and glass into his mask-making and creating works with inventive compositions and dynamic coloring.

He feels grateful that his family, and particularly his late grandmother, have been supportive of artistic explorations that veer from tradition. "It was empowering for me," he says, "that my grandma would tell me: 'this is who we are and who we have always been. You will take us wherever we need to go.' The idea that culture isn't stagnant was really reinforced by her, as well as by Perry and Alvin, and by other artists I studied but never met, like Jim Schoppert."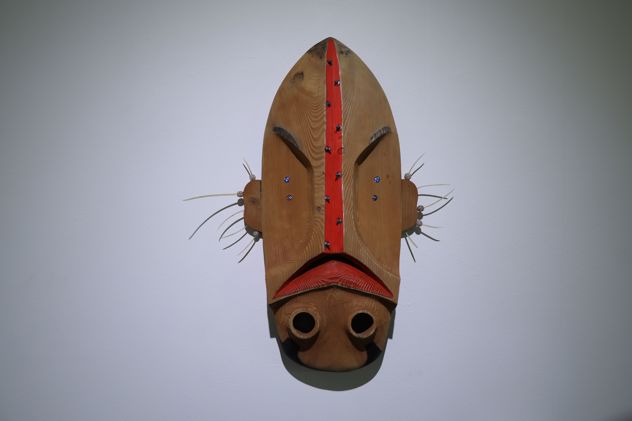 Reclamation for Perpetuation, 2023
In his most recent body of work, Walker considers communication between the physical realm and the supernal through shamanism and ancestral spiritual practices. A key artwork from that series, Reclamation for Perpetuation (2023), is based on the design of an Anvik-area shaman's mask Walker found combing through Sotheby's auction records. In the early modernist period, many western artists used Alaska Native masks and artworks made by global Indigenous communities as inspiration for their paintings and sculptures. Walker's work counteracts this process of appropriation and exoticization by performing a symbolic repatriation. His shaman mask is split down the center of the forehead, representing an intimate connection to the spirit world and a channel of communication between realms. The three mouths whistle, calling out into the unseen. The walrus whiskers convey the idea of listening for resonance or response, and the tire studs stand in for teeth. Walker explains, "Teeth are tools for you to grab things. They also help you articulate. So, in this shamanistic mouth, the teeth allow a spirit to grasp onto this plane and articulate, the same way tire studs help us maintain traction and control." Colonization has brought shame and silence to topics of shamanism and spiritual practices that Walker hopes to counteract with his mask-making. "This is about repatriation. Not only of the mask, but also of the knowledge that was taken from us. I want these works to be starting points for conversation and avenues for communication."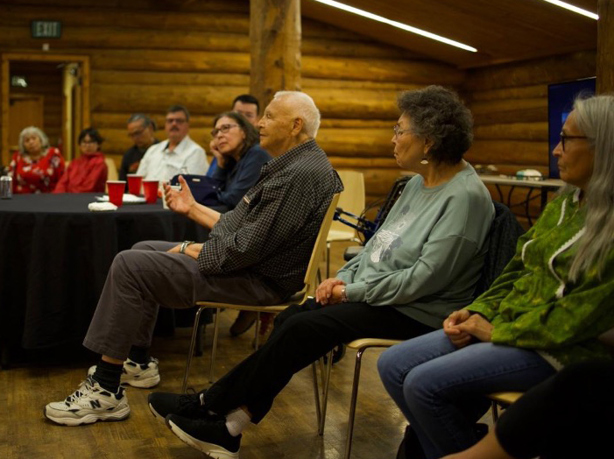 Community members discussing Indigenous spiritual practices, 2023.
Walker cites transmigration, or the idea of transformation after death, as an important concept in his practice, both at a material and conceptual level. He combines wood and non-traditional materials to create works that span generations and sensibilities, and he says this "parallels what's happening in our cultures, who we are as people. We are finding our voice again after we've gone through colonization. I'm trying to push, to use multiple materials. We're expressing ourselves in every medium to really convey our existence in the fullest and most holistic way."

After the conclusion of his most recent exhibition at the University of Alaska Anchorage, Supernal Enlivened, Walker hosted an event to discuss Indigenous mask-making and spirituality, bringing voice and renewed attention to cultural practices that have lain dormant due to oppression and discrimination.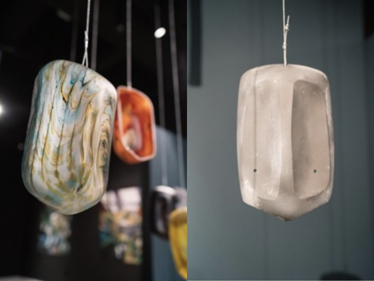 Daisy's Owls, 2019, a blown-glass series based
on stories from Elder and master artist Daisy
Demientieff, a Deg Hit'an elder and Deg Xinag
language holder. Walker says he enjoys the process
of glassblowing because it mimics the tradition
of shamans breathing life into a mask.
In addition to his practice as an artist, Walker also teaches art to students at the University of Alaska Anchorage and Indigenous STEAM. (science, technology, engineering, arts, and math) curricula at the Cook Inlet Tribal Council's 'Fab Lab'.

As an educator, he says he tries to be "the person that I had and was privileged enough to have when I was growing up," referring to his grandmother, his uncle Tony, and his mentors, Amason and Perry.
Being able to share knowledge is a gift, he says. "Knowledge is wealth, and when you're distributing that, then there's really a lifetime of reciprocity that happens between you and literally everyone else in the community." Connections and collaborations from this work have emerged across Alaska and beyond. "And all these opportunities to uplift each other—and that's really core to why I do this work.