DISCOVER THE NORTH THROUGH SCIENCE

In the 11,000-square-foot Discovery Center, visitors of all ages are introduced to Alaska and the Arctic through technology, interactive installations, artwork, marine-life tanks and more. The space is divided into several distinct areas, each providing an opportunity to learn about our Northern environment. Museum volunteers and educators engage visitors and answer questions. Facilitated Discovery Center science labs, held daily, encourage visitors to ask questions, make predictions and conduct experiments. Youth ages 6 and older can pick up a Discovery Center Science Passport from staff, document their museum science-related experiences and return it for an invitation to a special family science workshop later in the year. Children age 12 and younger must be accompanied by an adult age 18 or older.
Got a question about what's in the Discovery Center? Submit it here. We'll share some answers on the Discovery Center monitors.
LAND
Alaska's landscapes are constantly changing. Wind and water erode and transform rock and soil. Movements of the Earth's crust cause earthquakes and volcanoes. These physical processes shape the land in small and large ways. The science behind these processes reveals and explains Alaska's dynamic features.

SKY
Northern latitudes provide a distinct view of the sky. The Earth's tilt creates extreme seasons of light and dark. The long days of summer bring landscapes to life with sunlight. Dark winter nights reveal celestial activity that distinguishes the North, such as the aurora borealis. The science of the atmosphere and space beyond it define Alaska's distinctive skyscape.
Journey to the stars and take trips through the solar system in the Thomas Planetarium. In addition to taped and live full-dome programming on astronomy and space, the 530-square-foot facility hosts educational programs, films and immersive live or laser music shows. See planetarium schedule here:
WATER
Water is essential to supporting life on earth. Water takes three forms—liquid, solid, or gas. These forms are called phases of matter. Throughout Alaska's diverse environments, water appears in all of its forms, as liquid flowing rivers, solid glaciers, and as gaseous clouds in the sky.
INNOVATION
Local knowledge of how to survive and thrive in the North has developed through observation, inquiry and experimentation over thousands of years. Alaska's diverse environments, extreme climates, and distinctive resources inspire distinct problem-solving, research and design. Northern innovations provide important ways of understanding and responding to this dynamic place and highlight Alaska's role in developing a global understanding of human interaction with the environment.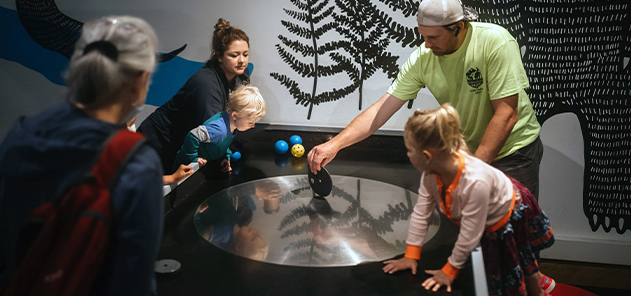 LIFE
Alaska is home to diverse plant and animal life. Certain species, such as salmon, are especially important to the health and sustainability of the various ecosystems of Alaska. These critical species upon which many organisms rely are called keystone species. Learning about the lifecycles of these keystone species reveals the complex interdependence of plant and animal life in Alaska.
HOME
Through hands-on play, kids ages 5 and younger with their caregivers can explore the theme of Home, located in the Tote Space. People have made Alaska home for tens of thousands of years. Alaska's lands, water, animals, and plants supply the food, shelter, and materials needed for communities to survive and thrive. The sense of home takes root in early childhood through play, family culture, language and story, and grows to create enduring connections between people and place. Programming for children ages 5 and younger takes place in this space throughout the year.
COLAB AND ART LAB
A hands-on learning environment for all ages, CoLab and Art Lab spaces foster the creative making process through the exploration of tools, materials and skills that highlight the innovative spirit of the North. A variety of family, teen and adult classes are held in these spaces throughout the year.
The Discovery Center is Generously Supported by: