The Gift of Presence: Erin Ggaadimits Ivalu Gingrich and Nuna (the Land)
August 01, 2022
By Francesca Du Brock, Chief Curator  
Artist Erin Ggaadimits Ivalu Gingrich was born in Fairbanks, Alaska, and raised in the communities of Fairbanks, Galena, Nome, Sitka, and Anchorage. Ivalu's Indigenous heritages are Inupiaq and Koyukon Athabascan, with direct connection to the communities of Nome, Utqiaġvik, and Nulato. Cultural subsistence practices passed down by her grandparents, parents, and family built the foundation for her relationship with wild places and what is harvested and gathered from them. Memories, dreams, and experiences of berry picking, hunting, and fishing are continual sources of inspiration for the artist, forming the groundwork of her arts and subsistence practices. Paying homage to the vast ecological diversity of her home, Ivalu's work depicts an array of Alaska plants and wildlife, "honoring the presence of wild beings in our environment and in our lives."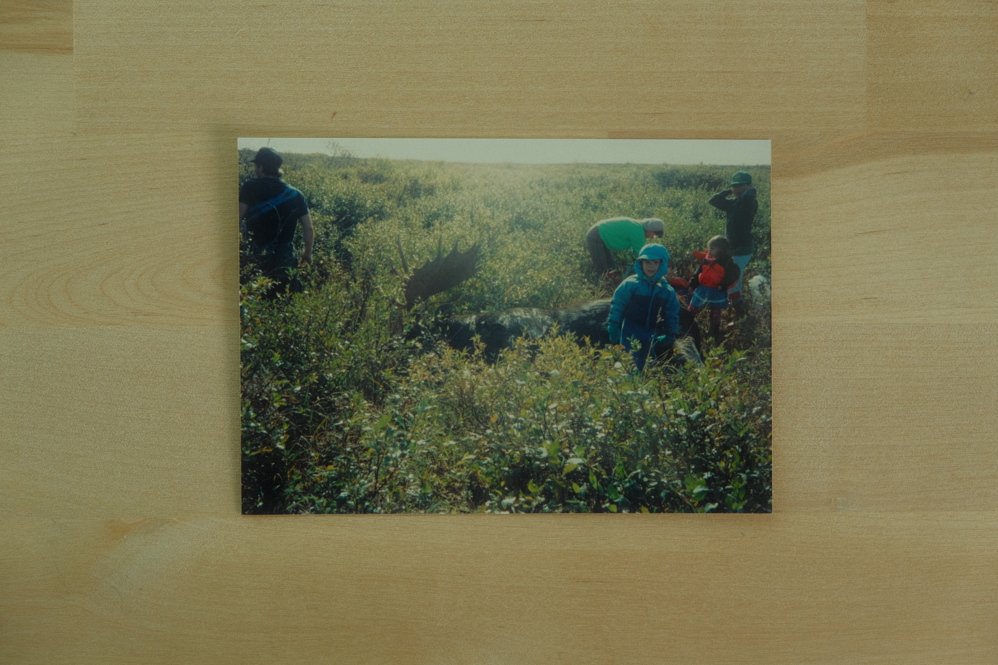 The artist as a child at her first family moose harvest  
Ivalu comes from a long line of artists on her mother's side of the family. Her creativity was nurtured from a young age through beading, sewing, photography, and, eventually, study at the University of Alaska Fairbanks Native Arts Center. Under the guidance of mentors like Da-ka-xeen Mehner and Kathleen Carlo-Kendall, Ivalu learned to carve wooden sculptures and masks. "I create using art forms that are rooted in my Indigenous heritage, such as regalia and mask making," she says. Early design choices to paint and embellish sculptures with beaded elements helped Ivalu develop her distinctive style. Current works depict plants and wildlife such as seals, salmon, berries, caribou, and ptarmigan. Her work honors how these beings sustain Indigenous lifeways while also existing as "inherently beautiful presences" in our lives and environment.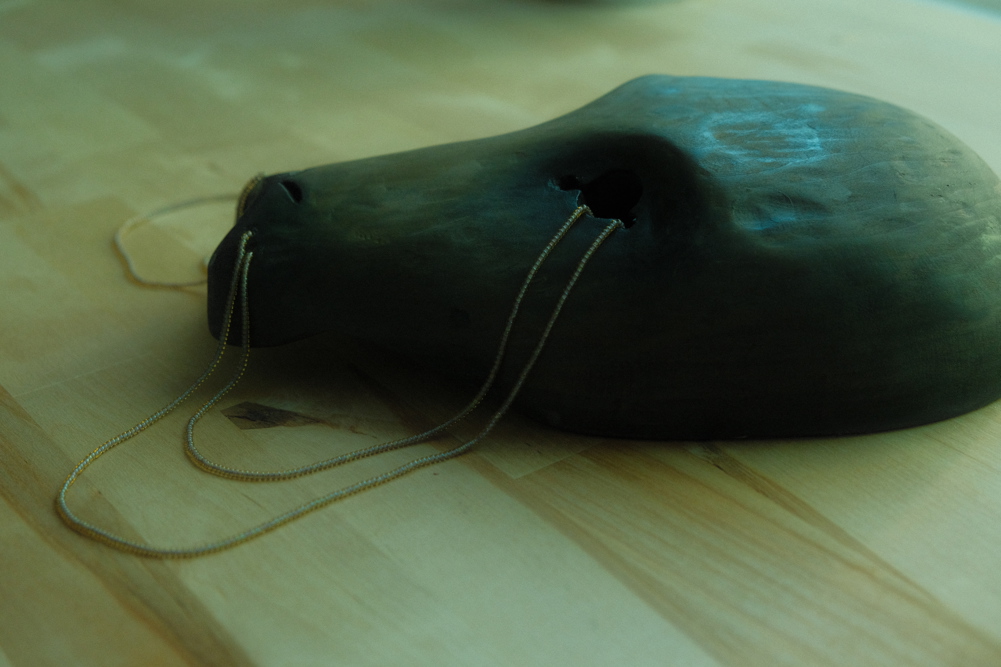 The first seal mask created by Ivalu 
Recently, Ivalu has been titling her works to include the name of the lands where she and her family harvest. This comes from a sense of responsibility to the land and a desire to acknowledge the importance of healthy ecosystems in sustaining all life, including human life: "I name the places I harvest because wildlife requires a wild place to live in protection and safety…it is time to honor the land that feeds them and what keeps them here with us."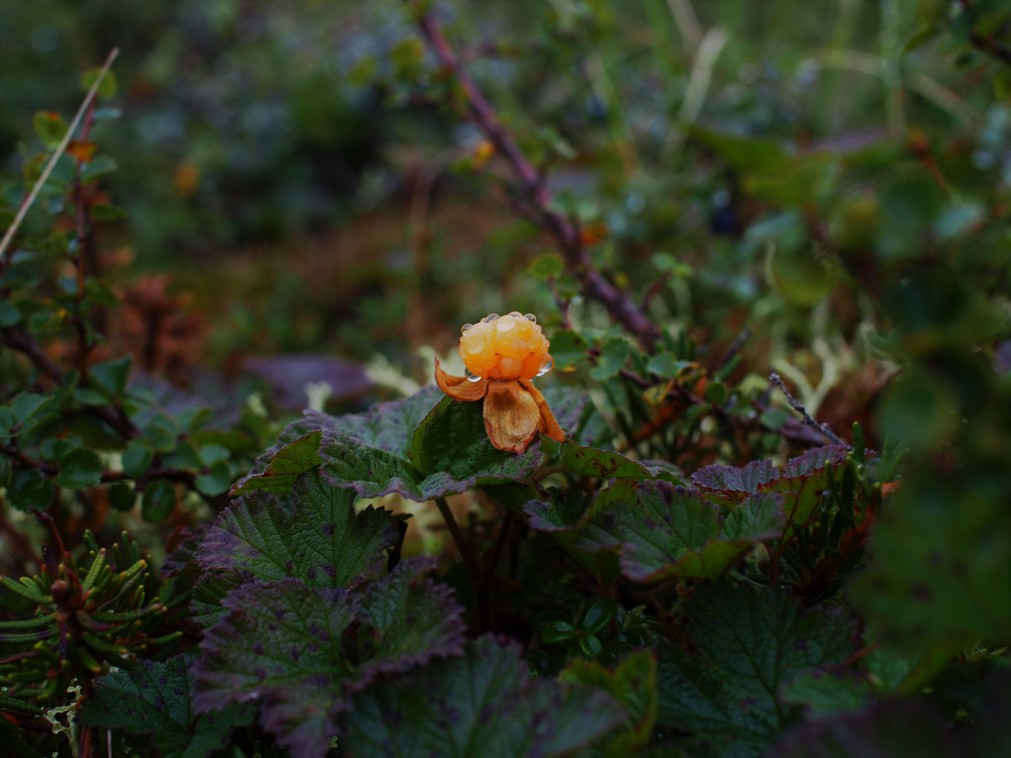 Aqpik in the tundra at Kanoma Gulch outside of Nome, a special place for Ivalu. 
Ivalu's practice of honoring Alaska's lands, plants, and animals is underscored by a rapidly changing Northern climate. It's impossible for people in the North to ignore the changes, Ivalu says. All forms of life are being forced to adapt, often at unsustainable speeds. While unfolding climate disruptions are creating environmental instabilities, Ivalu says she wants to represent the power of her wildlife relatives and foreground their adaptative capacities in her upcoming bodies of work. Wild beings, she says, have always been adapting, migrating, and transforming: 
My ancestors were inspired by the change in the wild beings around them. When the salmon enter freshwater from saltwater, they change color—the fish transform. Change in relationship to environment, to lifecycle, to growth—it's a natural process. Wild beings have this power. It's adaptive, and it helps them navigate this world…we could learn so much if we were willing to honor the ability to adapt, transform, and live in a different way than we have been.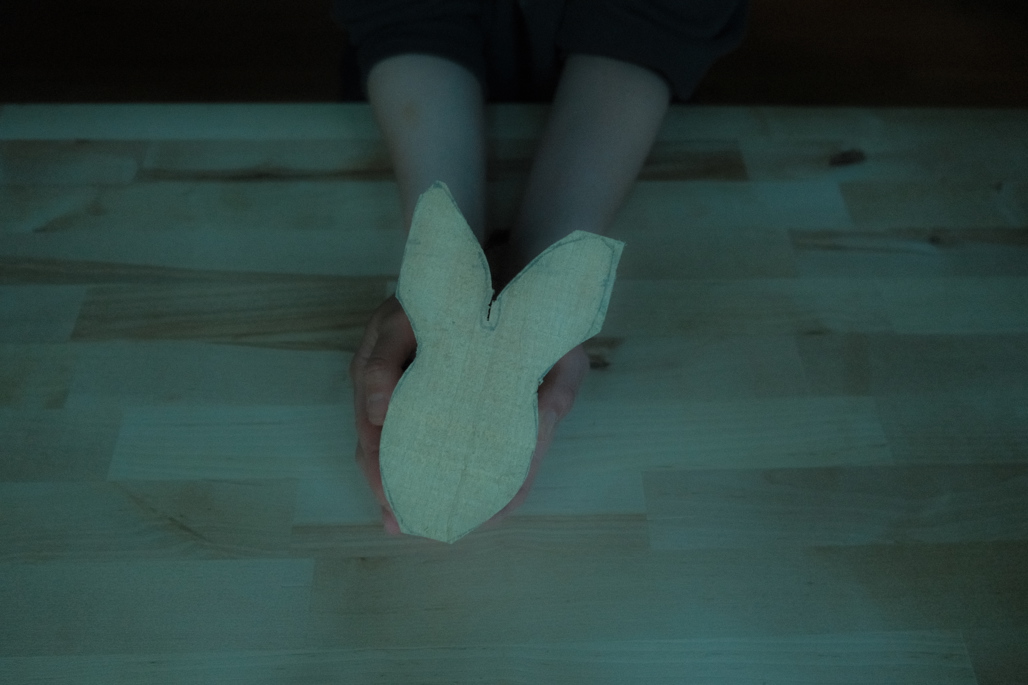 The artist with one of her works in process, an ukalliq (snowshoe hare) 
"My ancestors designed and developed complex systems of reciprocity to live in balance, not taking too much from the world around them," Ivalu asserts. Referring to masks with small thumbs or hands carved with holes, Ivalu explains that these are visual representations of a reciprocal relationship with nature and a reminder to only take what is needed. Her journey as an artist about honoring the relationships between land and wild beings—a connection passed down from her ancestors—and sharing the Arctic and Subarctic realities of Indigenous subsistence: 
Honoring what feeds us here in the North has been a practice of my ancestors since time immemorial; I am continuing this work through representations of the beautiful and wild beings that give themselves to us as gifts based on the respect and treatment of the land and wild resources here. Subsistence feeds me, my work, my family, and my community, and our survival is dependent on our treatment of wild places and the wild beings we share them with. 
Header image: Portrait of the artist. Photo by Brian Adams.
Support for this Virtual Artist Residency has been provided, in part, by the Art Bridges Foundation. Follow along with Erin Ggaadimits Ivalu Gingrich's residency for the month of August via the Anchorage Museum's social media channels, and stay tuned for her livestream studio demo on August 29th via Facebook Live.