Sequoya Hayes on art, wellness, and Black speculative worlds
April 01, 2022
By Francesca Du Brock, Chief Curator  
Sequoya Hayes grew up in Chicago. Her parents, from Mobile and Selma, Alabama, were active in the civil rights movement and nurtured a sense of community advocacy, care, and social justice from a young age. The stories her parents and grandmother related about what it was like being Black in the Deep South form "the crux and the foundation" of Hayes' work. Both as an artist and as a social worker, she focuses on the health and wellness of individuals and communities and mending wounds associated with capitalism, patriarchy, misogyny, misogynoir, anti-blackness, and homophobia.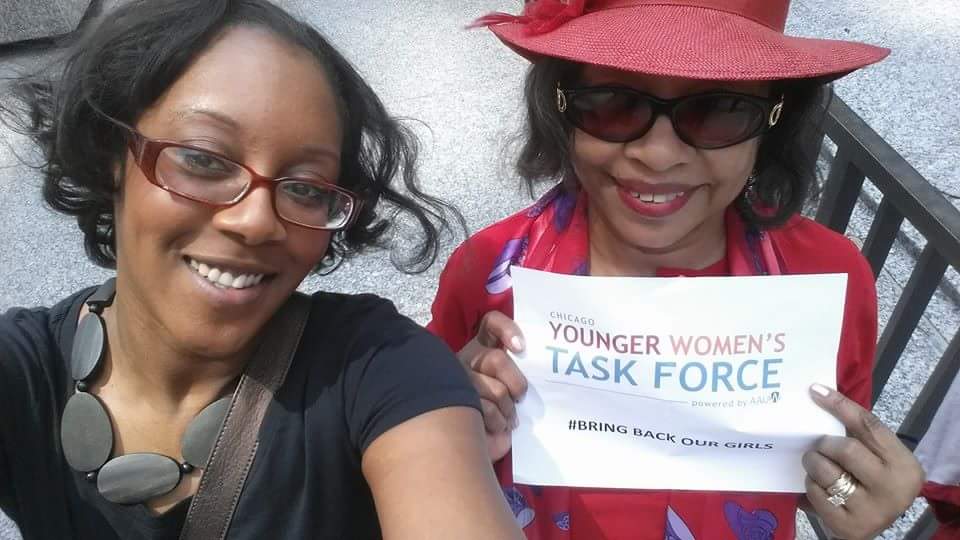 Hayes, Chapter Director of the Younger Women's Taskforce Chicago, attends a 2016 #BringBackOurGirls march in Chicago, with her mother, Emma James-Moore
Hayes enjoyed making art from a young age, creating drawings, collages, and assemblages from found objects. In high school, Hayes was selected by her art teacher to attend a special program where she worked with artists-in-residence at the Museum of Contemporary Art Chicago to deliver art programs for children. After graduating, she followed her love of art to the Savannah College of Art and Design. Forced to drop out after her freshman year due to a lack of access to resources and support, she sought to stay connected to art and creativity in her subsequent career path as a social worker.
While in graduate school for social work, Hayes traveled to Cape Town, South Africa, where she volunteered at a shelter for survivors of domestic violence. There, she developed a creative expression class for mothers and children, using collage as a way of processing and talking about difficult experiences. Later, Hayes joined Black Lives Matter Communal Healing, a group of Black therapists and social workers who partnered with the School of the Art Institute of Chicago to facilitate bi-weekly sessions pairing artists and mental health professionals to explore topics of mental/emotional health and wellness.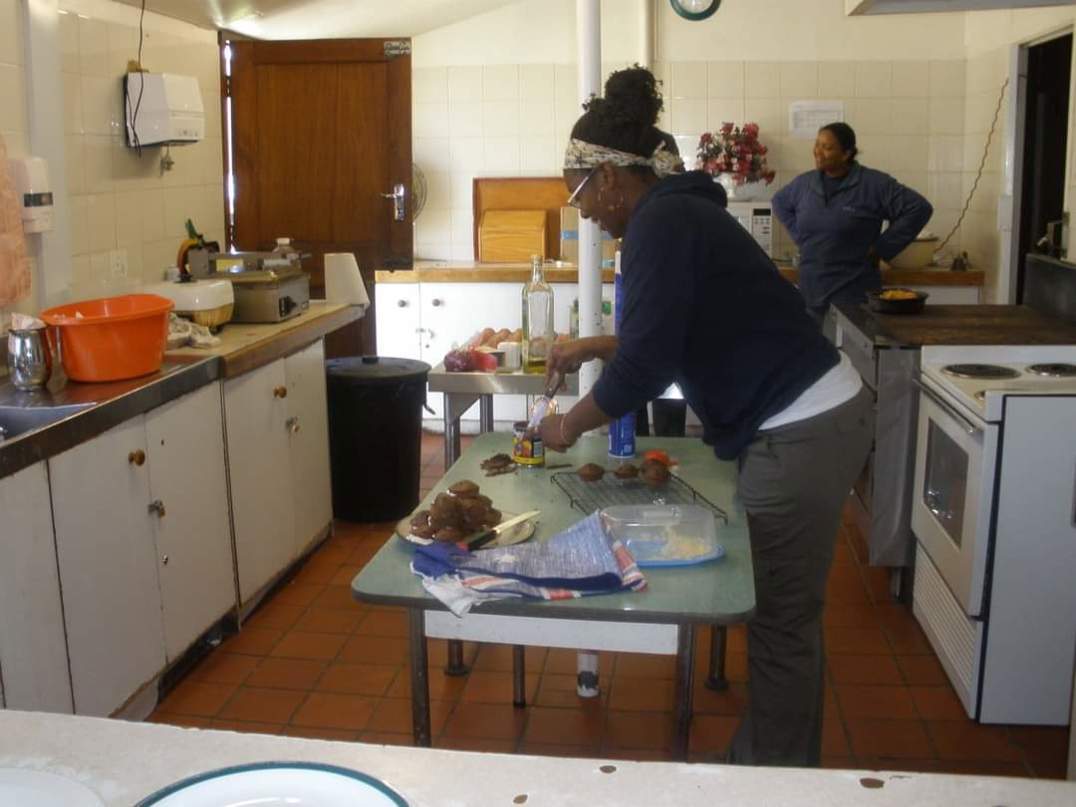 Hayes preparing food in the women's shelter in Cape Town, South Africa.
Hayes is now reconnecting with the personal art practice she put on hold after leaving art school. She has been working primarily in sketchbooks and digital collage, creating images that evoke her love of Black speculative fiction and Black American folktales. Inspired by writers like Helen Oyeyemi, Nnedi Okorafor, Octavia Butler, and Maya Angelou, as well as mythology and fairytales, Hayes creates dreamlike images that speak about Black identity and liberation. Often featuring Black femme or nonbinary characters in states of repose or abandon, her collages emanate a sense of peacefulness and possibility.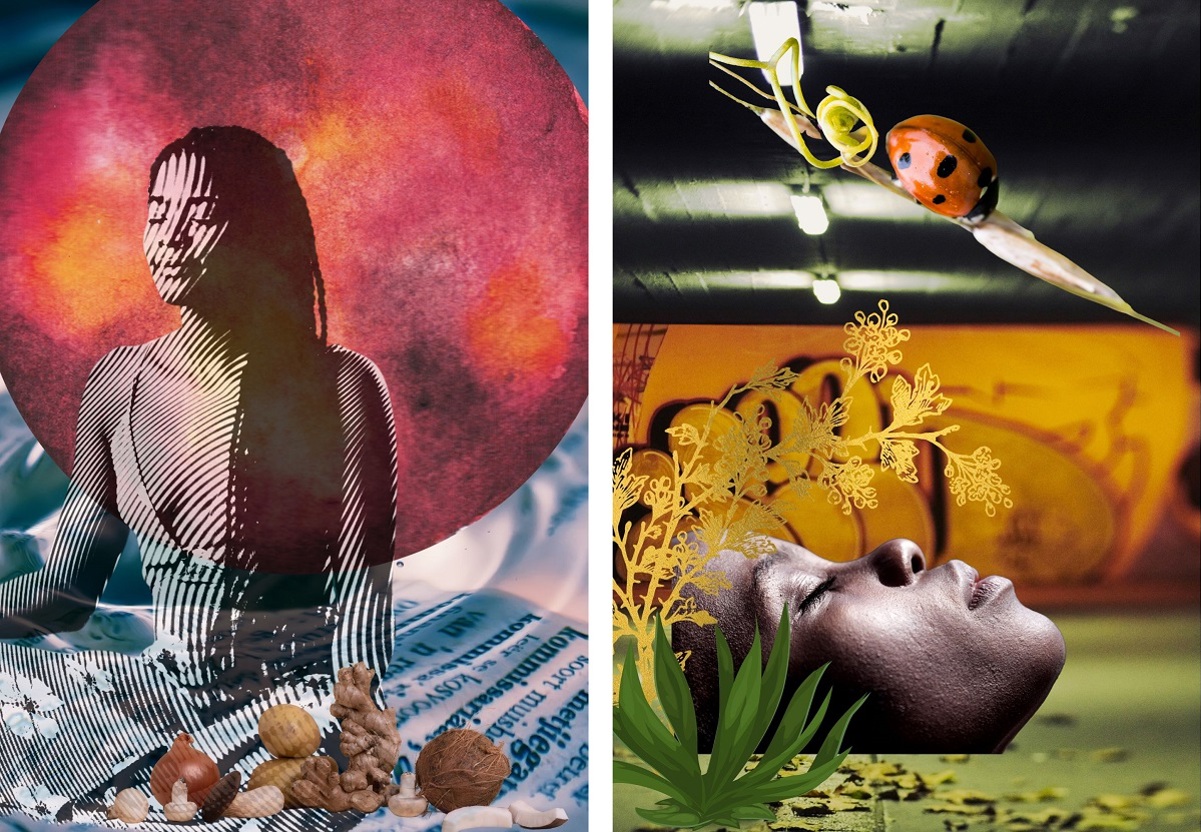 Left: Asana, 2022 Right: Concrete Ladybug, 2020
Reflecting on her path through art and life, Hayes underscores the importance of representation and exposure to new experiences for young Black people. Hayes moved to Alaska during the pandemic, a transition inspired by her father, who worked as an electrical engineer in Kodiak before she was born. She grew up hearing stories about "ice fishing, bears, and salmon," experiences she considered unique for a Black man from Mobile. Hayes says she was drawn to Alaska because it played such a pivotal role in her father's life. She draws corollaries between this and her experience at the MCA as a teenager, being shaped by artists like Kara Walker, Simone Leigh, Mickalene Thomas, and the Tillet sisters: "For me, coming to Alaska wasn't impossible, wasn't unimaginable, because my dad talked about it…I also grew up seeing Black women, black bodies, black people in art pieces. Those have been the stepping stones for me to be able to realize myself…because someone else normalized these kinds of experiences for me."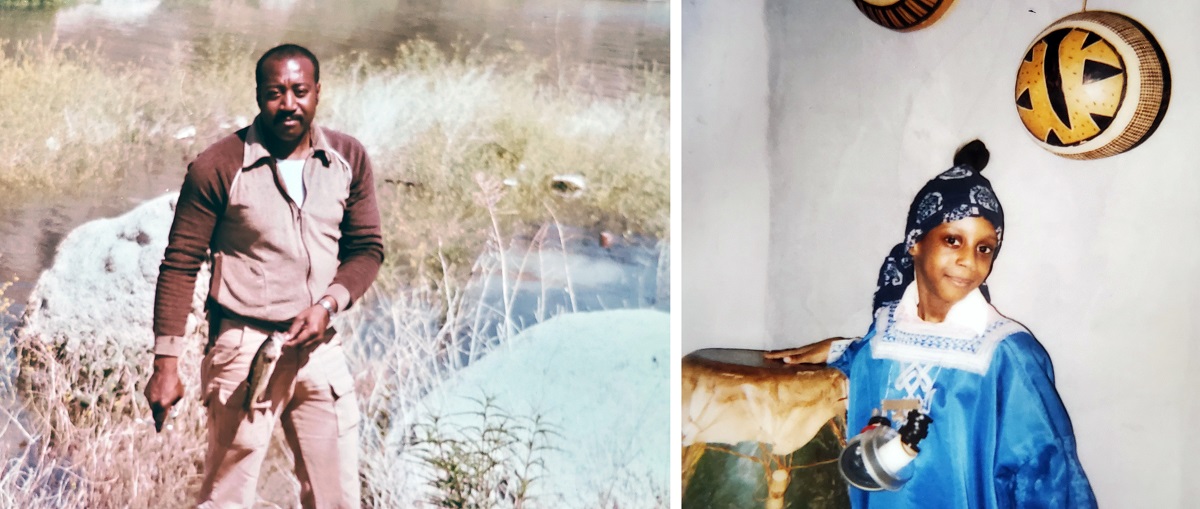 Left: Hayes' father Jimmy Hayes fishing in Alaska. Right: Hayes dressed in African attire for a 1st grade Black History Month program.
For Hayes, art is a way of "imagining and seeing myself in these very loving, supportive, futuristic spaces," and offering that opportunity for others. Citing her young nephew as one of her guiding inspirations, she strives to be an example for him to follow, as her parents and grandparents were for her.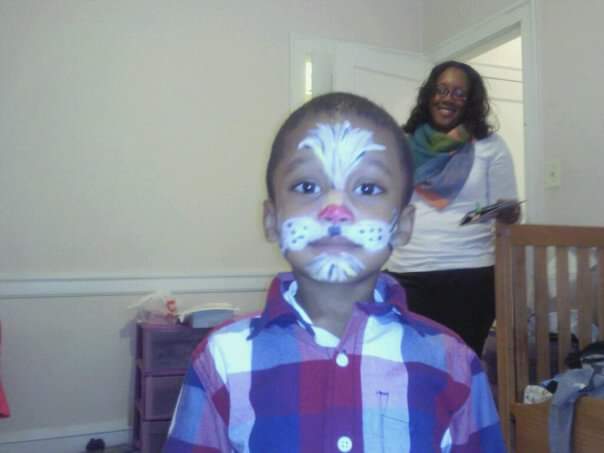 After painting his face, Hayes and her nephew, Royal Armstrong, on the way to see the Broadway in Chicago production of "The Lion King."
Header image: Lightcodes
Support for this Virtual Artist Residency has been provided, in part, by the Art Bridges Foundation. Follow along with Sequoya Hayes' residency for the month of April via the Anchorage Museum's social media channels and stay tuned for her livestream studio demo April 27 at 4 p.m. on Facebook Live.