Culture, Community, and Transformation: The Art of Indra Arriaga Delgado
July 01, 2022
By Francesca Du Brock, Chief Curator
Artist Indra Arriaga Delgado grew up in Carrizal, a rural town in the Mexican state of Veracruz. Her early connection with art didn't come via institutional channels like schools or museums: "I didn't necessarily have to go to a museum to see paintings, or to a concert hall to hear music. Art was everywhere – in the streets and public spaces." This early understanding of creative expression as part of the social fabric of a place continues to inform Arriaga Delgado's practice as she develops projects that extend from her studio into community collaborations, films, radio, and social justice work.
Tracing a line northward from Veracruz to San Antonio, San Francisco, and eventually, to Anchorage, Arriaga Delgado has been shaped by the communities she's become a part of along the way. As a queer person of color and an immigrant, her artistic practice plumbs public as well as deeply personal realms. Visibility, representation, and social justice concerns intertwine with work that explores childhood memories, family lore, and a sense of personal belonging.
The artist in her studio, 2021
Arriaga Delgado arrived in Alaska in 2003, to a more disperse and less visible Latinx community than that of Texas or California, where nearly half the population identifies as Latinx. On her first Alaskan Día de los Muertos, an important Mexican holiday honoring deceased ancestors, Arriaga Delgado organized a public exhibition in a small gallery. People came out of the woodwork to participate, adding their offerings to her display. Eighteen years later, the annual Anchorage Muertos celebration draws hundreds of celebrants with food, music, dancing, and altares created by community members. "I think that is characteristic of the work people do in Alaska across the board," Arriaga Delgado reflects. "There is a need for a lot of things…and so we create spaces to fill those needs. I probably never would have done this if I'd stayed in San Francisco, because it already existed. In Alaska, if you want to see something happen, you have to make it yourself." 
Día de los Muertos co-organizers Macuca Cuca and Itzel Zagal, 2019
Other efforts to elevate Latinx stories include the creation of Sabor Ártico (Arctic Flavor), a recent film she produced and directed. Focused on the influence of Latinx culinary traditions on Alaska and the ways Alaska and Mexico are linked through Indigenous food traditions and customs, the film weaves together interviews with cooks, farmers, restaurateurs, and food sovereignty advocates. Arriaga Delgado also co-hosts a Latin music program with Paula Cerda on Out North Radio, De Son a Song. Offering music from different eras and regions of Latin America, the program can be streamed online and occasionally receives calls from listeners as far away as the East Coast and Mexico. Arriaga Delgado enjoys these collaborative and participatory modes of creation because "they involve people, and people surprise you."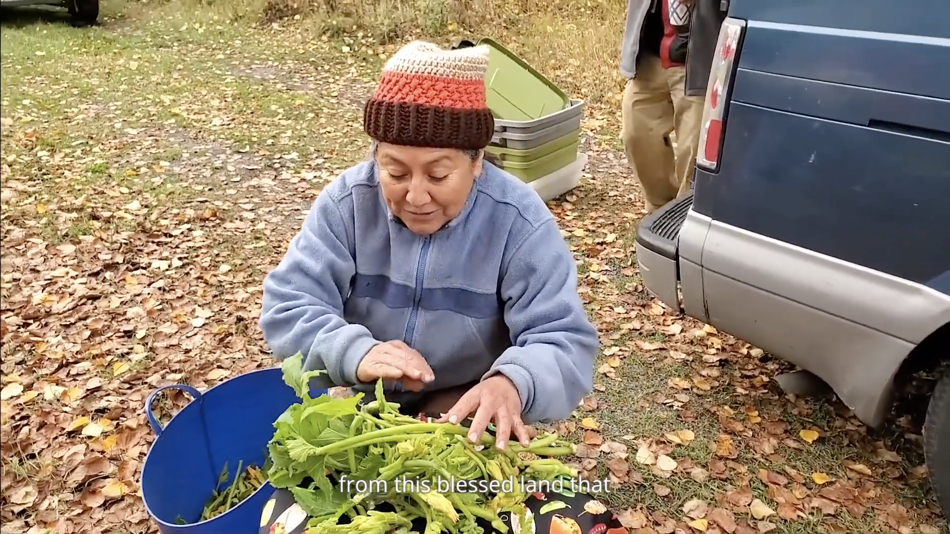 Sabor Ártico film still of Soledad Bautista Lescas and her harvest of squash blossoms, 2019
Music might be considered the bridge between the two realms of Arriaga Delgado's practice—one built with and for community—and the other more private and inward facing. Songs can catalyze connection with certain moods or emotions, and Arriaga Delgado's paintings operate in a similar way, exploring feelings, memories, and dream spaces. They are often informed by her shifting place within and between different worlds—proximity to and distance from Mexican society, her family, and various romantic relationships. The blending of symbols and everyday details lends an almost retablo-like quality as the works become containers for story and personal mythmaking.


| | |
| --- | --- |
| | |
| It All Happened One Night, 2005 | Bonbon, 2011 |
A current project, Etimologías Opacas (Opaque Etymologies), uses the process of translation to examine the relationship between the artist and her pre-Hispanic heritage, colonialism, the challenges of cross-cultural communication. Inspired by a chance mistake while preparing a plate for printmaking, Arriaga Delgado began to ask herself the simple question: where did I lose my language?
Nahuatl is the language spoken by the Aztecs and present-day Nahua peoples, and the language of origin for most Mexican mestizos prior to Spanish colonization. Although many Nahuatl words are incorporated into Mexican Spanish, comparatively few people speak the language fluently. Using experimental prose, song, and storytelling, Etimologías Opacas traces the artist's efforts to understand how language, loss, translation, and reconnection might give rise to new meanings and forms of resistance.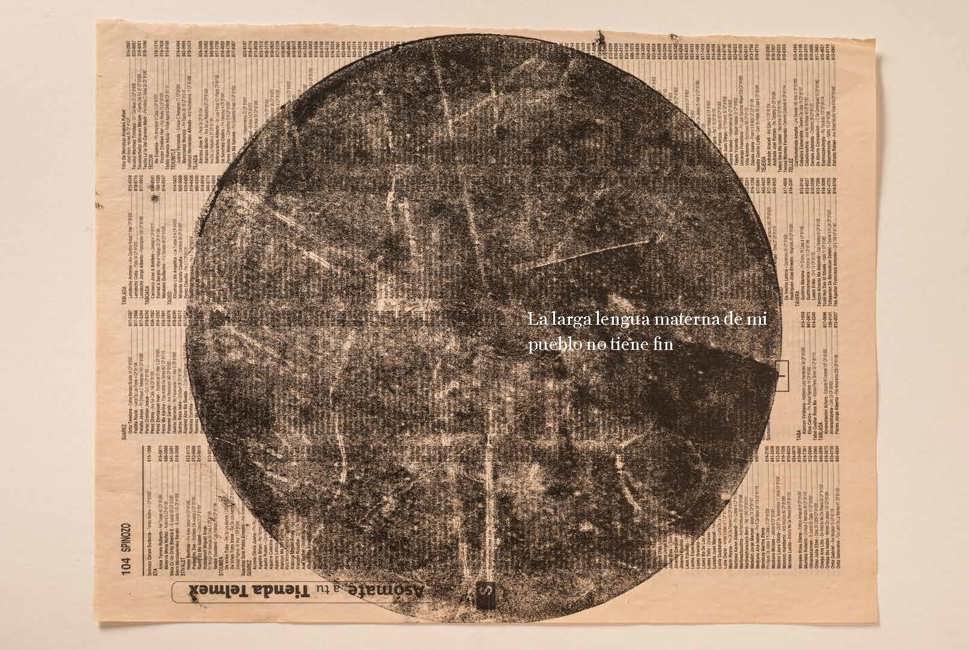 Page from Etimologías Opacas, 2018
Unfolding organically, the project originated as a print series, and expanded to encompass experimental prose, songs, and the creation of an animated film. Texts, songs, and scripts have been translated from Spanish to Nahuatl to English and sometimes back again, shifting meanings and associations. To date, the project involves more than 35 collaborators and continues to grow and morph. "It gives me faith in the artistic process," Arriaga Delgado reflects. "Culture is created by people. That gives me permission, as a human being, not just to question the story, but to try to create another story...by creating alternative stories we can change systems that oppress us."
Header image: The artist with her nephew, Miguel Sandria Perez at Museo de Antropología de Xalapa, 2020
Support for this Virtual Artist Residency has been provided, in part, by the Art Bridges Foundation. Follow along with Indra Arriaga Delgado's residency for the month of July via the Anchorage Museum's social media channels and stay tuned for her livestream studio demo on July 27th via Facebook Live.