Centering Black Narratives: the art of Alyssa Quintyne
By Francesca Du Brock, Anchorage museum Chief Curator
Fairbanks-based artist Alyssa Quintyne often depicts women of color in moments of repose and quiet reflection: "How we feel, rather than how we are seen," she says. For her, human beings are "wonderful, weird, terrifying, and beautiful creatures," and her role as an artist is to help her subjects feel safe, valued, and affirmed in their individuality.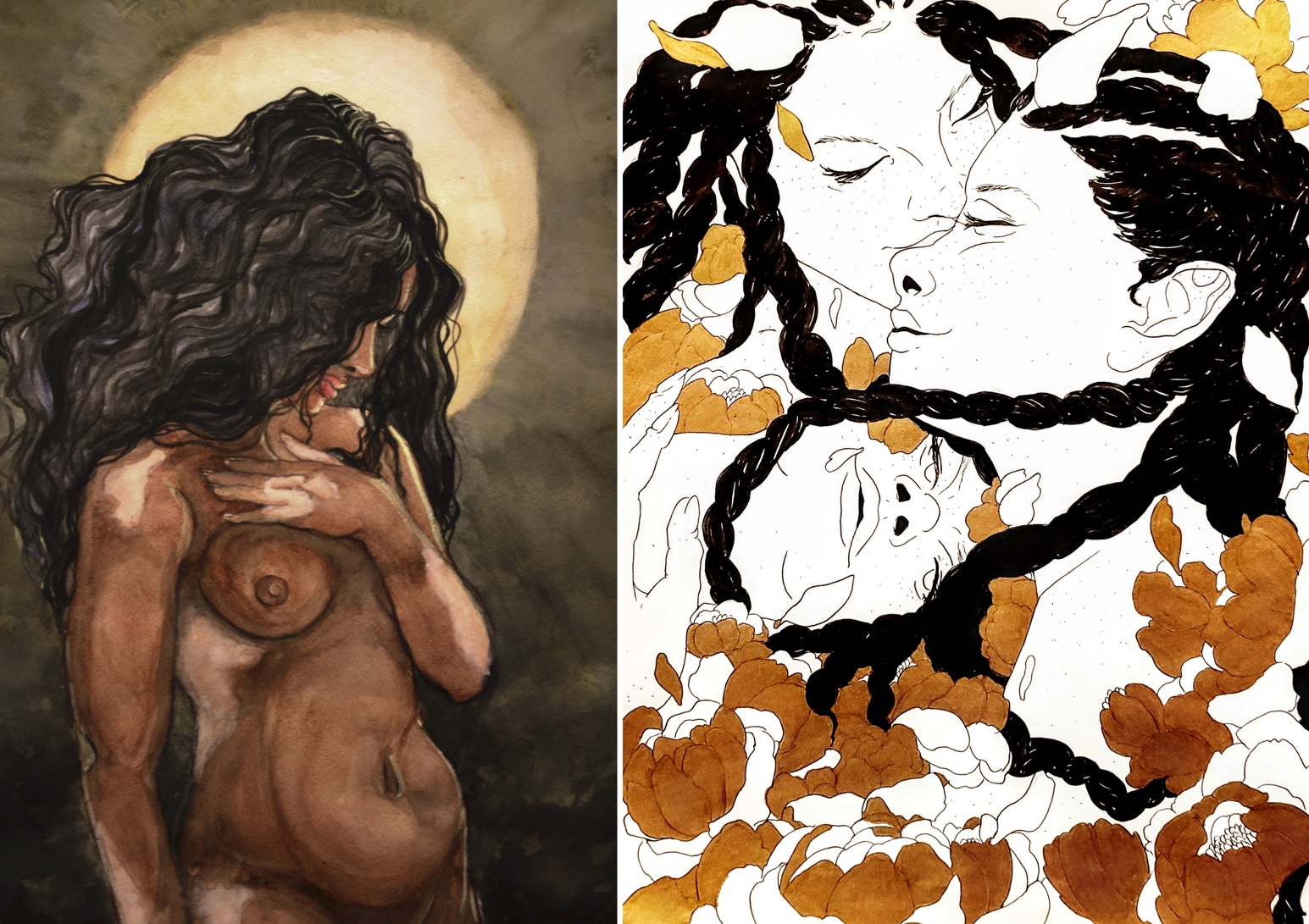 Left: Worthy, 2016. Watercolor on paper. Right: Pray for Peonies, 2020. India and gold ink on paper.
Quintyne was the first of her family to be born outside of the West Indies. When she was six years old, her father's career in the military led her family Alaska. Being a Caribbean woman of color growing up in Fairbanks was hard: "There's nobody that looks like you in terms of how we dress and how we talk and how we eat; nowhere to practice our culture." But Quintyne's resilience and deep appreciation for her roots are evident. Her mother was an instrumental person in her life, nurturing connections to family and helping Quintyne maintain relationships with aunties in the West Indies. She is especially close with her great aunt, who she says helped support her, even at a distance. Quintyne continues incorporating elements of Caribbean spirituality and identity into her work, particularly in a recent series titled Our Magic, which explores Caribbean bush medicine and healing practices sometimes associated with Vodou. The series depicts several women engaged in various rituals, confident and self-possessed, completely unencumbered by the viewer's gaze and expectations. These practices are often misconstrued by Western culture as something malevolent, when they are about having a relationship with the land, with botanical knowledge, and with spiritual cleansing. "It's how we take care of ourselves," Quintyne says.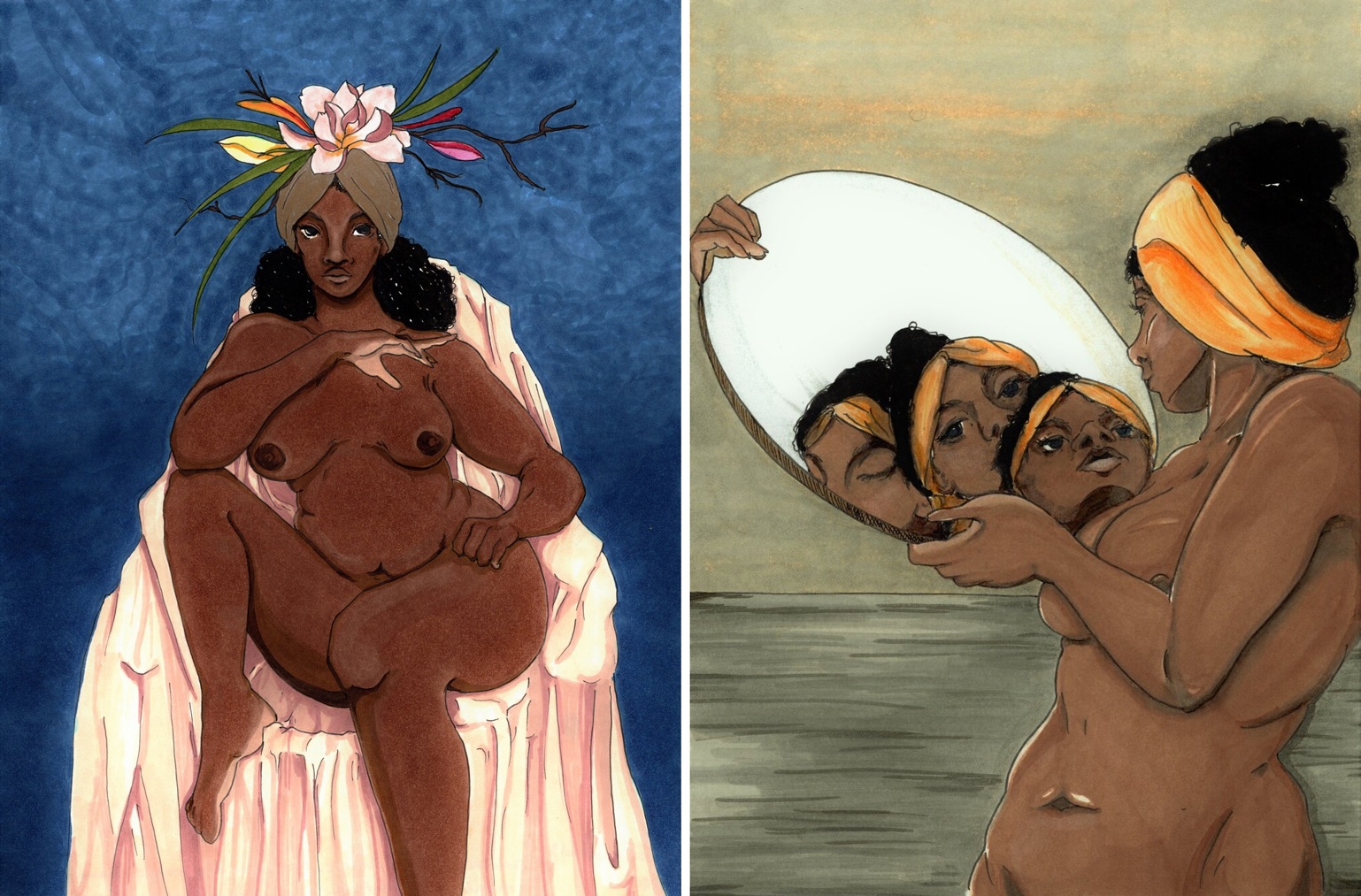 Left: Honor Yourself, 2021. Marker and ink on paper. Right: Mirror Gazing, 2021. Marker and ink on paper.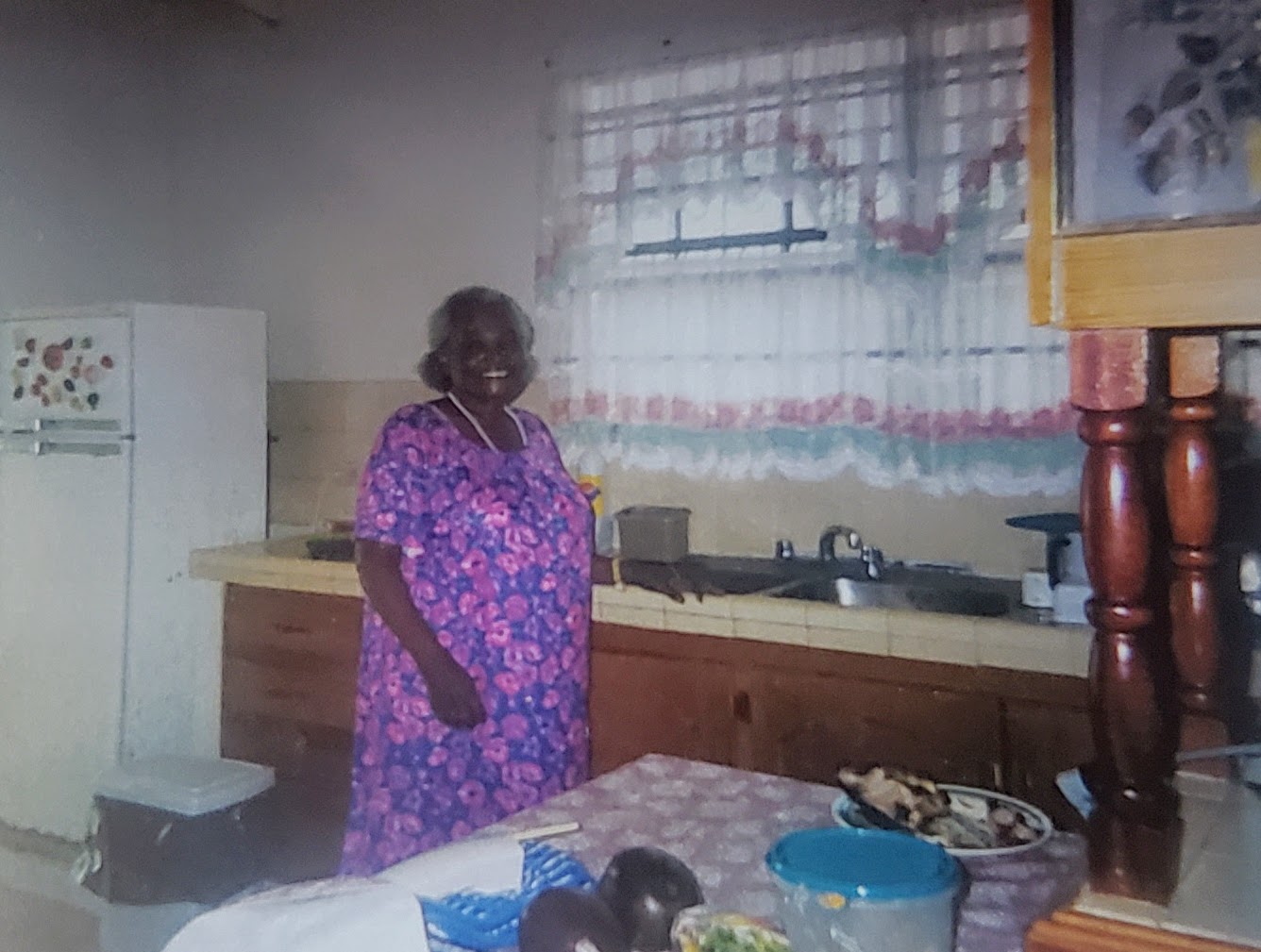 The artist's great grandmother in her kitchen in Christ Church, Barbados, early 2000s.
In a series of drawings inspired by tarot cards, Quintyne addresses themes of death and dying. Suffering from an undiagnosed heart condition as a teenager, she sought to cultivate death-positive perspectives as a way of transforming anxiety stemming from her own physical frailty. She came to see trauma and grief are necessary and inevitable parts of being human and, rather than shrinking from these experiences, she employed art as an avenue for having healthy conversations around fear and loss. "I didn't need to be so afraid of death that I stopped living my life," said Quintyne.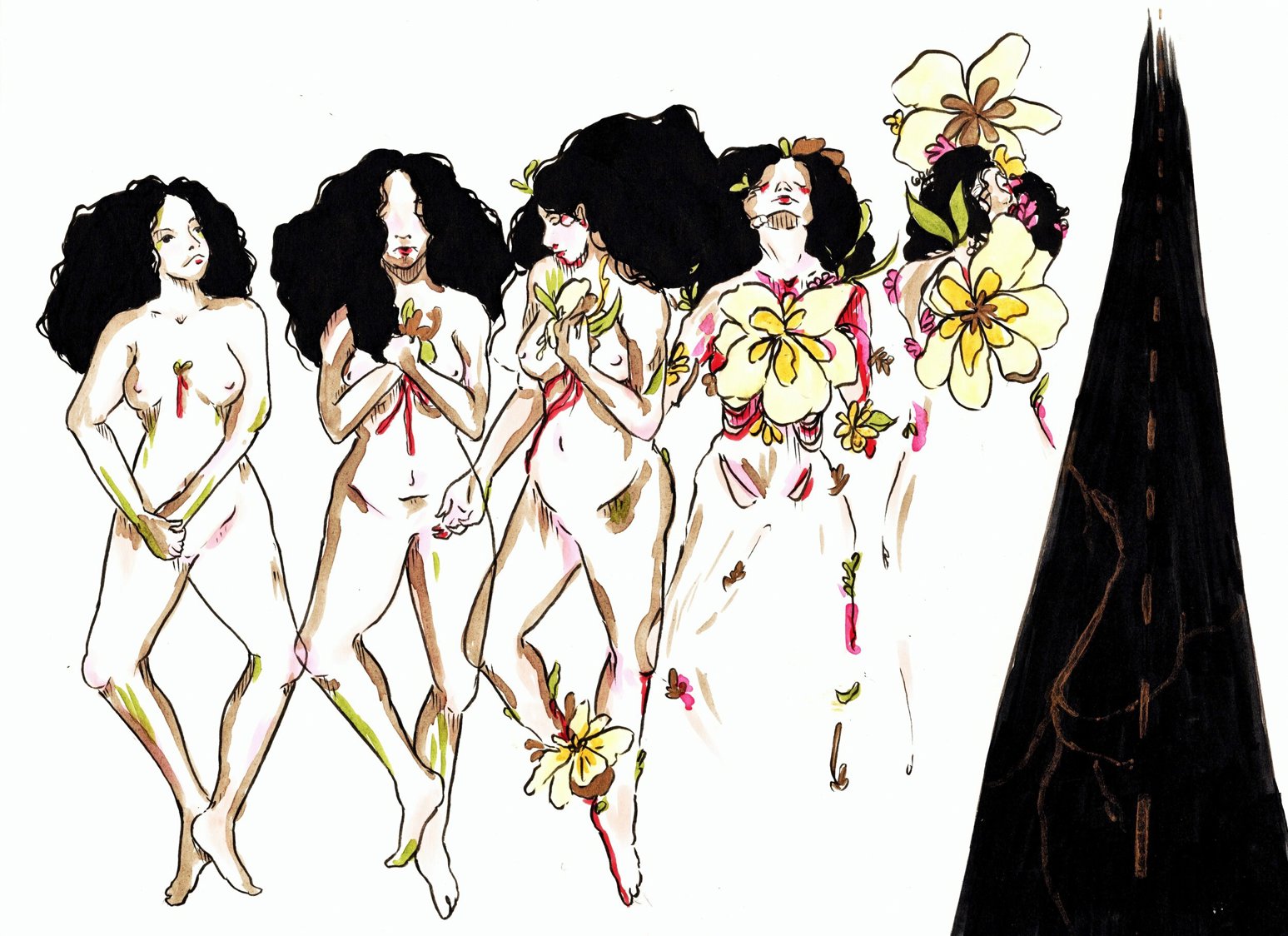 Body Count, 2020. Marker and gold ink on paper.
These challenging physical and emotional experiences have led Quintyne to develop a deeply compassionate and human-centered approach to her art making. Working primarily in ink, gouache, pencil, and paint, Quintyne creates for herself while also developing illustrations and designs to enhance her work in community organizing and social justice advocacy. Activism and art are interdependent parts of her identity: "I feel like art isn't necessarily a hobby or a side hustle or an outlet; it's just a part of who I am. And I feel very similarly with organizing." Whether developing an image for a Black Lives Matter protest or a more intimate work, Quintyne often imbues her subjects with a sense of dignity and grace that belie her interest in elevating the personal narratives of Black people living in the US.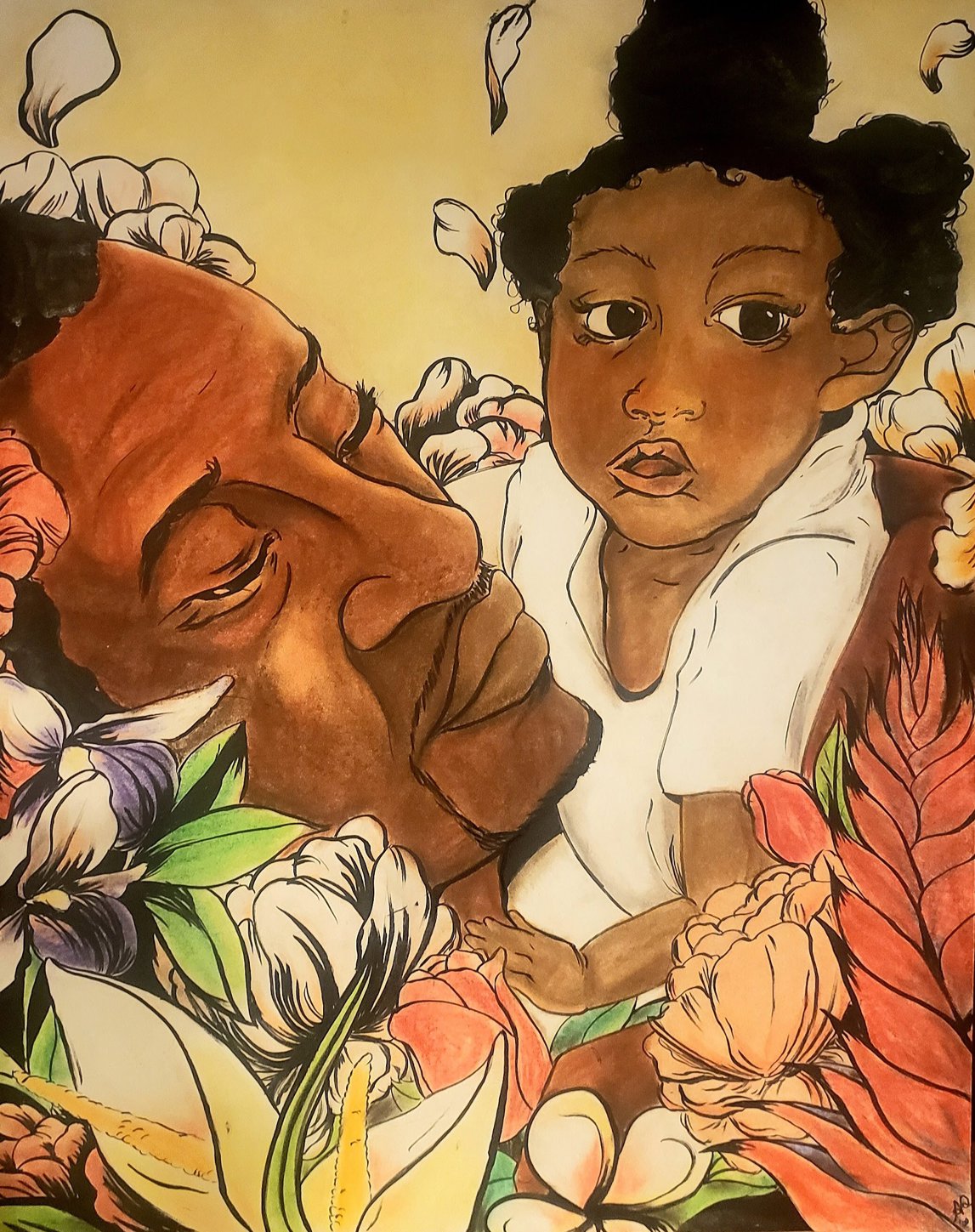 Big Daddy Floyd & Gianna, 2020. Chalk, pastel and ink on paper.
Quintyne has experimented with new projects during the pandemic. She formed part of the curatorial team that put together the virtual Black Alaskan Art Matters exhibition through the Perseverance Theater in Juneau. She also organized two online exhibitions of her own work, which allowed her to share her artwork with her family in the West Indies for the first time.
For her, these projects present exciting opportunities to equalize access to the arts and to make space for Black art and experience to exist beyond the barriers often associated with brick-and-mortar exhibition spaces. While Quintyne is full of ideas for future projects and community events, she says that, for now, she's figuring out "how to survive and be in balance with creation again."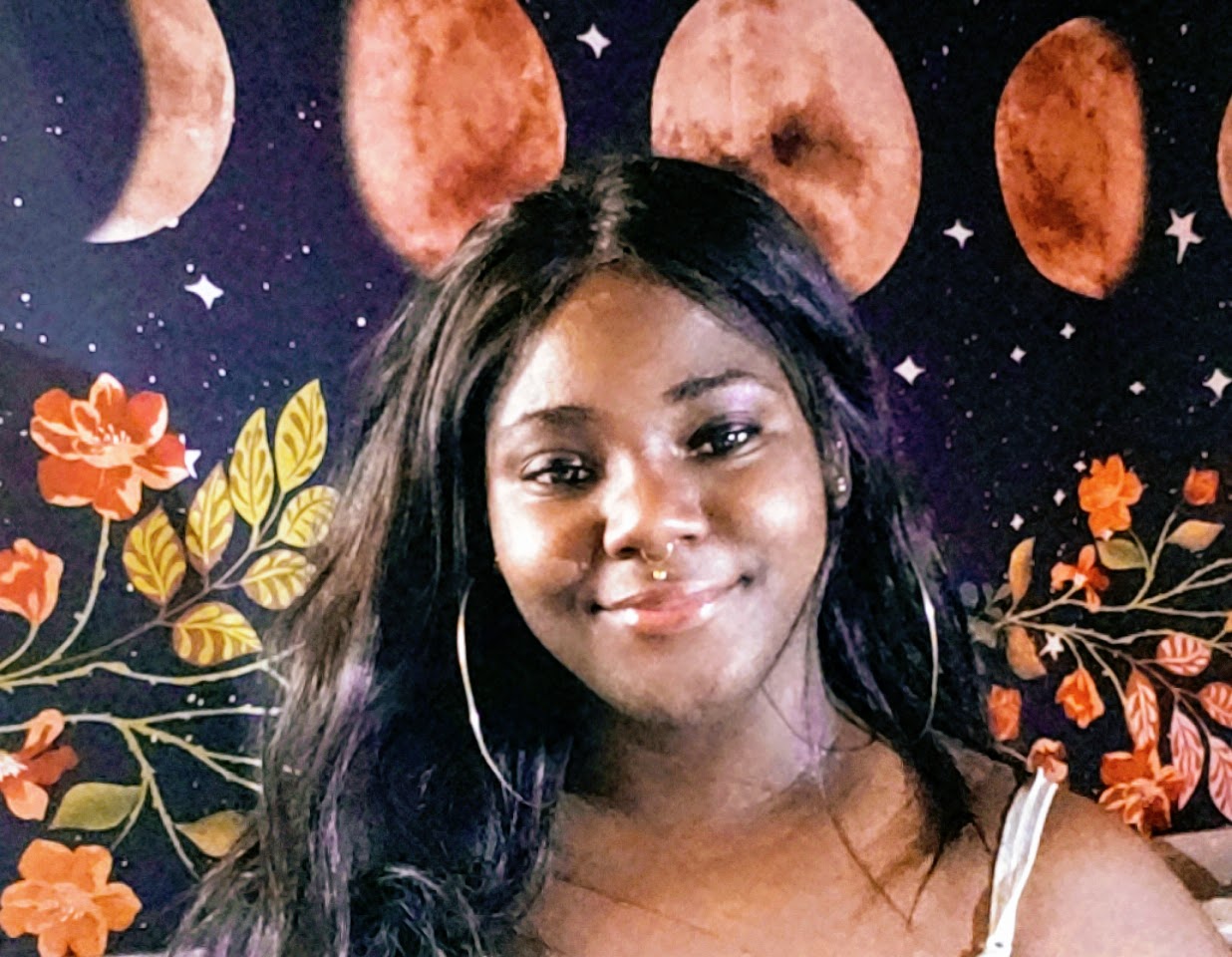 Photo of the artist, 2020.
Top Image: Self Portrait of a Black Woman, 2020.