Kunaq Tahbone: On Rootedness and Revitalization
By Francesca Du Brock, Chief Curator
Kunaq Tahbone grew up in Nome, deeply influenced by her family's subsistence way of life. When school ended in May, her family would head to their fish camp and remain there until school resumed in the fall. Kunaq describes land-based education as the bedrock of what would later manifest as a desire to dedicate herself to art and to Iñupiat cultural revitalization: "It was there, learning how to gather berries, and pick greens, and take care of fish, and put up seal -- it's where I learned all of my values and how I look at life. It taught me how to be a hard worker, and to be grateful for the environment that we live in, and also gave me obligation to protect and respect the land…it's how my art journey began."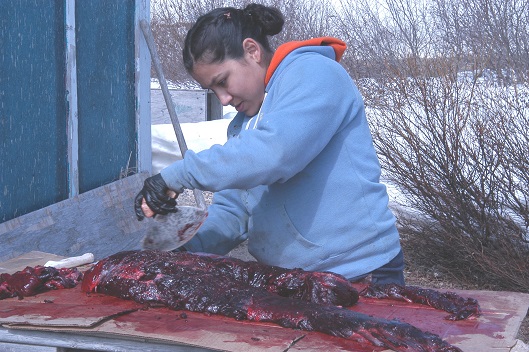 Kunaq processing ugruk (bearded seal)
From a young age, Kunaq felt responsible for learning traditional skills, sensing that future generations would want to know these skills, too. She wanted to be able to pass down the knowledge she herself was hungry to gain. As a child, she quietly observed makers in her community, many of whom are well-known artists, but her main teachers were her mother and grandmother. She learned how to tan hides, how to sew and how to bead. Some things, like crimping the hard soles for kammak (pair of boots or mukluk) were skills she learned from seamstresses further north. Her mother supported her and encouraged her to find her own way, to experiment and make mistakes.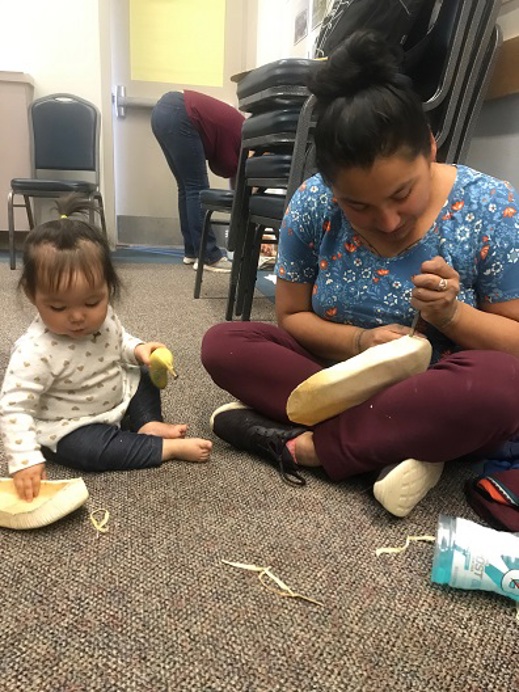 Kunaq and her daughter working on kammak
Although Kunaq's early years provided a rich education in traditional skills, she says she did not learn the "true history" of her people in school. It wasn't until college at the University of Alaska Fairbanks that she understood how much cultural knowledge, including her Iñupiaq language, had been eroded by colonization. When she returned to Nome after college, she threw herself into learning the Iñupiaq language as well as traditional skin-sewing and hand-poke tattoo.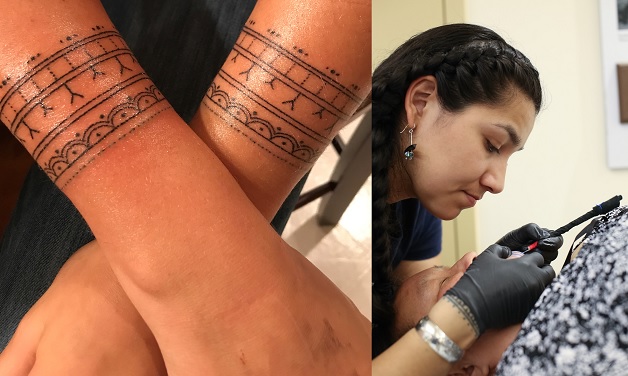 Kunaq's tattoo work
Today, if you check out Kunaq's popular social media channels, you will see her hard at work on many projects, including carving soapstone naniq (seal-oil lamp) and scraping moose hides––she even has an "ASMR eating maktak" video in which she carefully sharpens an ulu and prepares and eats maktak.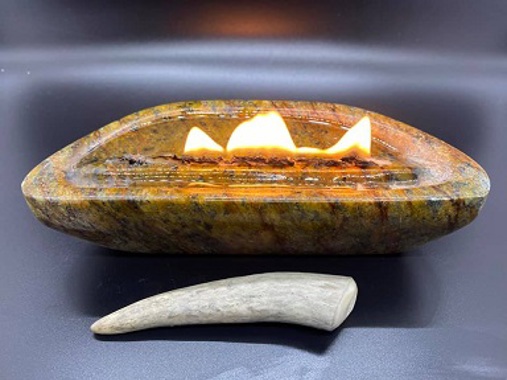 One of Kunaq's naniq (seal-oil lamp)
Kunaq's identity as an artist is taking shape. A continued interest in cultural revitalization, Iñupiaq language, and process sharing animates much of what she does, and she's finding new ways to express herself creatively and to use her work as a tool for unravelling personal and collective trauma.
Currently, Kunaq is working on a collection of kamngit (boots, plural) – "crazy mukluks," she says, that depart from the traditional forms and patterns she's learned. She has plans to make high-heeled kammak, kammak in hot pinks and deep blues, trimmed with rainbow furs. These kamngit will encourage young people to be bold and proud of where they come from. Some kamngit will draw attention to issues facing Indigenous people today, such as domestic violence, MMIW (missing and murdered Indigenous women), suicide, and alcoholism.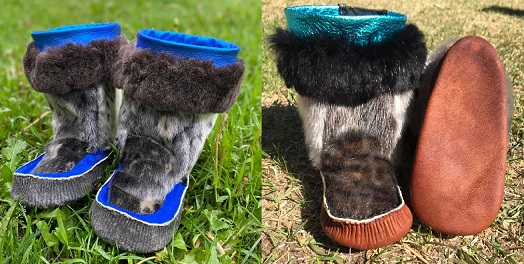 Examples of Kunaq's kamngit (boots)
For her, kamngit are a symbol of forward motion and community resiliency. They are made to protect and shield the body, and she intends to display them linked with the stories of their wearers. Like all of her work, they embody deep reciprocal relation with the land, ancestral wisdoms, and mutual care between people. As she says, "There's feeling and love in them. They're not just pretty to look at – they have experiences."
This summer and fall, with support from The CIRI Foundation, the Anchorage Museum will be hosting four virtual artists-in-residence. Follow Kunaq's artwork and process through October. Check out her work @kunaq on Instagram and Facebook, and tune in to her livestream demo of crimping kammak soles on the Anchorage Museum's Facebook page on Tuesday, October 13 at 4 p.m.