FINDING ADVENTURE THROUGH THE PHOTOS OF ONE OF THE WORLD'S ELITE EXPLORERS
FROM THE ARCHIVES: The Dora Keen Collection
By Sara Piasecki, Archivist, Atwood Resource Center Library and Archives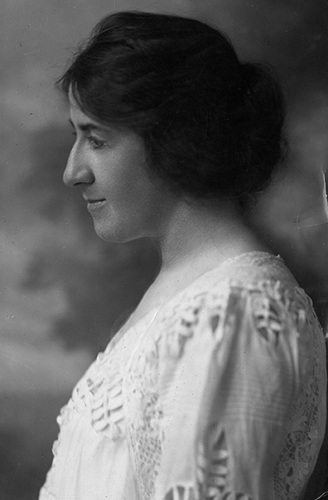 The Anchorage Museum preserves a collection of more than 650,000 photographs covering a broad range of topics in Alaska's history, including daily life in Anchorage, recreation and sport. We are fortunate to have many images in the collection that tell remarkable stories about larger-than-life people. Among them are adventurers and trailblazers like Dora Keen.
Historians count Dora Keen among "the world's elite explorers"1 and one of the earliest climbers in Alaska. She was born June 24, 1871, in Philadelphia, a daughter of the prominent surgeon William Williams Keen. She was educated at Bryn Mawr College, graduating in 1896. Her interest in mountaineering began during a trip to the Alps in 1909-1910.
A Woman of 'Firsts'
Keen traveled to Alaska in 1911 "merely to see the wonderful scenery of the southwest coast,"2 but shortly after arriving developed her plan to summit Mount Blackburn. Her first attempt failed; she returned and successfully reached the top on May 19, 1912. Keen's 1911 expedition to Mt. Blackburn was the first expedition to use dogs on a mountain, the first to succeed without Swiss guides, the first to camp in snow caves, and the first to make a prolonged night ascent.3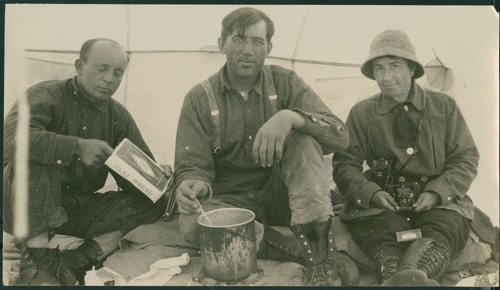 Subsequent to summiting Mt. Blackburn, she traveled across the interior to the Yukon River, becoming the first woman to cross the Skolai Pass. In 1914, she was part of a scientific expedition to Harriman Fjord and College Fjord, in Prince William Sound, and made the first explorations of the Harvard Glacier. Keen wrote numerous articles for journals and popular magazines and lectured on her experiences. She became a fellow of the Royal Geographical Society, London, in 1914.
Keen married German-born George William Handy on July 8, 1916, in McCarthy. They settled in West Hartford, Vermont, and operated a farm. The couple divorced after 16 years of marriage. Dora later served as librarian at the West Hartford Library and even sold insurance.
"I thirst for adventure." - Dora Keen
Though she lived much of her life what some would call an "ordinary" existence, Rebecca A. Brown, one of her biographers, reported Dora "never lost her zest for travel and exploration," traveling to Hong Kong at the age of 91. She died there on January 31, 1963.4
The Collection: Expeditions and Early Views of Alaska
The Dora Keen collection consists of 1,350 photographic prints, 54 nitrate negatives, news clippings and other ephemera created or collected by Dora Keen, circa 1895-1940. Included are photographs taken by Dora, as well as members of her Alaska expeditions, explorers and geologists working in Alaska, and professional photographers.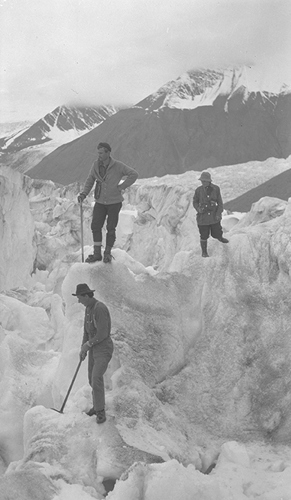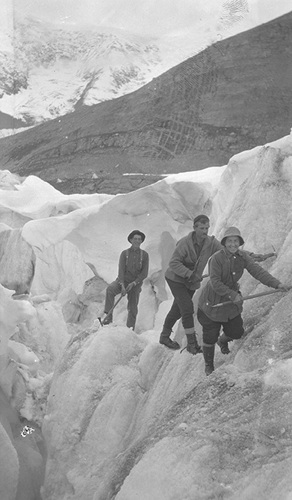 There are approximately 750 images of Alaska, primarily of the two attempts at Mount Blackburn, 1911-12; the return via the Nizina-White River Route, 1912; the expedition to College Fjord, Harriman Fjord, and Columbia Glacier, September 1914; the Keen-Handy wedding, 1916 (.726-734); the Kanatak area, 1923-1925, including two images of Frederick Martin's Douglas World Cruise biplane after its crash landing in 1924; and a trip to Port Wells and Harriman Fjord, 1925. Photos collected by Dora include some early Alaska-Canada Boundary Survey images. The remaining photographs are of non-Alaskan locations.
View the Full Collection
Researchers and others are welcome to view the collection during the Atwood Resource Center's open hours, which are 10 a.m. to 2 p.m. Tuesday through Friday and by appointment Saturdays.
1 Brown, Rebecca A. "Women on High: Pioneers of Mountaineering." Appalachian Mountain Club Books, (2002): 200-214
2 Keen, Dora. "The first expedition to Mt. Blackburn." Bulletin of the Geographical Society of Philadelphia, 10 (1912): 172-176.
3 "Guide to the Dora Keen Photograph Collection, 1911." University of Washington Libraries Special Collections. Available at: http://nwda.orbiscascade.org/ark:/80444/xv42700. Accessed February 19, 2015.
4 Brown, Rebecca A. "Women on High: Pioneers of Mountaineering." Appalachian Mountain Club Books, (2002): 200-214
Image credits:
Dora and George on an iceberg, Dora Keen Collection; Anchorage Museum, B2015.008.12
Studio portrait of Dora, Dora Keen Collection; Anchorage Museum, B2015.008.964c
Climbers on glacier with large crevasses, Dora on right, Dora Keen Collection; Anchorage Museum, B2015.008.1315
Climbers using ice picks including Dora, Dora Keen Collection; Anchorage Museum, B2015.008.1301