Indigenous Place Names Project
Indigenous place names encompass our relationship with the land. For thousands of years, the Dena'ina peoples have stewarded and cared for this place. The Indigenous Place Names Project is a step towards recognizing and honoring the Dena'ina language, knowledge, and innovations in Alaska.
This project is a partnership between the Anchorage Park Foundation, Rasmuson Foundation, Alaska Native Heritage Center, Anchorage Museum, and Native Village of Eklutna tribal government.
Community Landmarks: 
Gathering and Shar
ing Stories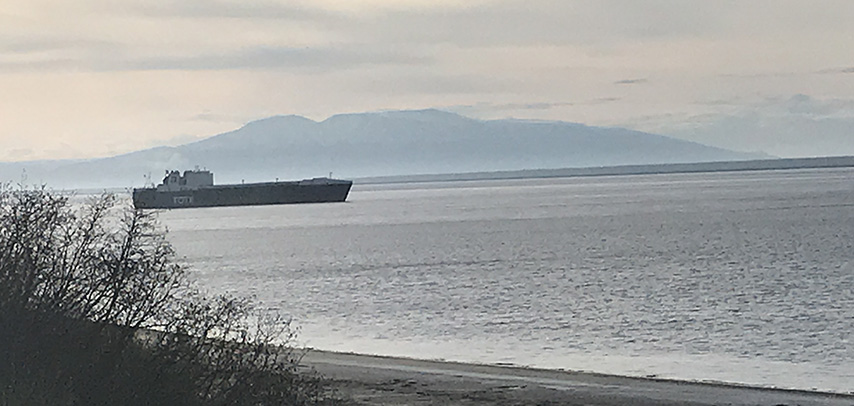 "Growing up in Anchorage, I wasn't taught Dena'ina histories and there was virtually no recognition of Dena'ina placenames, even for well-known landmarks and geographic features in the city.
To many in southcentral Alaska, the most prominent mountain across Knik Arm is Mount Susitna, or the "Sleeping Lady." Local legend says that the sleeping lady came from a race of giants. She laid down after her husband went to war, and she will supposedly awake when there are no more wars. This legend is often said to have Alaska Native origins, however, it appears to have been created by settlers in the 1930sas a quaint story to tell visitors and newly arrived locals. To the Dena'ina, Mount Susitna is known as Dghelishla, meaning "little mountain," contrasting with another mountain on the horizon: Dghelay Ka'a, "Big Mountain," or Denali.
Dghelishla was an important place for the Dena'ina. The western slopes of the mountain were a place of mourning to remember the departed. The mountain was also used as a prominent landmark to help guide the Dena'ina as they travelled throughout Upper Cook Inlet.
Fortunately, over the past decade or there has been an increasing interest in learning original Dena'ina names for these important places. I hope that when people look across the Inlet, they will also remember the name Dghelishla and think about my people and our history."


Words by Aaron Leggett, Senior Curator of Alaska History and Indigenous Cultures at the Anchorage Museum. He is also the President of the Native Village of Eklutna. He shared this story during the exhibition Counter Cartographies: Living the Land, which was on view at the museum October 2021-October 2022. Image courtesy Aaron Leggett.