New Year, New Look: Refreshing the Atrium
Museums are public spaces, places for shared experiences and activities. One of our most active spaces is the Mary Louise Rasmuson atrium, which has for decades hosted events from opening receptions to silent discos.
In the next few months, we will be modernizing the atrium with our visitors and the future in mind. After 30 years, the space needs updated electrical and flooring, data access and connections to other parts of the museum. We are developing the space to be accessible to everyone.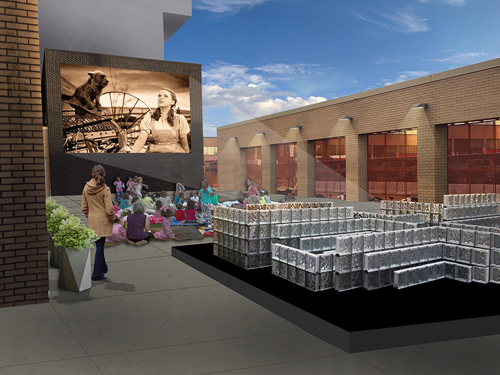 Encompassing the museum expansion, the atrium renovation has begun and will continue through March. You will see changes in the atrium's panels and columns, new flooring and an updated staircase. The water feature has been removed to create a safer environment, and Ice Walls, the sculpture that sat atop the water feature, will relocate to the outdoor patio on the museum's east side. This patio also will be transformed into a space for public programs, stargazing, outdoor film screenings, private receptions and outdoor education.
Most atrium construction activity will happen during hours when the museum is closed to minimize visitor impact. Though the atrium will not be completely closed during renovation, sections of it will be inaccessible at times, marked off with giant Legos (just for fun). The staircase and the atrium's elevator, however, will be closed for several weeks while this work is being done. Please use the west staircase and elevator, which are near the lobby.
Thank you, in advance, for bearing with us while we re-imagine this well-used and much-loved space.