What can you hear when you take a moment to stop and listen?
The Arctic has its own distinct rhythms. The sounds of natural forces, animals, and humans come together to create their own kind of music — soundscapes that murmur and boom, throb and hum, crack and cry, rustle and sing. Listening closely to the sounds and silences of the North opens up an intimate and resonant understanding of place and climate change in Alaska.
Welcome to the Anchorage Museum's sound library.
This library contains thousands of hours of recorded sounds from across the state of Alaska. The collection largely consists of soundscape recordings that record all the sounds from specific places at a given moment in time.
Search the database by location, date, and time.
Help us identify sounds.
You can help us identify individual sounds by submitting information about recognized sounds through the "Submit an identified sound" link available when listening to a selected clip.
Key Terms
A soundscape is a collection of sounds heard in a specific place at a given time.
A soundscape can be organized into three main categories 
Biophony: sounds made by living things but not people
Geophony: sounds made by the Earth
Anthrophony: sounds made by people and people-made things
A spectrogram is a tool used to visualize sounds by looking at frequency and amplitude of sound over time. A spectrogram accompanies each clip in the database.  
Frequency is typically measured in Hertz and is the number of vibrations per second; high frequency or high pitch means faster vibration; low frequency or low pitch means slower vibration.
Amplitude is the volume or energy of a sound wave; high amplitude means loud sounds, and low amplitude means quiet sounds.

FAQ
Why does the Anchorage Museum have this collection?
The Anchorage Museum's ongoing soundscape project is a multiyear study of Alaska's diverse and changing sonic environments through the field of soundscape ecology. This project connects schools and community partners across the state to gather, analyze, and respond to sonic findings.
Where can I learn more?
Additional teaching resources that focus on the concept of Soundscapes can be found here.
Can I use these recordings for my own purposes? (Teaching, music, research, etc.)
Yes! We hope you do. Museum staff would love to learn how you are using these resources. Please share by emailing soundscape@anchoragemuseum.org or tagging us on social media @anchoragemuseum with the hashtags #listeningtoAlaska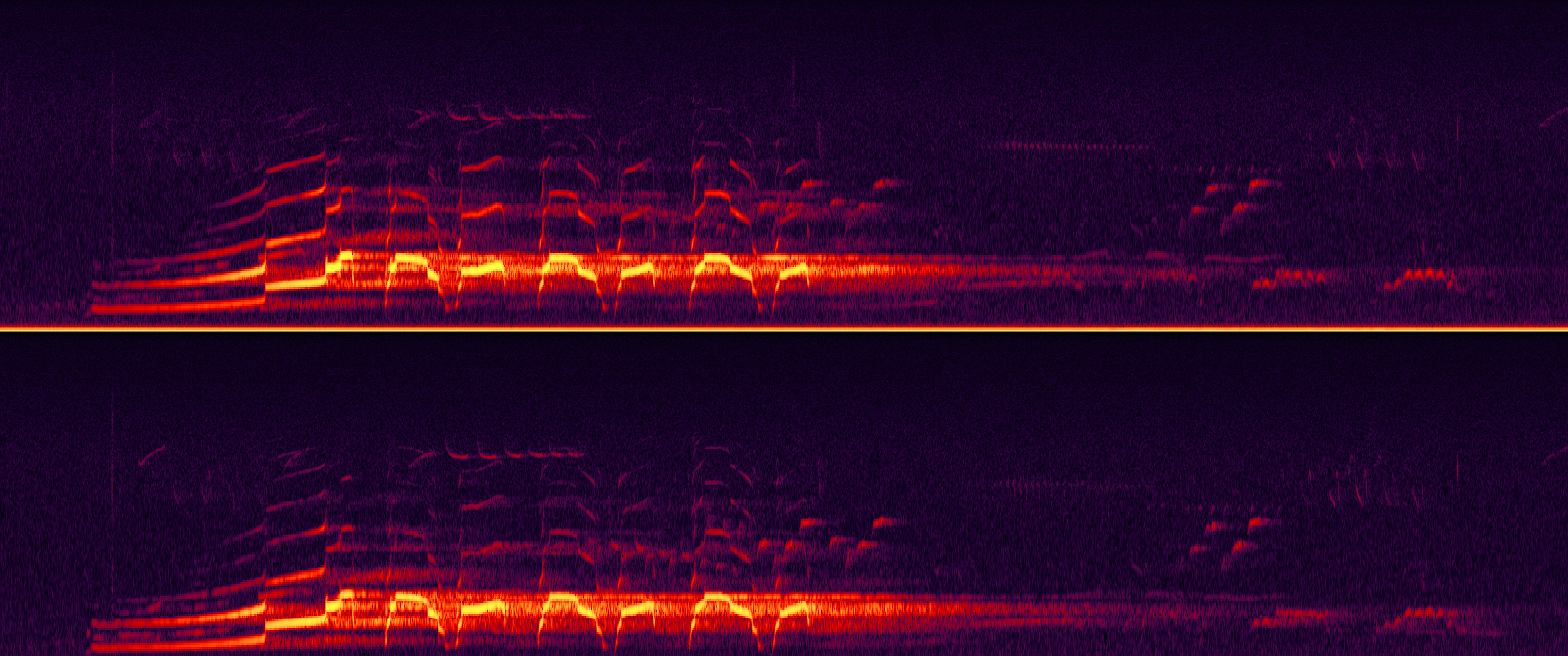 Sample spectrogram from Lonely Lake How do I read a spectrogram?
The spectrogram's x-axis or the horizontal plane is the sound clip's time or length. The y-axis or the vertical plane of the spectrogram is the frequency with high-frequency sounds occurring towards the top and lower frequencies at the bottom. The color seen shows amplitude with quiet sounds being darker, going from red to purple with purple being the quietest and louder sounds being brighter from orange to yellow with yellow being the loudest.
I encountered a problem or have feedback.
We want to help and to listen. Please email soundscape@anchoragemuseum.org.
Funding provided by Hearst Foundation and Atwood Foundation.