This all-ages exhibition explores the things people like in our mass and global culture through collectables, contemporary art and design, fan art, and fandom sub-culture. Included are anime, manga and Japanese-inspired culture, comic books and graphic novels, literature and television fandom, furry fandom, music and real-person fandom. This is an international exhibition, with artists from Japan, Australia, Canada, Netherlands, United Kingdom and United States. Some of the participating artists include Sebastian Masuda, Red Hong Yi, Cliff Wright, Marco d'Alfonso and others.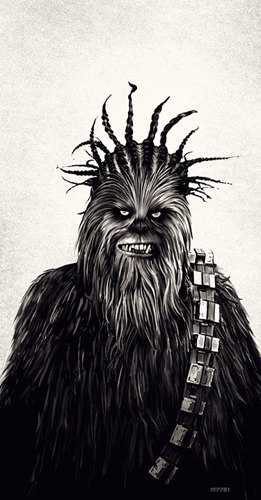 Image: Chewlio by Marco d'Alfonso. Banner image Wonder Woman cover by Marco d'Alfonso.
Fandom Faves
real person fandom/fiction


Anime/Manga:


Based on: animated films, series, graphic novels – originated in Japanese entertainment
Examples: Pokémon, Hello Kitty
May be expressed through: comic books, conventions, tourism, retail merchandise
Literary Fandom:
Examples: Harry Potter, Lord of the Rings
May be expressed through: Creation of fan fiction, Bardology (worship of William Shakespeare), real-life Quidditch sporting events

Bandom:
Based on: a sub-culture of Real Person Fiction focused on early 2000 rock groups but may also refer to those drawn to the culture around music and certain musicians
Examples: My Chemical Romance, Fall Out Boys, Panic! at the Disco
May be expressed through: social networks, online communities and journaling platforms
Learn more about fandom on our blog
—
Member-Exclusive events in October:
Call me at 929-9228 to learn about upgrading your membership. Learn about your membership options here.
Oct 12, noon Curator's Tour of The Art of Fandom: Free; upgrade to VIP level to join. Limited to adults.
Oct 17, 5:30 p.m. Planetarium Preview of Photon's Journey: Free; upgrade to Family Plus, Family Museum Insider, or VIP to join.
Oct 26, 4-7 p.m. Artist workshop and talk with Amy Meissner: Free; upgrade to Family Museum Insider or VIP to join. Recommended for adults.
Did you know?
Individual Museum Insider is for any size household of adults. Add your second household adult onto your membership during the membership transaction. With this level, you can bring a guest every visit.  A senior discount and active duty military discount are available at this level. Learn more here.
Sponsors