LAMONT HAMILTON:
TO HEAR THE EARTH BEFORE THE END OF THE WORLD
On view May 5, 2023 - March 31, 2024
Brian E. Davies Chugach Gallery, Fourth Floor, West Wing

To Hear the Earth Before the End of the World is a sound-based project by artist LaMont Hamilton. Drawing on years of research and travel around the world to gain what he calls "a ground-zero understanding of our changing Earth," Hamilton spent time listening to glaciers cracking, smelling forest fires, and immersing himself in the mechanical cacophony of land being razed.
This exhibition is a sonic exploration of the five systems (spheres) of the Earth: geosphere, biosphere, cryosphere, hydrosphere, and atmosphere. During a 2022 residency with the Anchorage Museum, Hamilton gathered field recordings of sounds throughout Alaska. Listeners within the space are immersed in a soundscape formed by the blending of the Alaska field recordings with archival recordings, digital and electronic sounds and more. Hyper-modulated to blur distinction, the resulting sounds create a listening experience that is both transient and meditative.
LISTEN TO MOVEMENTS FROM THE EXHIBITION HERE
ABOUT THE ARTIST
LaMont Hamilton (b. 1982) is a multidisciplinary autodidact artist. Hamilton deals with the spiritual, ecological, and subconscious through sound, installation, performance, poetry, and lens-based media. Hamilton has been the recipient of several fellowships and awards, including the Jerome Hill Artist Fellowship, Smithsonian Artist Research Fellowship, Artadia Award, ArtMatters Grant and more. He has held artist residencies in arts organizations and museums across the U.S. and Europe.
Chatter Marks Podcast Episode 041
LaMont Hamilton says that a lot of what he does cannot easily be translated to words but needs to be experienced and understood through the senses. Says Hamilton, "To sit with it and to meditate on it opens us up to its energy and allows ideas to gravitate toward us. When this happens, we create a situation that nurtures a deeper conversation with the world around us."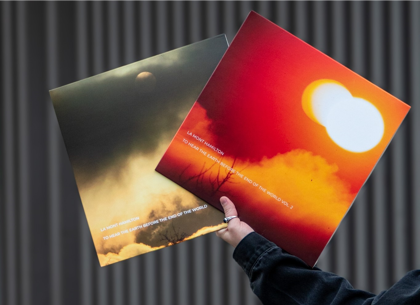 To Hear the Earth Before the End of the World Vol. 1 + 2 Vinyl Albums
by LaMont Hamilton

A music composition from the exhibition on view at the Anchorage Museum

$40 (member price $36)
Find it in the Anchorage Museum Store