GOOD MEDICINE
On view March 21, 2023 through Spring 2024
Art of the North Galleries, Third Floor, East Wing
Good Medicine brings together Indigenous healers and medicine people to collectively create, share knowledge, and practice in community. Unfolding over the course of a year with the work of different Alaska Native healers, this multi-disciplinary exhibition offers diverse opportunities for gathering and exchange.
Colonialism has attacked and suppressed medicine people and Indigenous knowledge systems for hundreds of years. This exhibition addresses harmful legacies and shows how the revitalization of healing practices and traditions provides ways of being in alignment with oneself, with community, and with our planet.  
Curated by Tlingit traditional healer Meda DeWitt, Good Medicine emphasizes spiritual renewal, cultural renascence, and the importance of co-creating futures where nature can thrive. 

Scroll down this page for related content, including upcoming programming and recorded talks.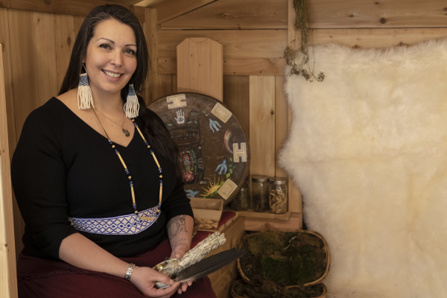 Traditional Healer Meda DeWit
Meda DeWitt's Tlingit names are Tśa Tsée Naakw, Khaat kłaat, adopted Iñupiaq name is Tigigalook, and adopted Cree name is Boss Eagle Spirit Woman "Boss." Her clan is Naanyaa.aayí, and she is a child of the Kaach.aadi. Her family comes from Shtuxéen kwaan (now referred to as Wrangell, Alaska). DeWitt's lineage also comes from Oregon, Washington, and the BC/Yukon Territories. She lives on Dena'ina lands in Anchorage, Alaska with her family. Her credo is "Leave a world that can support life and a culture worth living for."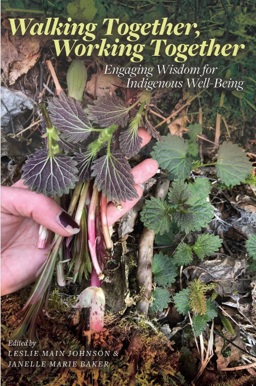 Walking Together, Working Together: Engaging Wisdom for Indigenous Well-Being

Leslie Main Johnson & 
Janelle Marie Baker

This collection takes a holistic view of well-being, seeking complementarities between Indigenous approaches to healing and Western biomedicine. Throughout, the voices of Elders, healers, physicians, and scholars are in dialogue to promote Indigenous community well-being through collaboration. 
$ 35 (10% discount for museum members)
Find it in the Anchorage Museum Store