Mahala Ashley Dickerson
Civil Rights Advocate, Prominent Lawyer
August 07, 2020
Mahala Ashley Dickerson (1912–2007) was a prominent lawyer and civil rights advocate. Mahala was born in Montgomery County, Alabama, and moved to Alaska in 1958. She was the first Black homesteader in the Matanuska-Susitna valley. That same year, Mahala became the first Black woman admitted to the state bar.
She was dedicated to human rights causes and as a lawyer she often took on the cases involving the rights of women and people of color. She found time to mentor young minority lawyers throughout her long career. Mahala recognized the shortcomings of her community and worked tirelessly for decades to make Alaska better for everyone. In a 1999 interview for the Matanuska-Susitna Historical Commission, she said that Alaska was "the best place in the world, the best people, the most beautiful place in the world."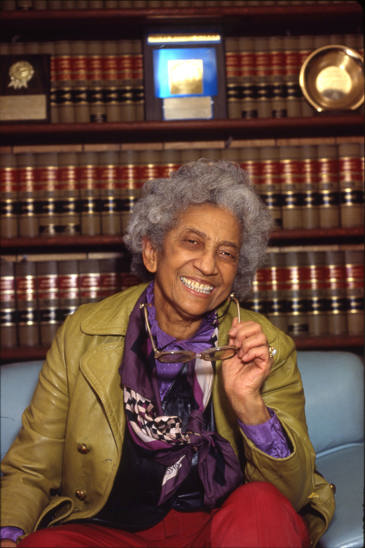 Did you know Mahala Ashley Dickerson or have a story you'd like to share about her? Share your images and stories with us on Instagram and Facebook by tagging us (@anchoragemuseum and #ExtraToughWomenAK) and we'll add them to our ongoing digital curation project. Stay tuned for more information about the upcoming exhibition and be sure to check back for new #ExtraToughWomenAK posts.
Image Credit: Fran Durner Collection, Anchorage Museum, B2016.4.1021
UPDATE
This week, we are sharing new photos of #ExtraToughWomenAK Mahala Ashley Dickerson (1912-2007). Mahala was born in Montgomery County, Alabama, and moved to Alaska in 1958. She was the first Black homesteader in the Matanuska-Susitna Valley and also the first Black woman to practice law in Alaska. Throughout her career, Mahala was a staunch civil rights advocate, often taking on cases involving women's rights and racial discrimination.
In May 1982, civil rights activist Rosa Parks visited Alaska for the first time. When asked why she came, Parks responded, "at the request of a childhood friend, attorney Mahala Ashley Dickerson." The two met as classmates in Montgomery and remained lifelong friends.
These images are from the Ed Wesley Collection. Mahala is seen in a blue dress standing next to Rosa Parks at an event hosted by the Anchorage chapter of the NAACP in 1982. Parks returned to Alaska in 1996 for a fundraising and speaking tour. You can see a signed photograph from that visit in the Museum's exhibition, "Black Lives in Alaska: Journey, Justice, Joy."
Did you know Mahala and have a story you'd like to share about her? We'd love to know more about her and about the powerful women in your life. Share your images and stories with us on Instagram and Facebook by tagging us (@anchoragemuseum and #ExtraToughWomenAK) and we'll add them to our ongoing digital curation project. Stay tuned for new posts and in the meantime, be sure to check out the exhibition, now open.
Photo credit: Anchorage Museum, Ed Wesley Collection