Lidia Lippi Selkregg
Geologist, Teacher, City Planner
August 14, 2020
Dr. Lidia Lippi Selkregg (1920–1999) was born in Florence, Italy, and came to America after the end of World War II. She attended the University of Illinois, where she studied geology and earned her doctorate. In 1958, Lidia and her family moved to Anchorage where she worked as a city planner. She wrote the Economic Development Administration Grant for the Port of Anchorage and pushed for city officials to set aside land for the watershed. In 1964, after the 9.2 Good Friday Earthquake, Lidia and other geologists formed the Engineering Geology Evaluation Group, mapping the entire earthquake area in two days.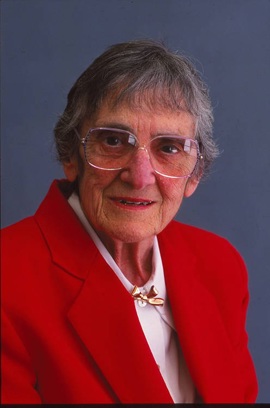 After the earthquake, Lidia continued to serve the Anchorage community. As a geology professor at the University of Alaska Anchorage, she helped develop the graduate planning program, she served on the Anchorage Assembly and established the trail and park system, and she advised President Jimmy Carter on national land use issues.
Did you know Dr. Lidia Selkregg and have a story you'd like to share about her? We'd love to know more about her and about the powerful women in your life. Share your images and stories with us on Instagram and Facebook by tagging us (@anchoragemuseum and #ExtraToughWomenAK) and we'll add them to our ongoing digital curation project. Stay tuned for more information about the upcoming exhibition and be sure to check back for new #ExtraToughWomenAK posts.
Credit: UAA University Advancement photographs, Archives and Special Collections, University of Alaska Anchorage.