Genie Chance
One of Alaska's Most Trusted Public Figures
July 24, 2020

Genie Chance (1927–1998) was born in Texas in 1927 and moved to Anchorage in 1959. One of Alaska's first women in broadcast news, Genie worked for stations KENI and, later, KFQD as an editor and journalist. She is most well known for her coverage of the 1964 earthquake.
In a time of crisis and panic, Genie was a calm and reassuring presence. Within minutes of the earthquake, she was in the streets reporting on the natural disaster and connecting people through her coverage. Reflecting on this time, Genie remarked, "I was responsible for reassuring [Alaskans] that the world had not come to an end."
Genie's measured approach in such a volatile time made her one of the most trusted public figures in Alaska. In 1968, she was elected to the Alaska House of Representatives, and, in 1974, to the state Senate, where she championed education and women's rights. Genie's legacy reminds us of the importance of doing what is right in times of upheaval. In her words: "We must be together. As long as we are together, we are confident of the future."
Did you know Genie Chance and have a story you'd like to share about her? We'd love to know more about her and about the powerful women in your life. Share your images and stories with us on Instagram [LINK] and Facebook [LINK] by tagging us (@anchoragemuseum and #ExtraToughWomenAK) and we'll add them to our ongoing digital curation project. Stay tuned for more information about the upcoming exhibition and be sure to check back for new #ExtraToughWomenAK posts.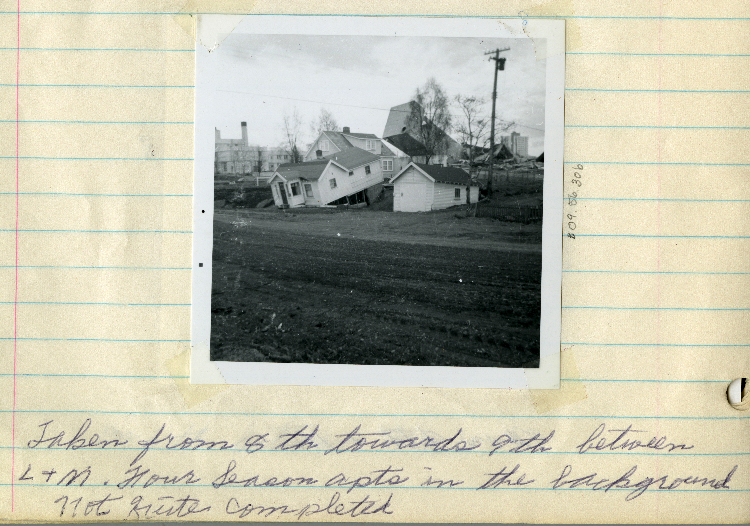 Annotated photo of earthquake damage reads: "Taken from 8th towards 9th between L & M. Four Season[s] apts in the background not quite completed".
Credit: Alaska State Library, Portrait File, ASL-Chance-Genie-1, Steve McCutcheon Collection, Anchorage Museum, B1990.14.5.Pol.1.30, and Truth Coven Gray Earthquake Album, Anchorage Museum, B2009.56.30b