Dora Keen
Mountaineer and Adventurer
May 15, 2020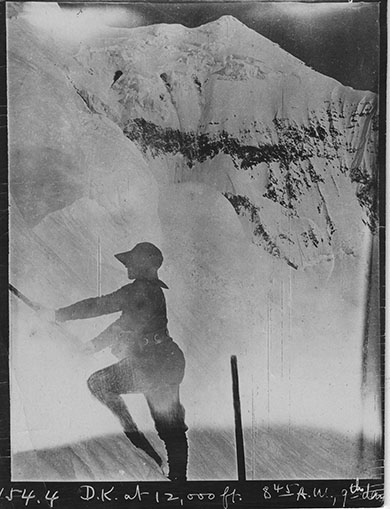 Born in 1871 in Philadelphia, Dora Keen graduated from Bryn Mawr College in 1896 then set off to explore the world. She became interested in alpine climbing, summiting many peaks in the Swiss Alps. Her travels eventually brought her to Alaska, where she set off to climb Mt. Blackburn, which had no official first ascent records at the time.
Dora first attempted to climb Mt. Blackburn (16,390 ft), the fifth highest peak in the United States, in 1911. The journey was unsuccessful, but it was a landmark in many ways: the first expedition to use dogs on a mountain, the first to succeed without Swiss guides, the first to camp in snow caves, and the first to make a prolonged night ascent. Her second attempt in 1912 utilized a smaller team of locals, including German adventurer George Handy. They endured blizzards, dodged avalanches, and were trapped in ice caves for days at a time. Some team members abandoned the trek fearing that it was too dangerous. On May 12, 1912, Dora and George finally summited Mt. Blackburn, after 33 days on the mountain, with 22 of those spent in snow caves. Dora described the summit as "the most superb view of my life."
Dora and George later married in McCarthy, Alaska, with Mt. Blackburn in the background. While they did not remain in Alaska, and eventually went their separate ways, Dora continued to adventure around the world. She returned to Alaska in 1961 at the age of 91 as part of a world tour. Dora's pioneering spirit inspired subsequent generations of adventurous women.
Did you know Dora Keen and have a story you'd like to share about her? We'd love to know more about her and about the powerful women in your life. Share your images and stories with us on Instagram and Facebook by tagging us (@anchoragemuseum and #ExtraToughWomenAK) and we'll add them to our ongoing digital curation project. Stay tuned for more information about the upcoming exhibition and be sure to check back for new #ExtraToughWomenAK posts.
Photo credits: Dora Keen Collection, Anchorage Museum, B2015.8.436 and B2015.8.628b