Changunak Antisarlook Andrewuk
Reindeer Herder, Savvy Businesswoman
May 08, 2020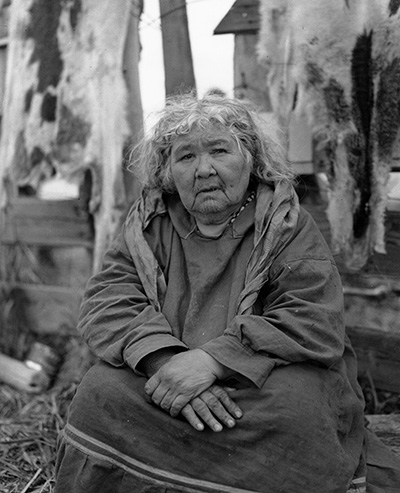 Known as Sinrock Mary and the Queen of the Reindeer, Changunak Antisarlook Andrewuk was born in 1870 to an Iñupiaq mother and Russian father. She grew up in St. Michael at the mouth of the Yukon River at a time when the Iñupiat people saw a great influx of whalers, missionaries, gold miners, and traders to the region. In 1889 she married her first husband Charles Antisarlook and the couple moved to Cape Nome.
She spoke Iñupiaq, Russian, and English. She served as a translator for Michael A. Healy. Healy brought the first Siberian reindeer to Alaska to help feed and sustain Indigenous communities. Her husband served as a reindeer herding apprentice and after years of assisting with government reindeer herds, they became the first Alaska Native owners of their own private herd. The herd was originally based around Sinuk, a small settlement also called "Sinrock," from which Mary took her nickname.
After his unexpected death during measles epidemic in 1900, Changunak was disqualified from legally owning property both as a woman and as an Iñupiaq, but she fought to keep her half of the reindeer herd. She succeeded and eventually became one of the richest women in Alaska. Changunak saw the effect of disease and unlawful activity on her people. And while she welcomed the miners' business and the friendship of some, Changunak constantly had to protect her herd from those who wanted the animals to haul loads or to take them for food.
A savvy businesswoman, she sold meat to local businesses and the Army station and made her own fortune during Nome's gold rush. In 1901, she moved her herd to Unalakleet, where she married again. Her second husband wasn't interested in herding, but Mary trained some of her children and many other Iñupiat to become reindeer herders. She is remembered as a hero for her tenacity, generosity and friendship.
Who are the powerful women in your life? Share your images and stories with us on Instagram and Facebook by tagging us (@anchoragemuseum and #ExtraToughWomenAK) and we'll add them to our ongoing digital curation project. Stay tuned for more information about the upcoming exhibition and be sure to check back for new #ExtraToughWomenAK posts.
Photo credits: The Ickes Collection, Anchorage Museum, B1975.175.157 and B1975.175.159