Bessie Couture
First Black Business Owner in Alaska
April 24, 2020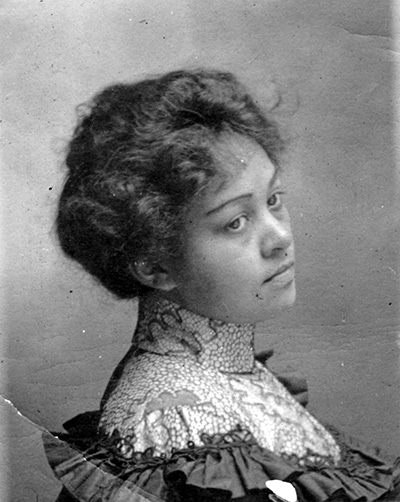 Bessie Couture was the owner and operator of two restaurants in Skagway, Alaska. The Kitchen was the name of her first restaurant, which she ran during the Klondike Gold Rush, between 1897 and 1900.  Her second restaurant, co-owned with her husband, was the Broadway Restaurant and Bakery, which served customers in the 1920s. 
Bessie was the first African American to own a business in Alaska. Despite this remarkable achievement, not much is known about her in the historical record. A letter from the donor of these archival images, as well as a marriage license housed in the University of Alaska Anchorage/Alaska Pacific University Consortium Library provide some clues that help shed light on Bessie's story. We know that she married Frenchman William Couture in 1920, and they both lived in Skagway working as cooks. We know that Bessie was married two times prior marrying William, the first marriage ending in divorce and the second marriage, to a man named Kendall, ending in tragedy with his death in the shipwreck of The Princess Sophia in 1918.  We know that in her later years, Bessie divided her time between Alaska and Seattle, spending winters in the Lower 48.
These biographical milestones leave us wanting to know more about Bessie's story and experiences. Do you have information about Bessie Couture you'd like to share? Who are the powerful women who came before you? Share your images and stories with us on Instagram and Facebook by tagging us (@anchoragemuseum and #ExtraToughWomenAK) and we'll add them to our ongoing digital curation project. Stay tuned for more information about the upcoming exhibition and be sure to check back for new #ExtraToughWomenAK posts.
Photo credits: Bessie Couture Collection, Anchorage Museum, B1987.2.44c and B1987.2.44e