Black Lives in Alaska: Journey, Justice, Joy

On view April 30 — Feb 13, 2022, Atrium
Generations before statehood and earlier even than the Klondike gold rush of the 1890s, Black men and women arrived in Alaska and have since participated in politics, economic development and culture. They patrolled the seas, built the roads, served in the military and public life, opened businesses, fought injustice, created art and forged communities. This exhibition, told through archival photos and collected materials, showcases the richness and resilience of Black lives in Alaska.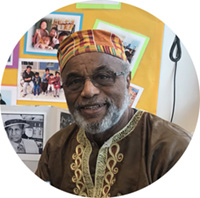 "I'm interested in the history of Black people in Alaska and in helping to educate students and others about this history. I especially want to help African American students learn about what their community has contributed. It's a wonderful thing to have the Museum include in its archives the stories of Black people who have been leaders and champions in our community and state."
– Cal Williams, community historian and activist, featured in The HistoryMakers, the nation's largest database of African American video and oral histories and an Anchorage Museum partner
Banner image: Young people in front of a sign for the NAACP Afro-Academic, Cultural, Technological and Scientific Olympics (ACT-SO) in Anchorage, 1981. Photo courtesy of Ed Wesley.
Scroll down for related programming