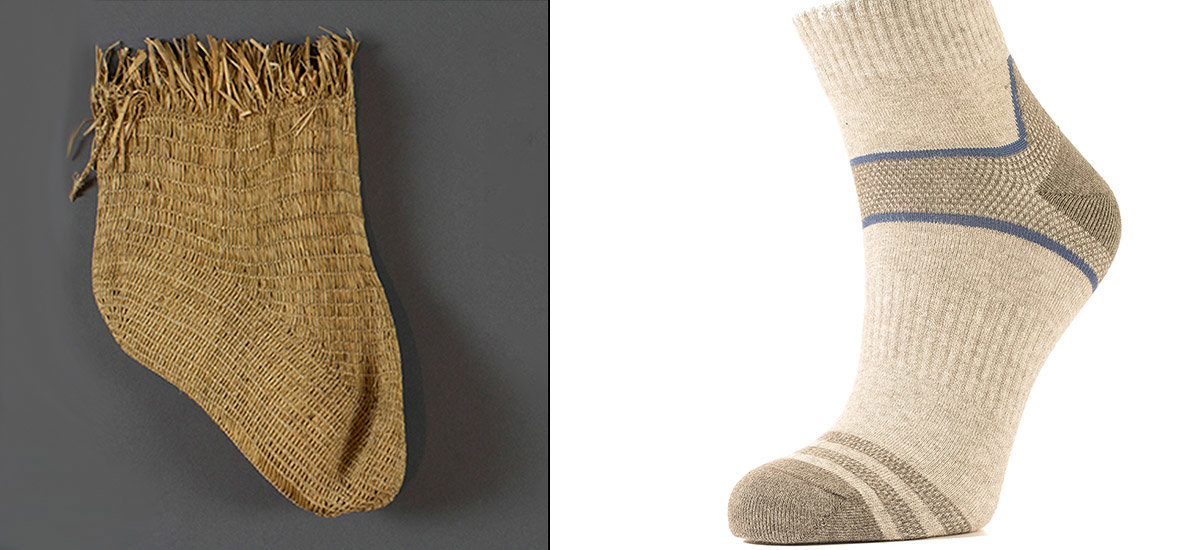 Wicking socks
---
Grass socks were the original moisture wicking layer. In cold or wet weather, woven grass socks were worn by men and women inside their skin boots as comfortable liners to keep their feet warm and dry. They could also be worn with additional layers of insulation, such as fur socks, wool socks, and grass padding.
The absorbent and wicking properties of dried grass are explained by two phenomena. First, as grass dries, air pockets form within it. Second, the more grass surface area is present, as when loosely packed inside a boot, the greater amount of absorption. Because grass socks are tightly twined, the exposed surface area is relatively low, absorbs little, and in effect "wicks" water to the more absorbent loosely packed grass around the socks.
In Yup'ik communities, tall cotton grass, which grows around ponds and in wet tundra areas, is used for making socks because it is softer than beach grass and can be wetted over and over without breaking. Harvesting grass was a major fall activity for women, requiring hours of labor. Either before or after freeze-up, women collected grass when it turned pale. After grass was harvested, it was dried and stored for safe keeping until it was needed for making socks, mittens, mats, baskets, or other woven materials.
Similar to the moisture wicking properties of woven grass socks, wool base layers made by companies such as Smartwool or Icebreaker utilize organic materials to produce warm and comfortable garments for outdoor activities. Merino wool is soft, moisture-wicking, thermoregulating, and odor-neutralizing.
Credits:
Yup'ik artist, Gift of Fred and Sara Machetanz, Anchorage Museum Collection, 1995.35.59ab
Photo by Sam Moqadam on Unsplash