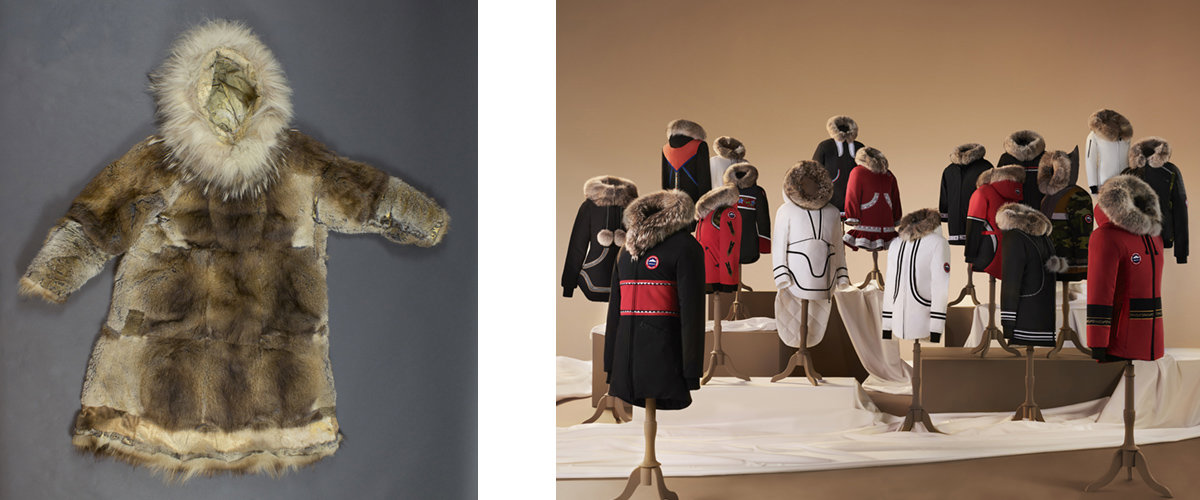 Hooded Parka
---
Parkas are long, hooded coats designed to insulate and keep out the elements. They have been used by Indigenous peoples from throughout the Circumpolar North for centuries. Historically, parkas were made with animal skins and furs and based on a pattern that allowed for optimal ventilation of body moisture while also retaining heat.
Parka styles reflect unique regions, communities, and individual artisans. The garment communicates social identity and status through design and pattern construction. While modern materials and technology have changed how parkas are made and how they look, the overall form and use of the garment endures.
The parka that you can buy online today shares many aspects of the original parka. Often classified as an "Arctic parka" in the fashion industry, clothing brands such as Canada Goose have made this garment their signature product. Canada Goose is unique in that it acknowledges and gives credit to Indigenous artists as the original parka makers and celebrates Inuit design through its Project Atigi initiative.
Credits:
Hattie Mack, Anchorage Museum Collection, 1975.24.1
Photo by Canada Goose, Project Atigi