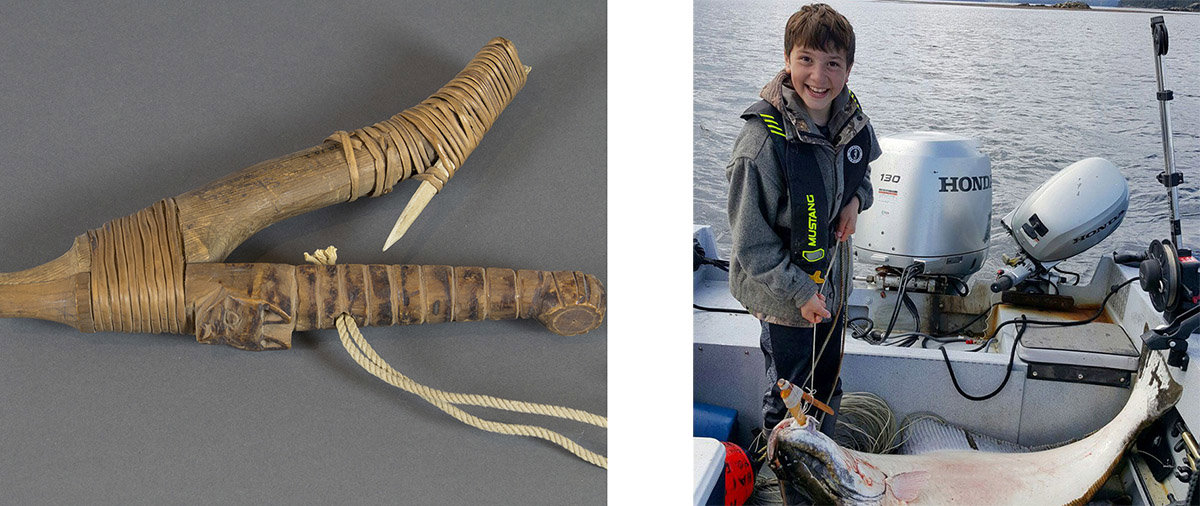 Halibut hooks
---
The wooden halibut hook is a fishing technology that has been used for thousands of years by Indigenous peoples of the Northwest Coast of North America. The V-shaped hook is expertly engineered to catch the massive fish and is often carved with an image on the arm intended to entice a halibut to swallow the hook whole. The hook is designed to catch in the cheek when the hook is spit out.
The overall construction of the hook involves expert craftsmanship, including calibration of the tensile strength of cedar rope, which is used for the line. The hook itself is often constructed using two different types of wood (one heavy and one lighter for buoyancy), and the angle between the upper and lower arms of the hook is measured using the carver's thumb. Although there are few fishermen who still fish with wooden halibut hooks, there are carvers teaching people how to make and use the hooks as a process of cultural revitalization.
In February 2018, the wooden halibut hook was inducted into the Alaska Innovators Hall of Fame, the first Indigenous tool to be honored, due to its continued artistic and environmental relevance after centuries of use.
Credits:
Tlingit artist, Transferred from the Hastings Museum, Hastings, NE, Anchorage Museum Collection, 1970.10.2
Photo courtesy of Thomas George