After two years, a downtown Anchorage restaurant returns to life
By Julia O'Malley
By the time Chef Eric DuBey flipped on the lights in the kitchen at Orso earlier this year, every surface sat under nearly two years of dust. A 22-year fixture on Fifth Avenue in downtown Anchorage, the restaurant closed hastily in March 2020. No one had been back.
"I was completely shocked. Just how the whole room felt, you know, from the last time I had been in there. It just felt deserted and abandoned," DuBey said.
A restaurant isn't meant to go quiet. A restaurant in a city's core is part of a larger organism, and a lot of them have to be working -- moving food, moving people, moving money -- to give a downtown a pulse. Stove pilot lights stay aglow, the walk-in fridges hum, delivery trucks come and go. Line cooks, servers, dishwashers, bussers, hostesses clock-in. By 5, they welcome the town to their tables. After dinner, there are shows to catch, ice cream to buy, drinks at another bar. This is the way it always was in downtown Anchorage.
But the pandemic -- the lockdowns, customers' fear of infection, the lack of cruise ships, the labor crunch -- shut that all down in Anchorage like it did everywhere else. Some blocks kept a few lights on, but only now are others beginning to flicker back. On show nights at the Alaska Center for the Performing Arts, it's getting a little harder to park on Fifth Avenue. The Westmark Hotel, boarded up for years, is accepting reservations for May. And just this month, against the odds, Orso lit up again.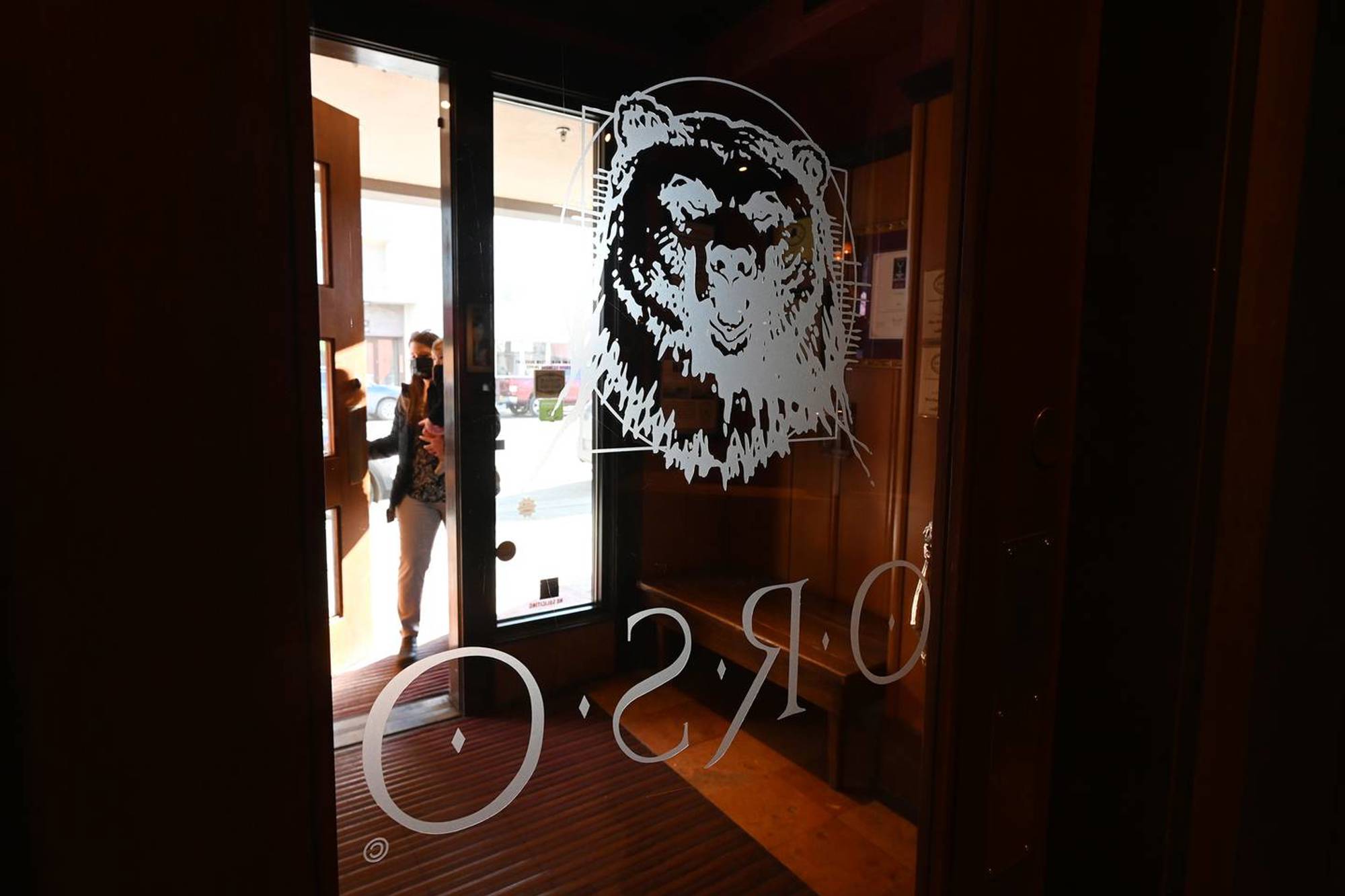 Jessica Griffin and her daughter, Elliana Hart, enter the restaurant earlier this month. (Bill Roth / ADN)
It almost didn't happen. It was owned by Bob Acree and Chris Anderson, who also own Glacier Brewhouse next door. Amid the pandemic's uncertainty, Anderson decided to sell. At one point, potential new occupants toured but decided not to move forward with a deal. Robert McCormick, a longtime management employee, decided to buy Anderson's shares to keep Orso alive.
"I just believe in the restaurant," he said.
Orso's original concept was an upscale date place with an Alaska flair, a contrast to the more casual Brewhouse. Before it closed, the place was often packed, especially during tourist season. Regulars had well worn routines. Maybe it was a glass of wine and seafood gemelli on a bad day. Or maybe they liked to tuck into the leather bar chairs before a show at the PAC and sip a signature Old-Fashioned.
Putting a restaurant back together isn't easy. For one thing, people with experience working in restaurants have all had their lives upended and many left the profession. DuBey was running his own catering business out of the Golden Lion kitchen when the pandemic hit and large event catering evaporated. Then the building sold.
"I didn't anticipate that I would ever be working for anyone else again," he said.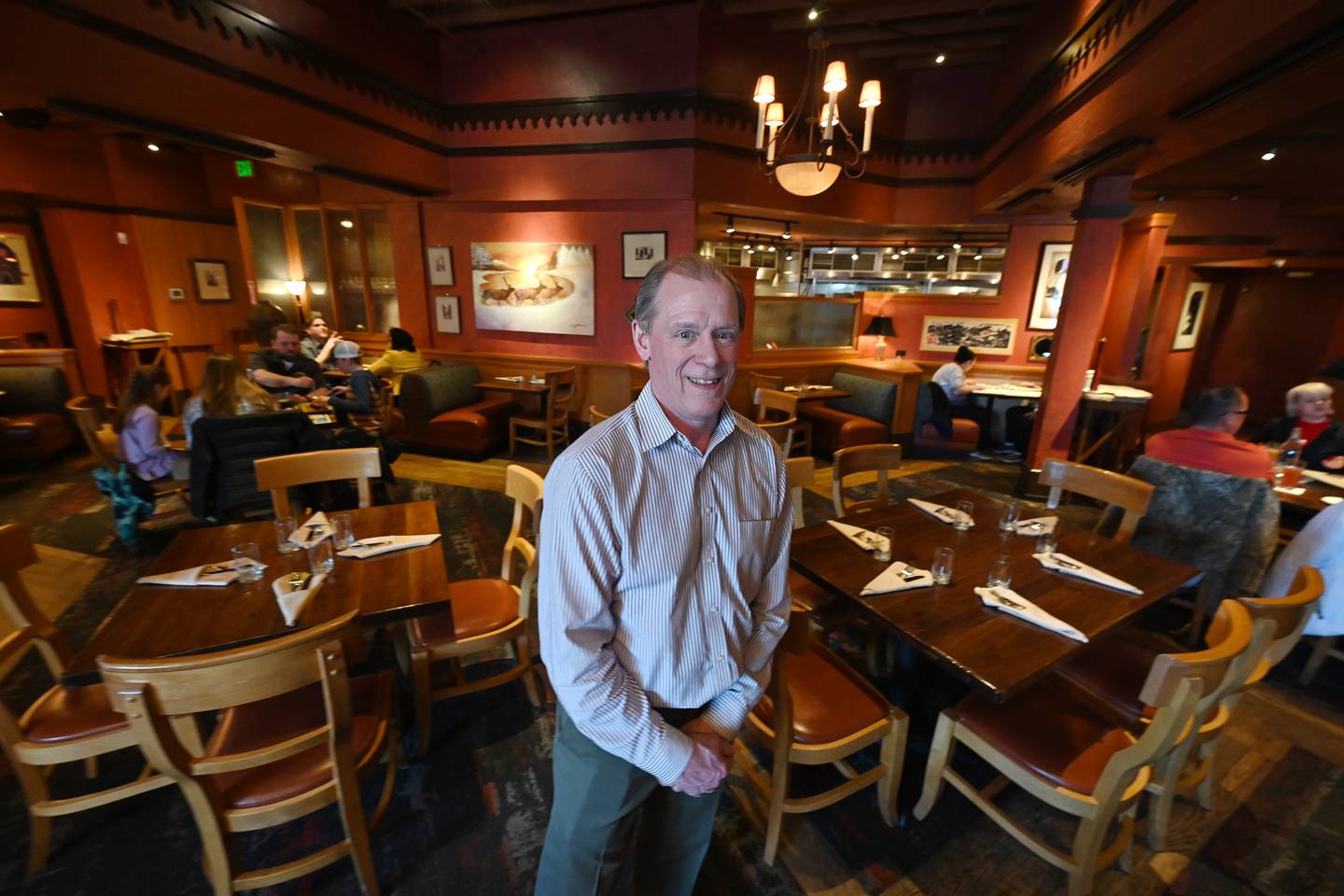 Orso operating partner Robert McCormick. (Bill Roth / ADN)
The opportunity showed up to work at Orso and he took it. He'd been a chef at Brewhouse years before. He trusted the owners.
"I'm glad to be working," he said. "I'm thankful."
Over the winter, he, McCormick and manager Robson Abbott retooled the menu to bring back some original "Italian-inspired" dishes -- insalata Orso with salami and candied pecans, the calamari misto with thin slices of deep fried lemon, a cashew-crusted rockfish -- a nod to the original spirit of the place. They also wanted the menu to rely on local suppliers as much as possible, including meat distributors and farmers. They reintroduced fresh pasta from Alaska Pasta Company.
"Robert felt strongly about reconnecting with those local businesses and especially now that there are supply chain issues," DuBey said. "All businesses that are restaurant-oriented, food-service oriented, they're struggling, we wanted to spread that money around as much as possible."
The restaurant needed dishes and glasses, but they were slowed on their way to Alaska by supply chain glitches. Everything needed to be deep cleaned.
"One of the things when you shut down a restaurant for two years and you go to turn on the lights and you go to turn on the ovens and you go to turn on the freezers. Even though nothing has changed, half the time, they just don't work," Abbott said.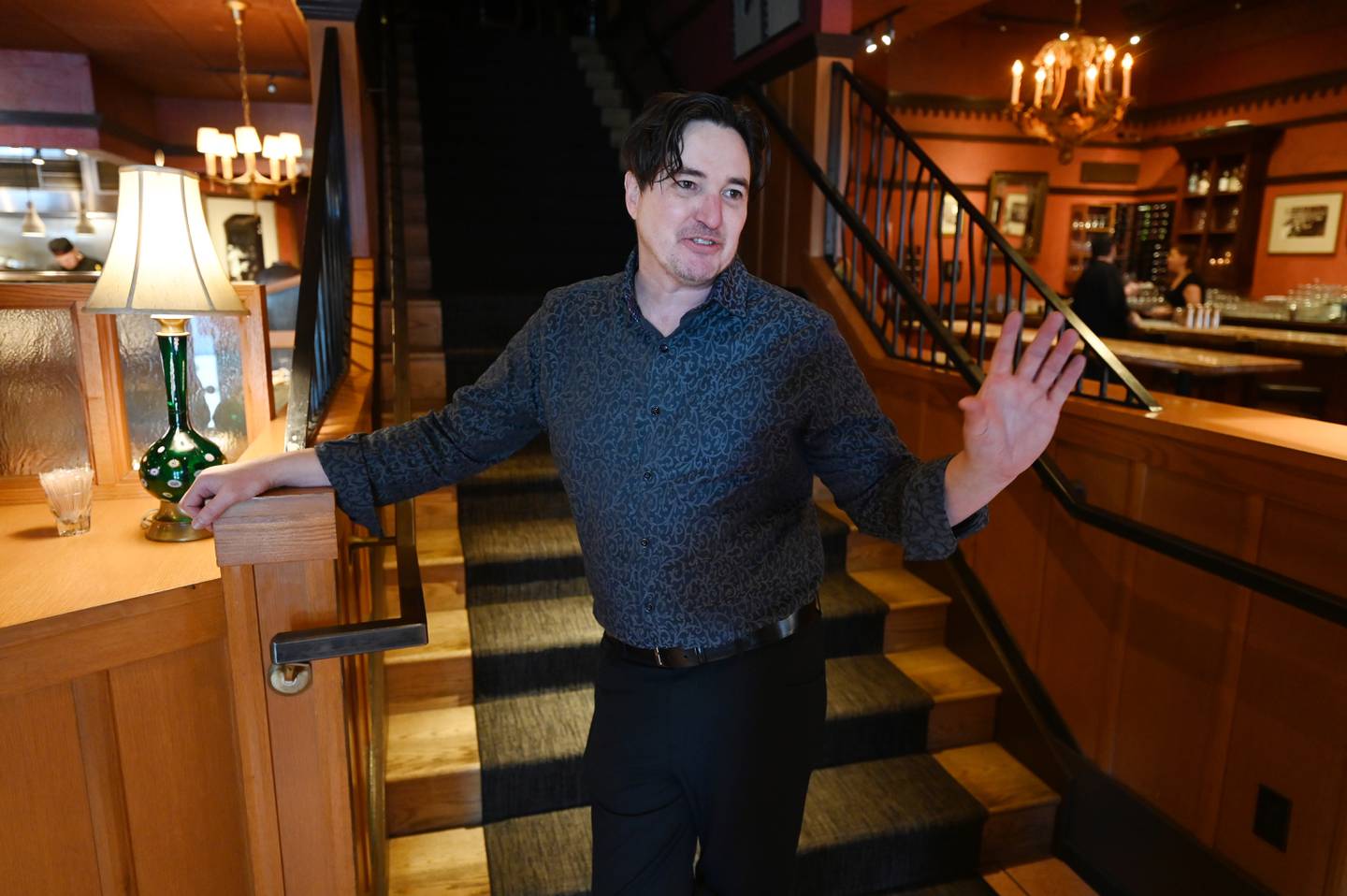 Orso general manager Robson Abbott . (Bill Roth / ADN)
Fixing the equipment took months. The men worked six- and seven-day weeks. Hiring was the biggest challenge. When the restaurant shuttered, its 40 workers scattered. Many found jobs at Brewhouse. Orso had to build an entirely new kitchen staff. They reexamined their compensation structure, with an eye for paying a living wage, Abbott said. They also offered a bonus to employees who stay through the summer.
"I had gotten to a place with my prior team to where we were really poised to do some really cool things going into the summer of 2020 … so it really felt kind of devastating to lose out on that and then watch it sit empty for two years," he said. It also motivated him to rebuild.
A few employees who worked in the front of the house stayed in touch and came back.
Jamie Lamb tended bar at Orso for five years ahead of the pandemic. A few weeks after the restaurant shut down, she landed a job at PubHouse in the Inlet Tower Hotel.
"They had to-go bottle service for people staying in the hotel. A lot of people were quarantined there," she said.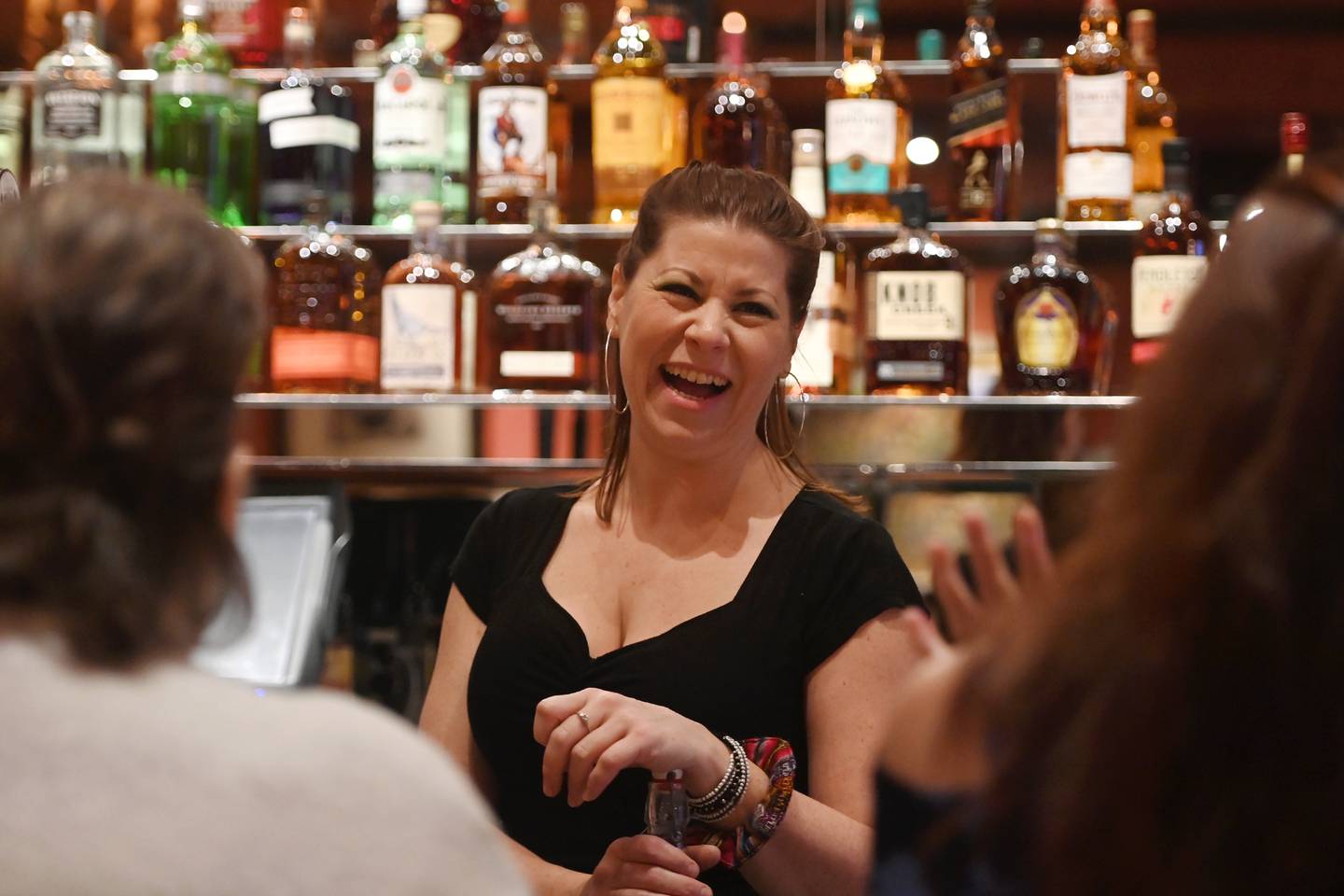 Bartender Jamie Lamb . (Bill Roth / ADN)
That was a stroke of luck. Then, the place set up plastic dining igloos outside. And it went nuts.
"I mean, we were 45 days out, booked solid reservations at the Inlet at these igloos," she said.
Orso offered to let her retain the benefits she'd left when the restaurant closed. And she was attached to the bar and her regulars. So when they asked her to come back, she agreed.
"I know a lot of people (working in restaurants) were like, I'm gonna go do something else. This is the business I love," she said.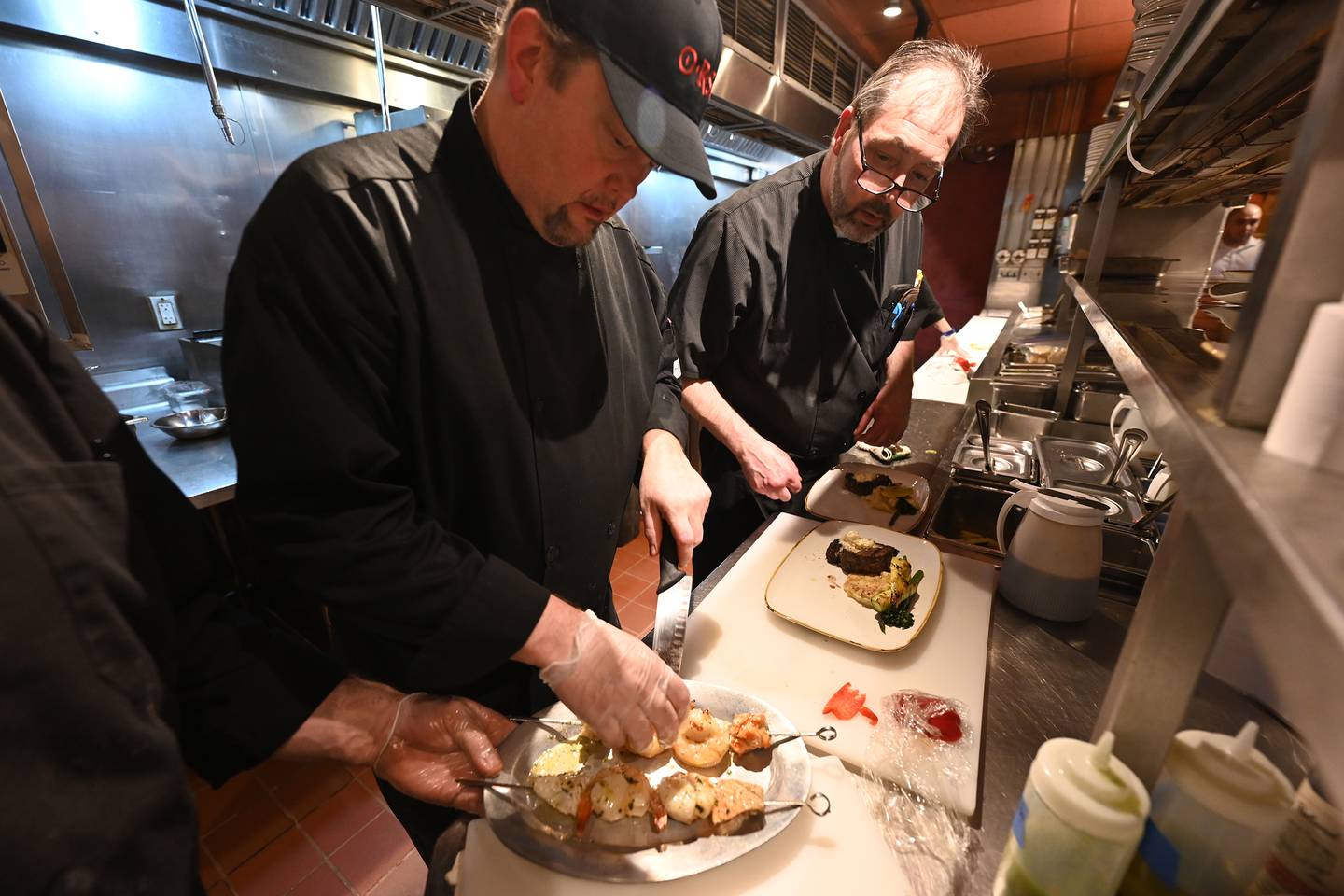 Orso chef Russell Haver, left, and executive chef Eric DuBey plate orders in the kitchen. (Bill Roth / ADN)
Orso hired just enough staff to run at 60% of its pre-pandemic capacity doing dinners only, five nights a week, Abbott said. Finally, on a Wednesday evening in early April, the longtime hostess was back, straightening the stack of menus at the desk by the door. Customers began to arrive.
Portia Erickson, who works for Mayor Dave Bronson, was among the first in the restaurant after its initial launch. She's been going to Orso since she was a girl, she said. She and her husband, Alan, had consistent date nights there ahead of the pandemic. Coming back felt just the same as ever, she said. She's optimistic downtown will rebound, and glad to return to a date-night routine.
"I'm just extremely grateful that they took the chance," she said.
Another Orso regular, Karen Zeman, who works in nonprofits, came with her husband on the first Saturday night it was open. It felt a little surreal, she said, given the last two years. It wasn't full that night. She wondered how it would fare.
"It was almost like a high school reunion a little bit in that you just get reflective of, like, your times in that space," she said. "And then you're just wondering how things are gonna go in the future."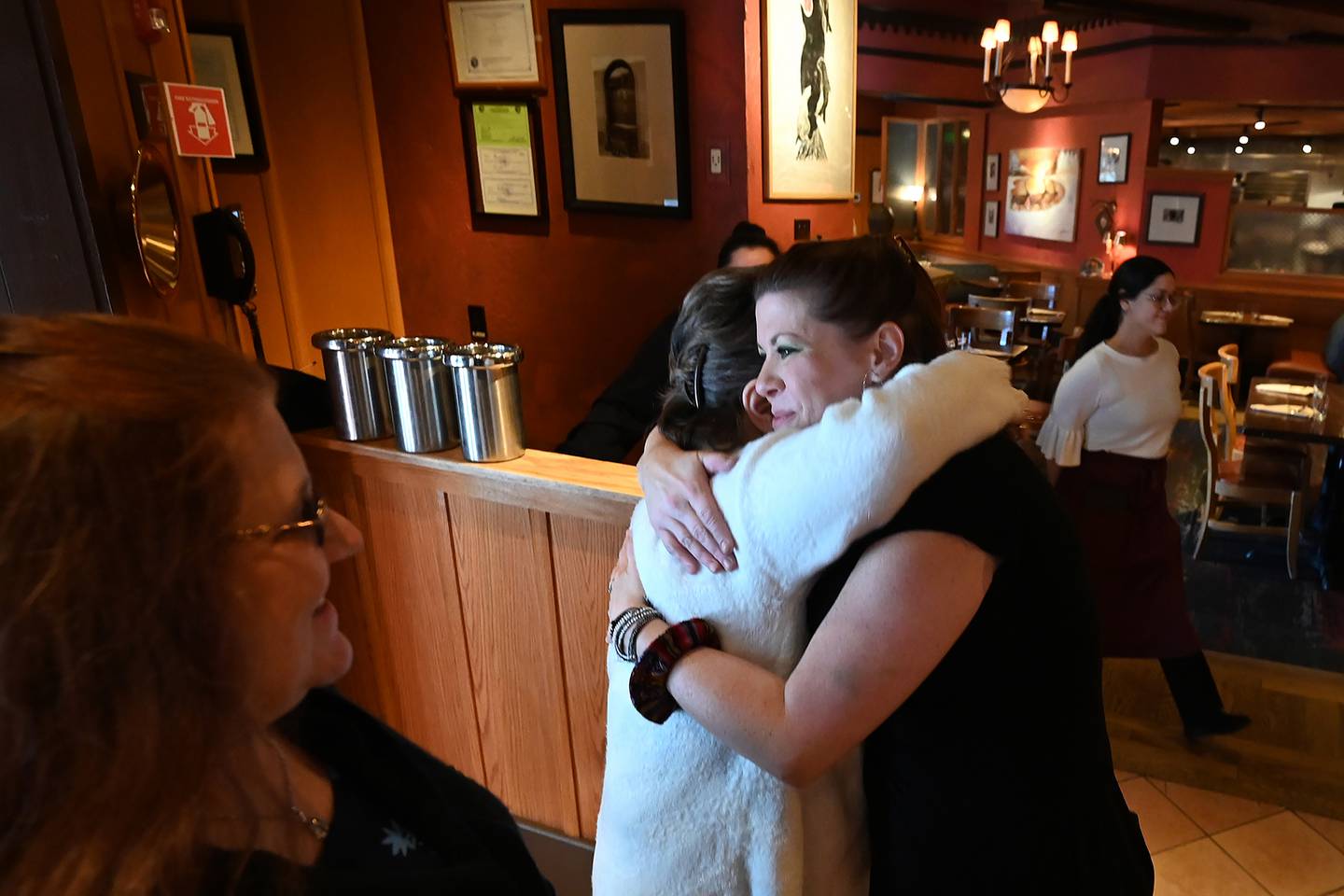 Bartender Jamie Lamb embraces guests Doreen Kinsey and Abbe Sikes, left, as they arrived at the restaurant earlier this month. (Bill Roth / ADN)
Each night, McCormick and Abbott watch the door as the guests arrive.
"Daily, over the last two years, I walked through the restaurant. It was cold and dark and silent and to see it come back to life is just an unbelievable experience," McCormick said. "Maybe I'm crazy because there certainly is a lot of risk and I invested a lot of money, but there's a lot of upside if we pull this off, and I believe in this team and I think we will do it."