Museum Publics Becoming Climate Activists

Museum Publics Becoming Climate Activists
Conversations with Miranda Massie, CEO and Founder of the Climate Museum in New York City.
In this second blogpost Dr. Sandro Debono, a museum thinker based on the Mediterranean island of Malta, shares his thoughts and reflections about the Chatter Marks podcast series with museum professionals from all over the world co-hosted with Cody Liska.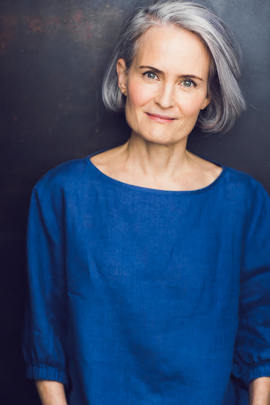 Miranda Massie, founder of the Climate Museum.There seems to be a tacit understanding of sorts that climate change action is prevalently something that concerns science museums. This is certainly not the case. The Art Strike initiative, spearheaded by the Museums for Future Movement, is a case in point whereby specific artworks "go on strike" in support of the public protests held all over the world by the Fridays for Future Movement keen on immediate climate change action by governments and authorities.. But then there is also climate art or climate change art, which Miranda Massie, CEO and Founder of the Climate Museum in New York introduced us to during our podcast conversation.

Climate art might have resonated much more with me, perhaps because of my background in art history but this, indeed, is something that Massie's Climate Museum is very much committed to and with good reason. Science tells us that our Neanderthal ancestors did not have the gift of aesthetic appreciation which homo sapiens sapiens would later possess. Cave paintings recording hunts and human presence are the evidence of this gift. Indeed, Miranda claims, art has the power to connect us to each other and that is scientifically proven too. So why not invite artists to help museums connect and reach out to communities on such a hot topic as climate change?
There is purpose in such a preference. Rather than presenting just the hard facts that science has been churning out in an increasingly alarming manner, artistic expression can become the medium through which to communicate and reach out to publics and communities. This is what informs Massie's ethos for the climate museum she set up in New York city summarized in a statement that is concise and to the point - mobilize art and culture for people to become aware of the power they hold to act on climate change. For Miranda, art is a medium with which to empower and the Climate Museum is the vehicle with which to make it happen.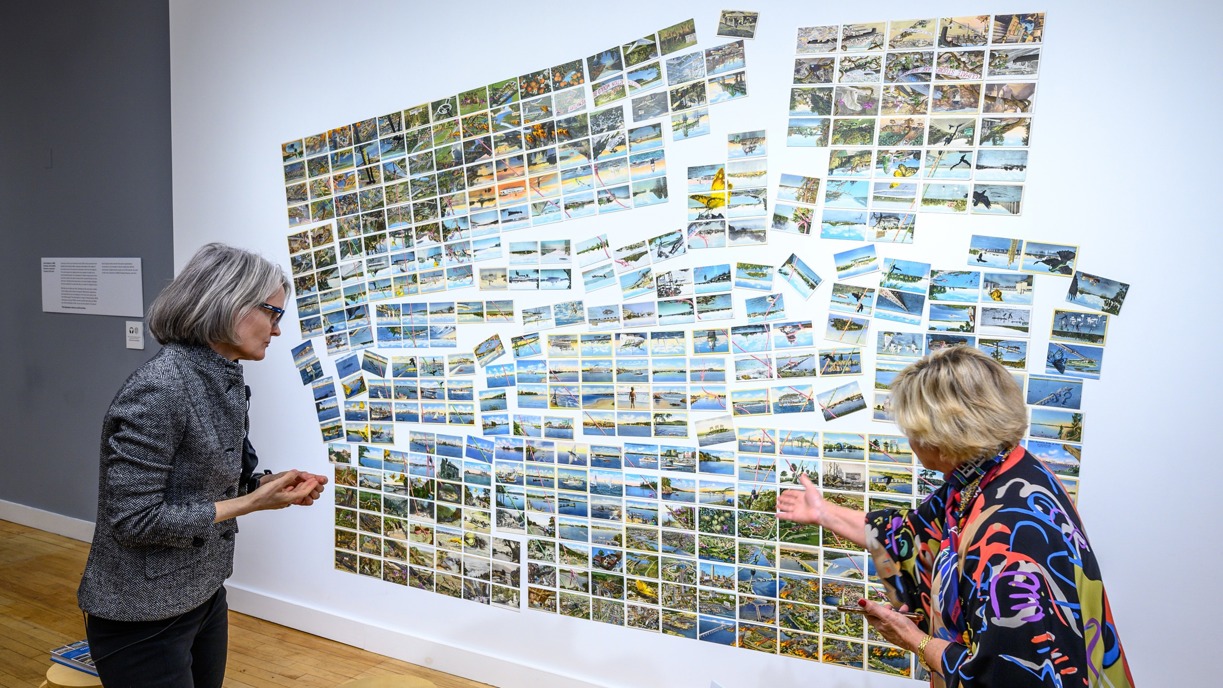 Massie's Climate Museum is the first climate-change dedicated museum in the United States but the mental model with which we generally associate a museum stops there. This is a pop-up museum that, on one hand, builds on the long-standing reputation that museums hold as trustworthy public institutions but, on the other hand, stays agile even if the long-term goal remains that of settling into a definite container. There is more that makes the Miranda's Climate Museum different. That has to do with the character of this new institution, undoubtedly also informed by Miranda's values. This had to be, and indeed is, an advocacy museum with the objective of fostering a climate of activism. The pun is very much intended here.
The Climate Museum is therefore an activist museum, committed to informing publics on climate change activism and commit them into communities of climate ambassadors. Every single action counts. Every drop after drop sustains impact. Patience, perseverance and commitment are the name of the game and Miranda's call to action becomes very specific as our conversation unfolds: talk to friends and family about climate change, speak to your local politician representing you, push for climate content in your children's schools … suggestions kept on trickling, drop after drop!
Miranda took us back to when it all began. I could feel Cody Liska listening attentively to the story as much as I was even if we were on two different regions of the planet. In Autumn 2012, Hurricane Sandy had ripped through New York city causing flooding and destructive winds. Back then, National Geographic Magazine described it as a 'raging freak of nature' causing at least $70 billion dollars in damages. Miranda vividly describes the visual quiet that would morph into visual noise as Sandy made its way through the city going on to share with us the details of how those days were spent in a New York apartment. But more than being an anomaly, Hurricane Sandy would become a call to action for many. Miranda, for one, would decide to leave her legal practice behind to set up and run a climate museum.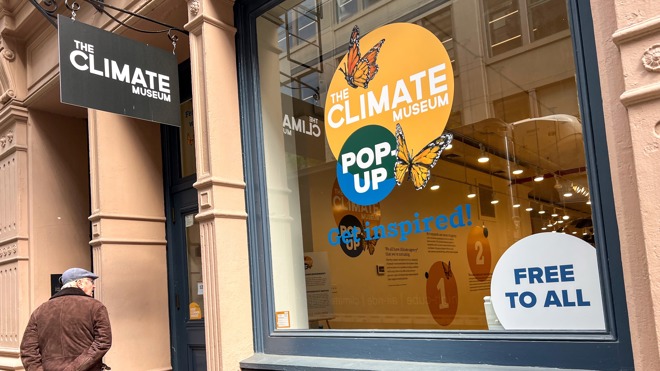 Miranda is rather positive about the climate crisis and surprisingly so, I would add. The climate crisis is all about bringing the best out of humanity but then, much as Lath Carlson, the Executive Director of the Museum of the Future in Dubai, told us a while ago during our podcast conversations with him, this requires new perspectives to make it happen. Miranda is quite clear on this matter. Appealing to a rationalist perspective cannot help us understand climate change clearly. Instead, the challenge is to appeal to the emotions.         


The way to move things forward is not to tell the truths science keeps highlighting again and again but to, instead, appeal to the emotions. It can be risky to continue down the road of sharing just facts and that risk is tantamount to becoming ineffective communicators. Instead, we should connect to people through their heart. The equation that shall help us pivot is clear to Miranda- let's shift from the rational to the emotional.

Miranda shared lots of insight on what is happening in the United States too. There is, indeed, a silent majority that is in favor and supportive of climate change action, according to Miranda, and that is when the conversation becomes technical, reports get quoted and statistics mentioned in order to buttress these claims. I liked how Miranda described this state of things as the myth of American indifference on climate change. For Miranda, the challenge is also quite clear at this point. Unless this silent majority makes its voice heard the right policies will never be in place. There is also an unexpected paradox to address. This increased awareness within American society that Miranda clearly describes is not fueling philanthropy to specifically address, fund and support climate change action. Only a small percentage of funds keep being assigned to institutions and organizations working on climate change action and advocacy.

Could this be a chicken and egg situation as to what comes first? I don't think there is an easy answer to that question.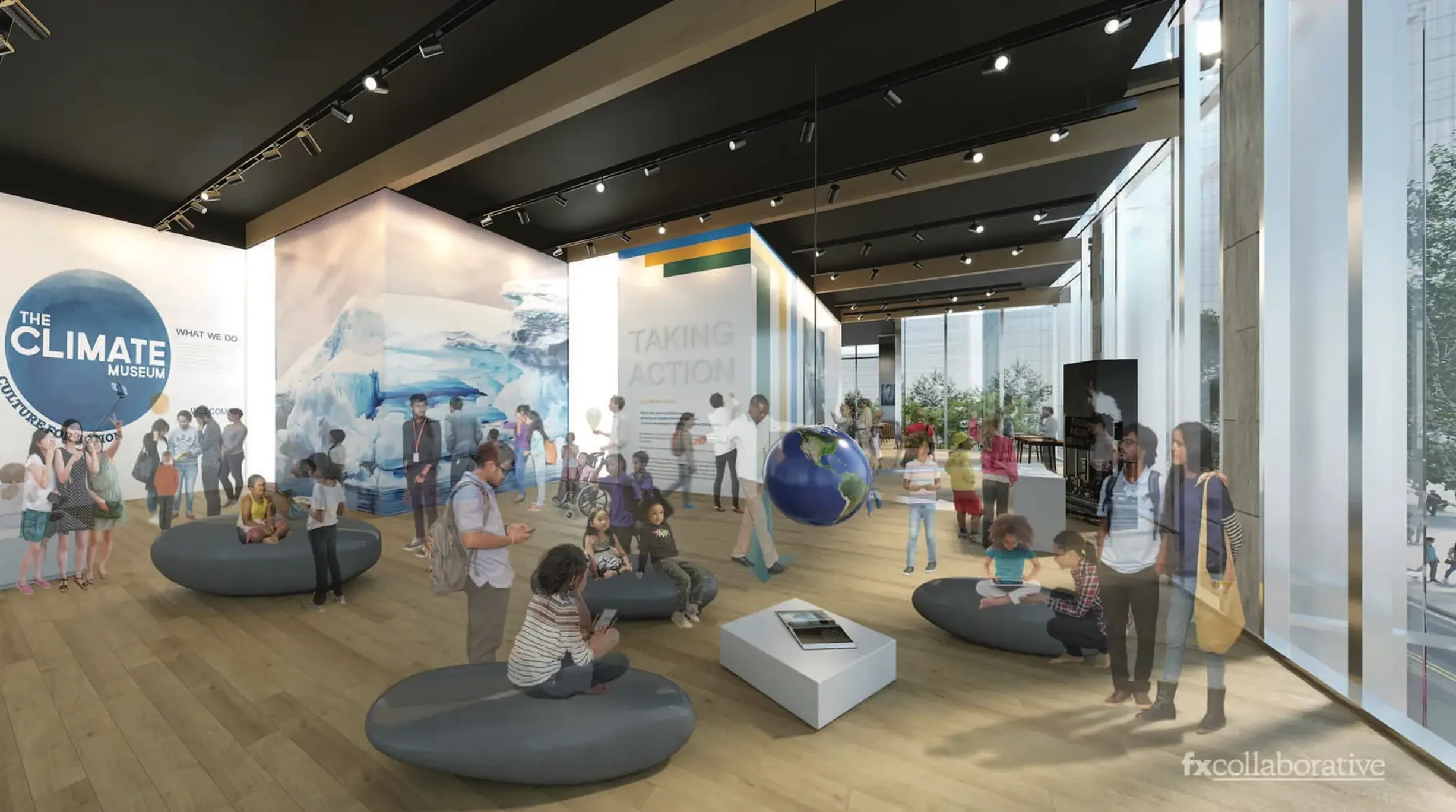 The proposed permanent space for the Climate Museum. Credit: fxcollaborative

I could not help noticing Miranda's commitment to meaningful impact in her work at the Climate Museum. Impact matters and how. For Miranda to consider an exhibition as impactful, rather than successful, means that those who visit come out motivated and committed to climate change action.

Miranda does not mince words on this one: "That is a clear metric for us."
There were other things about which Miranda spoke clearly and succinctly. Last but not least her passion for theatre. Towards the end, Miranda also describes our questions as unusually thoughtful but to get a sense of what those were, besides learning more about her passion for theatre, it's best to go back to the podcast.
---
Listen to the podcast in its entirety here.
As you listen to this podcast you will hear Miranda mention a number of projects, museums and publications:
The Climate Museum
Funding Trends 2021: Climate Change Mitigation Philanthropy
In Museums We Trust. Here's How Much by Coleen Dilenschneider 
Climate Change in the American Mind: Climate Justice published by the Center for Climate Change Communication
Artist Talk: David Opdyke in conversation with Lawrence Weschler at the Climate Museum.
The Jockey Climate Museum in Hong Kong
Monterrey Bay Aquarium
The United States Holocaust Memorial Museum
The Legacy Museum
The Brooklyn Botanic Gardens