Here's a look at some of the Anchorage Museum's 2022 acquisitions
By Francesca Du Brock, Anchorage Museum Chief Curator
The Anchorage Museum collects art and cultural heritage belongings, archival documents, and photographs. We'd like to share a few items that came into the collection in 2022 through a mix of museum purchase, donation, and community collection.

Linda Infante-Lyons, "The Kal'ut Madonna," 2021. Oil paint on Masonite.
Rasmuson Foundation Alaska Art Fund
Alutiiq/Sugpiaq artist Linda Infante Lyons' decolonizing Icon Portrait series depicts Alaska Native women as carriers of traditional values and spirituality. Blending Christian iconography with contemporary Indigenous references and symbols, Infante Lyons asks the viewer to consider Indigenous belief systems on the same level as Western belief systems.
This painting is dedicated to the Sugpiaq/Alutiiq people of Karluk, on Kodiak Island, birthplace of the artist's mother. The portrait is of a cannery worker on the Karluk River spit, with Shelikof Strait and the Alaska Peninsula in the background.

Charles B. Hudson, "Halibut Hook," c. 1900. Ink on paper.
Gift of Wells Fargo Heritage Museum
Charles Hudson drew this image from a photograph taken during the Harriman Expedition of 1899.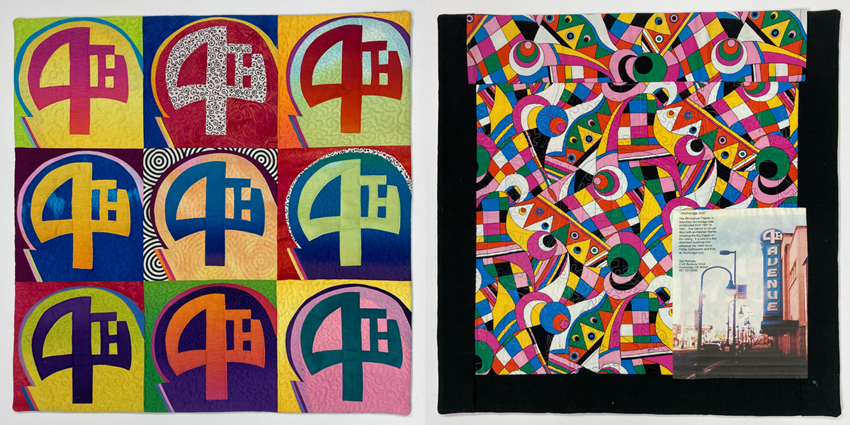 Gail Ramsay, "Anchorage Icon," c. 2017. Textile.
Gift of Allegra Hamer
Originally located at 630 West Fourth Avenue in downtown Anchorage, demolition of the Fourth Avenue Theatre began in 2022. This quilt is from a 2017 fundraiser aimed at saving the theater and celebrating its 70th anniversary.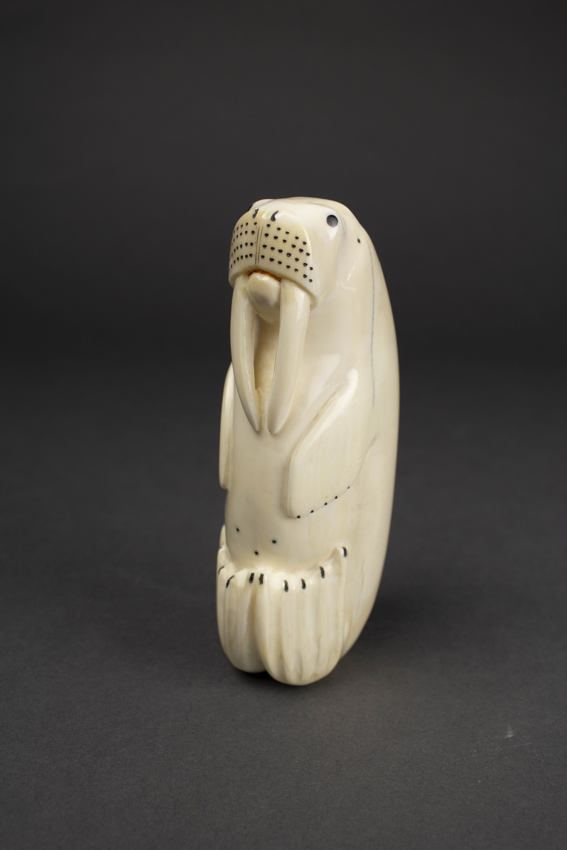 Melvin Azittauna Olanna, walrus figurine, c. 1980. Ivory.
Gift of Wells Fargo Heritage Museum
Melvin Azittauna Olanna (1941-1991) is considered a pioneer in contemporary Alaska Native art. Best known for printmaking and large-scale sculpture, this small ivory carving demonstrates his versatility.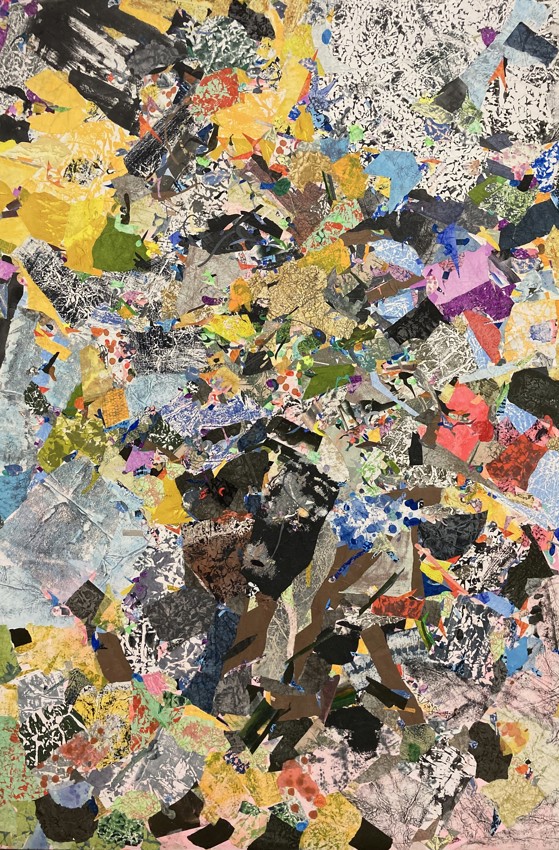 Sienna Shields, "i fold up my life/ accordion fans and origami swans/ a paper airplane carrying stories/ words come give me wings." 2017. Paper, canvas, and acrylic wash.
While moving her studio back to Alaska from New York City, Shields' car broke down along the ALCAN Highway. She created this collage from materials in the back of her U-Haul trailer while she waited for a mechanic to fix her vehicle.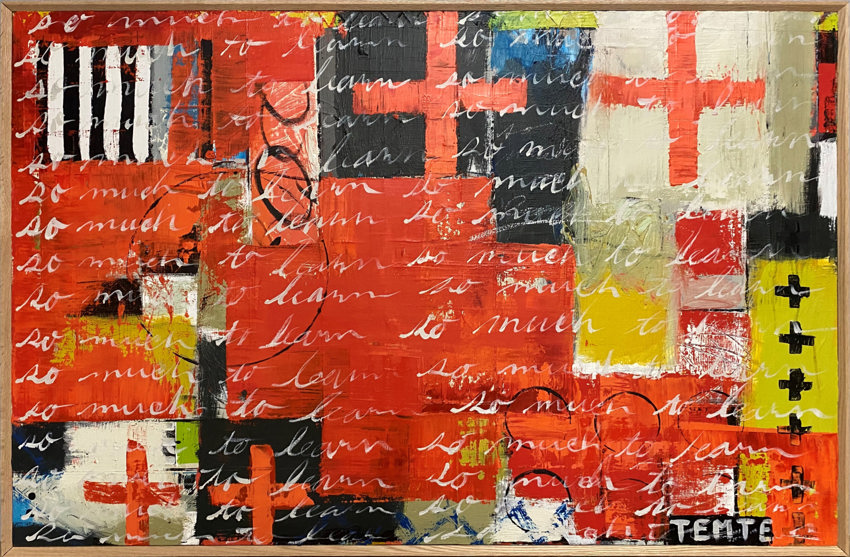 James Temte, "So Much to Learn," 2021. Oil on canvas.
Northern Cheyenne artist James Temte made this painting in 2021 in remembrance of Indigenous children who were mistreated and killed in boarding schools across the US and Canada. It also pays tribute to past and present survivors of boarding school violence.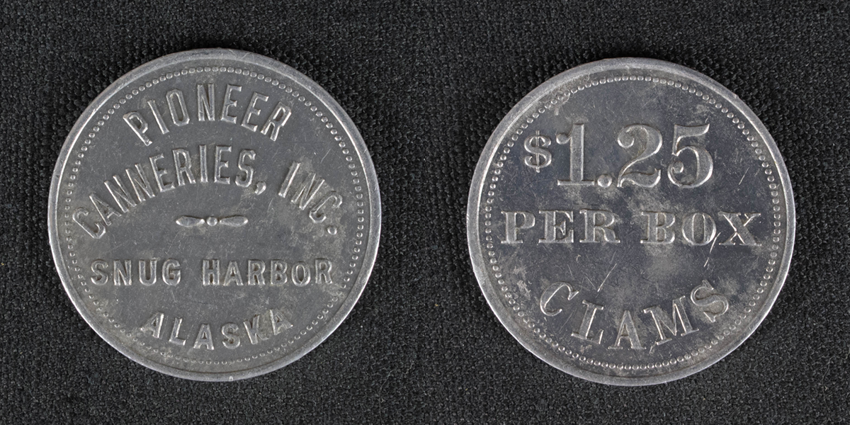 Pioneer Canneries, Inc. $1.25 token
Gift of Wells Fargo Heritage Museum
Founded in 1923 in Snug Harbor, Pioneer Canneries, Inc. paid their employees with tokens to indicate each box of processed clams. The late Dena'ina elder Peter Kalifornsky worked there as a child alongside his uncle and other Dena'ina from Cook Inlet. Peter remarked that his uncle was said to be the best clam digger and on a good day could fill 20 boxes of clams.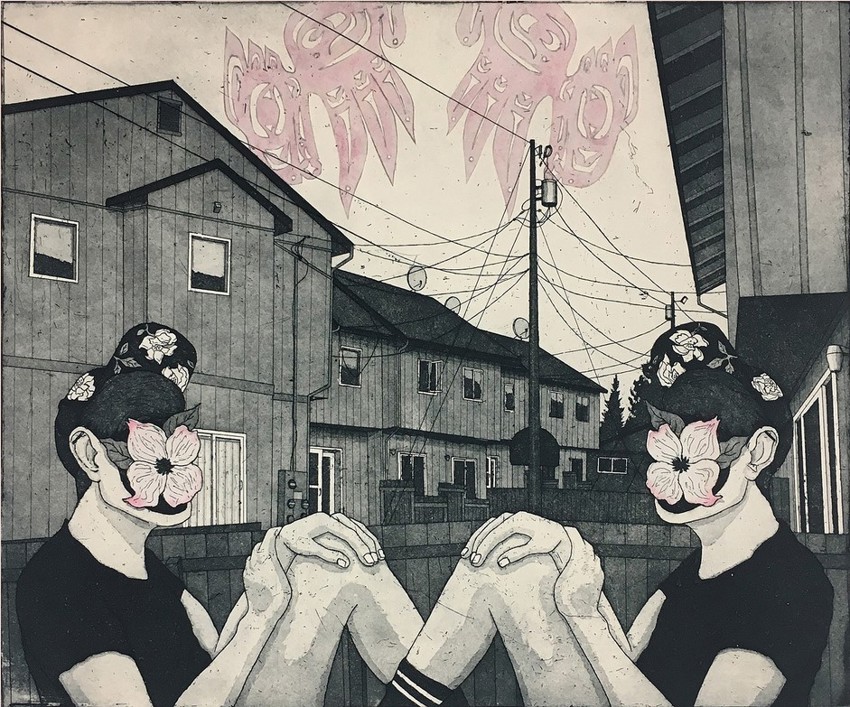 Ethan Kayaaní Lauesen, "For My Comfort," 2019. Etching and aquatint with chine-collé.
A composite self-portrait, Lausen's work incorporates personal references, memories, and everyday Alaska settings to create works that examine queerness and Indigeneity.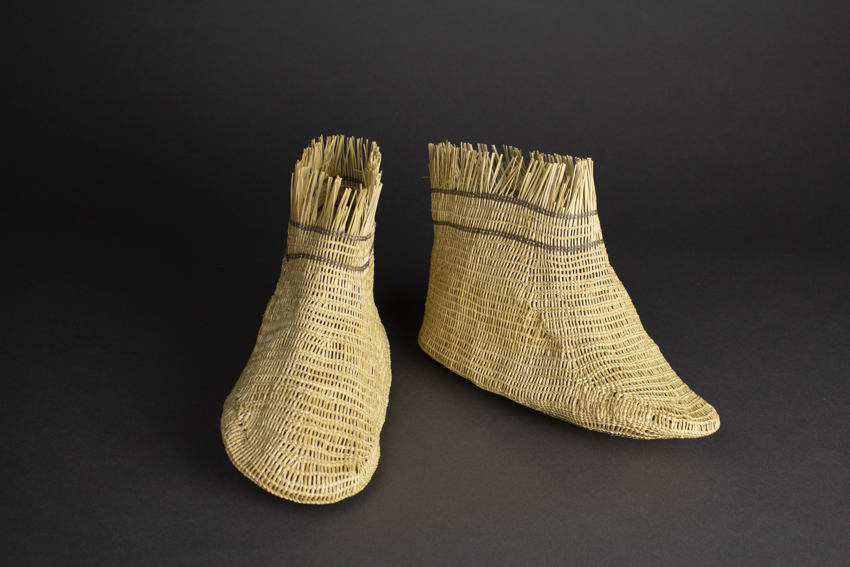 June Pardue, socks, c. 1995. Emollius grass and dye.
Gift of Wells Fargo Heritage Museum
These twined grass socks were woven by Alutiiq and Iñupiaq artist and culture bearer June Pardue using Leymos mollis—more commonly known as beach rye—gathered on Kodiak Island.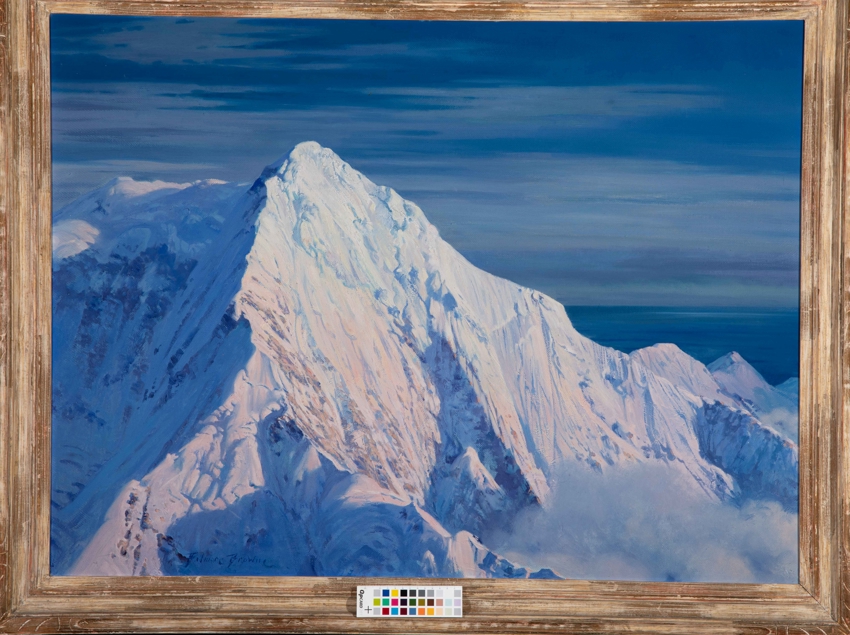 Belmore Browne, "Mount Crillon, Late Afternoon," 1940. Oil on canvas. 
Gift of Wells Fargo Heritage Museum
Belmore Browne was an artist, mountaineer and wilderness enthusiast, and along with his son George Browne, is known for his paintings of alpine scenery. This painting was a wedding gift from the artist to Bradford Washburn, the American mountaineer and photographer who ascended and mapped multiple Alaska peaks—including Mount Crillon—in the early 20th century.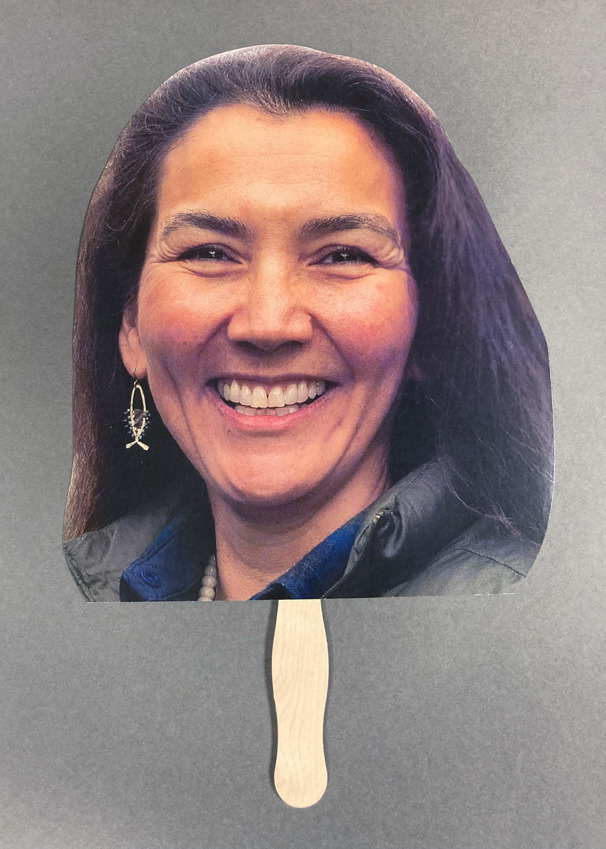 Mary Peltola fan, 2022
In 2022, Mary Peltola became the first Alaska Native to serve in the US Congress and also the first female to hold Alaska's only seat in the House of Representatives. This fan is from the 2022 Alaska Federation of Natives gathering.