Unmasking Anchorage's Indigenous Culture
August 09, 2022
Drew Michael was born in Bethel and raised in Eagle River, Alaska. He learned carving at an early age, focusing on mask-making as his primary medium. Michael's work pays tribute to his heritage and is influenced by the people and events encountered throughout his own life.

In August, Michael will begin work on a mural inspired by his heritage and Alaska Native culture. It will be displayed on the Kobuk building on the corner of W. 5th Ave and E Street, a prominent location in the heart of the downtown Anchorage.

The planned mural depicts a colorful mask, which reflects Michael's main body of work. Michael recently spoke with us about the mural's meaning and his vision for it.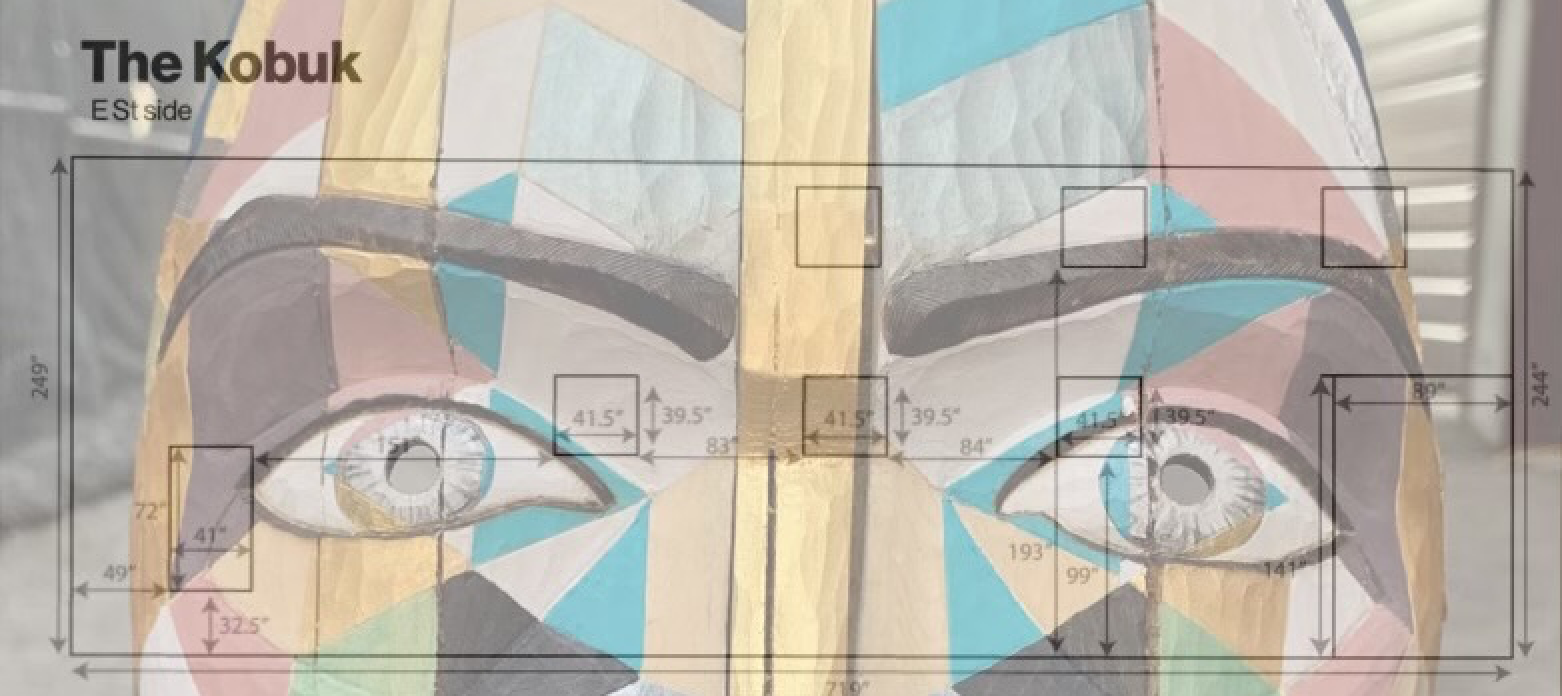 A draft rendering of Michael's planned mural for the Kobuk building in Downtown Anchorage.

AM: Share a little about your background and how that is reflected in your work.
DM: I was born a twin, in Bethel. We were adopted out of Bethel and raised by white parents along with a lot of siblings adopted from different families. Bethel is kind of a mixing pot of the Yup'ik region. I'm both Inupiaq & Yup'ik and my birth father is Polish, so I'm half Polish. I am a mask maker, so the Yup'ik culture and the Inupiaq culture come out. I've been to Poland looking for my family on that side but haven't really allowed a lot of that culture to come through. It is inherently happening in some ways, with Western culture being in Alaska. I guess there's kind of a blend … The piece that will be on the Kobuk is actually called Full Spectrum. It kind of fits in perfectly with the idea of all parts of oneself coming together.

AM: Did you workshop a few different ideas or was there anything specific you had in mind when the opportunity to do a mural came up?
DM: I know that building, we've all been by it a million times … I wanted to think about a message that can be shared, that everybody could connect with in Alaska, that isn't just Native. I came up with some ideas and absolutely hated how everything was flowing on the space and then I thought, "I'm a mask maker, I should just show my work."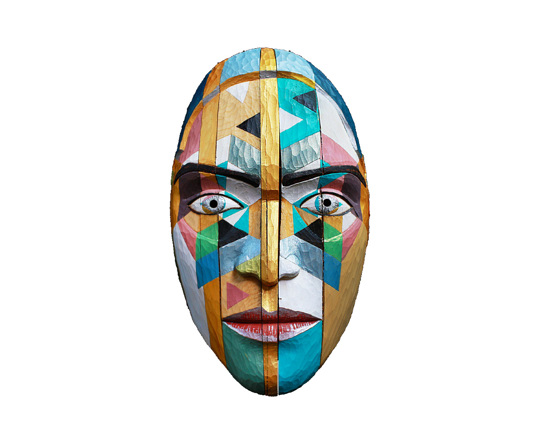 The Full Spectrum mask on which the Kobuk building's mural is based.
AM: Have you ever created a large-scale work like this before?
DM: I've never done painting on such a large scale and I am a little intimidated by the process, but I think that with the help of friends, (a little research), and the assistance of the museum, I think we can step right in …  I felt really, kind of nervous about a new project, but that's when some of the most exciting things come out sometimes–because you're blending new ideas and new worlds together.

AM: That building is at the heart of downtown Anchorage. What are your thoughts on having a public work on display in an area that's a first stop for a lot of visitors?
DM: I wanted to bring a lot of color to downtown. I think that influenced this piece, and I think part of the story of the Native people of Alaska is thinking about how everything has energy; and looking through the eyes of a mask, you can see into a way people lived that was connected to place. Having that space downtown will open the eyes of visitors to the beauty of the place and the culture.
 
Michael's work on the "Full Spectrum" mural is scheduled to begin Aug. 15-24.