Sharing culture is community: A Q&A with Crystal Worl
July 27, 2022
Crystal Worl is a Tlingit, Athabaskan, Yup'ik and Filipino artist based in Juneau. Many would recognize her artwork from the Trickster Company, a business she started with her brother Rico in 2014. Trickster Company started out selling skateboard decks and now also sells apparel, jewelry, and fine art, as well as paper, home and sporting goods. Each piece pays homage to Worl's culture with formline design. "We changed Trickster Company Skateboards to just Trickster Company because we wanted to design not just skateboards. We wanted to see formline design and Native design on modern-day apparel."
Worl is taking that determination to spread formline in modern spaces to the streets of Anchorage, where she'll be painting a mural on G Street. The project is a collaboration between Anchorage Museum, the Alaska Mural Project, Alaska Pacific University, and the Anchorage Downtown Partnership.
Composed of images from several different Alaska Native groups, the piece embraces Anchorage as a gathering place for Alaska Natives from across the state. She spoke with the Anchorage Museum to discuss what the opportunity means to her, as well as her inspiration behind the mural.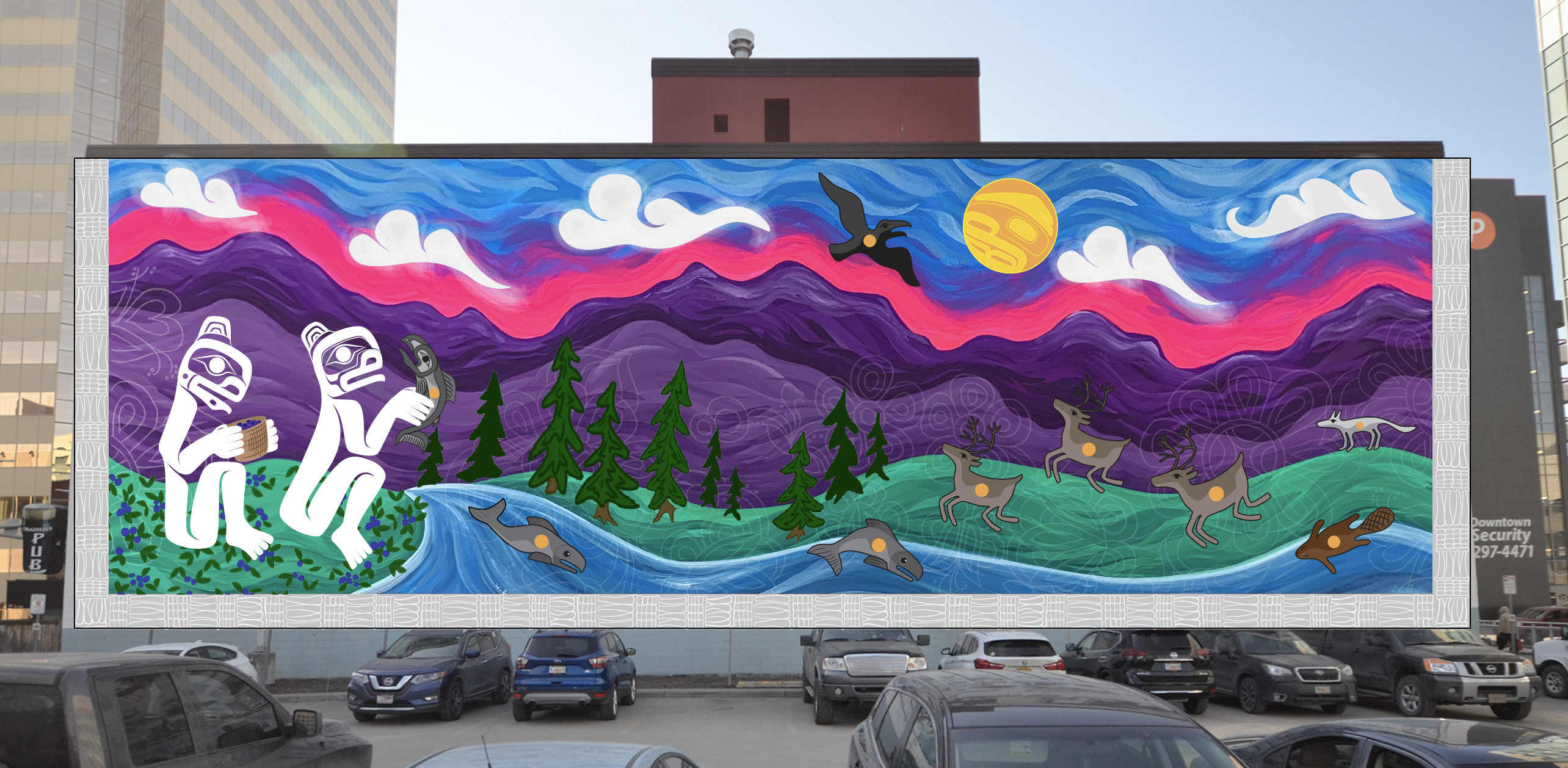 A draft rendering of Worl's upcoming G Street mural.
Anchorage Museum: How did you approach the design for this mural? What were its inspirations?
Crystal Worl: This one was really tricky for me. Because one, I'm still very new to murals and public art. And two, it's the biggest art piece I've ever done. So, it was definitely intimidating, but I've had just an immense amount of support from the project management team. After my interview, they told me how they felt about my artwork after getting to know me and my art. They said, "We really love your work and your work ethic, and we think you're a fit artist to do this mural on G Street.
It's also intimidating because it's already painted, there's someone else's art on there. But at the same time, it feels right because art is not meant to last forever, especially murals. Murals are not known to have the longevity of an original painting that's framed and protected. It's in the elements of Alaska. There's the wind, the sun, the wear and tear, and murals are not meant to last forever. I hope someday that my murals are eventually painted over by a new artist when the time comes. And maybe that art will have greater meaning to that time.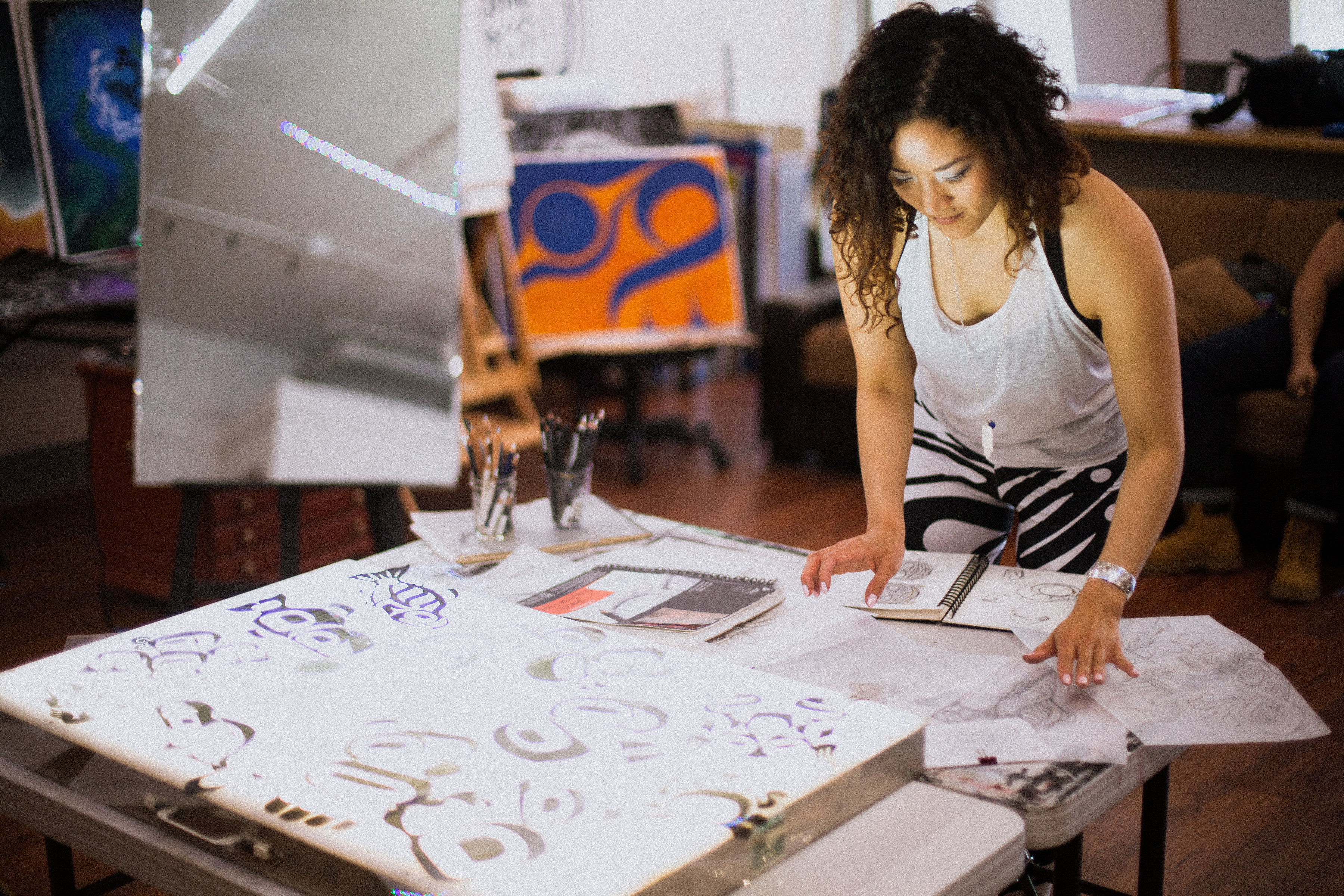 Worl in her studio. Photo by Donavan Johnson.
AM: What made you decide to honor multiple Alaska Native peoples in your mural?
CW: There's a great diversity of tribes that live and work and coexist in Anchorage today. And so, I wanted to create a piece that feels significant to a lot of people in Anchorage, especially all the different tribes and people from all over that are from Anchorage, grew up in Anchorage, or moved to Anchorage.
The best way I could think of how to interpret that while sticking with the style of work I do is to include a lot of scenery and landscape. A lot of my artwork depicts living off the land or depicting a relationship between the land, people, animals, and a way of life. It was really tricky and challenging for me because I'm not Dena'ina, but I want to honor and give justice to acknowledging Dena'ina territory.
I did a lot of research into Dena'ina culture; the design and art is very, very different from my tribe. I'm Tlingit, Athabaskan, Yup'ik and Filipino. So, I included different hints of designs from Tlingit, from Athabaskan, from Dena'ina, from Yup'ik. And then the overall background landscape is the Chugach Mountain Range. There's water and trees; it's a lot of landscape that's very much Anchorage but with very vibrant color palette that's just bright and really pops.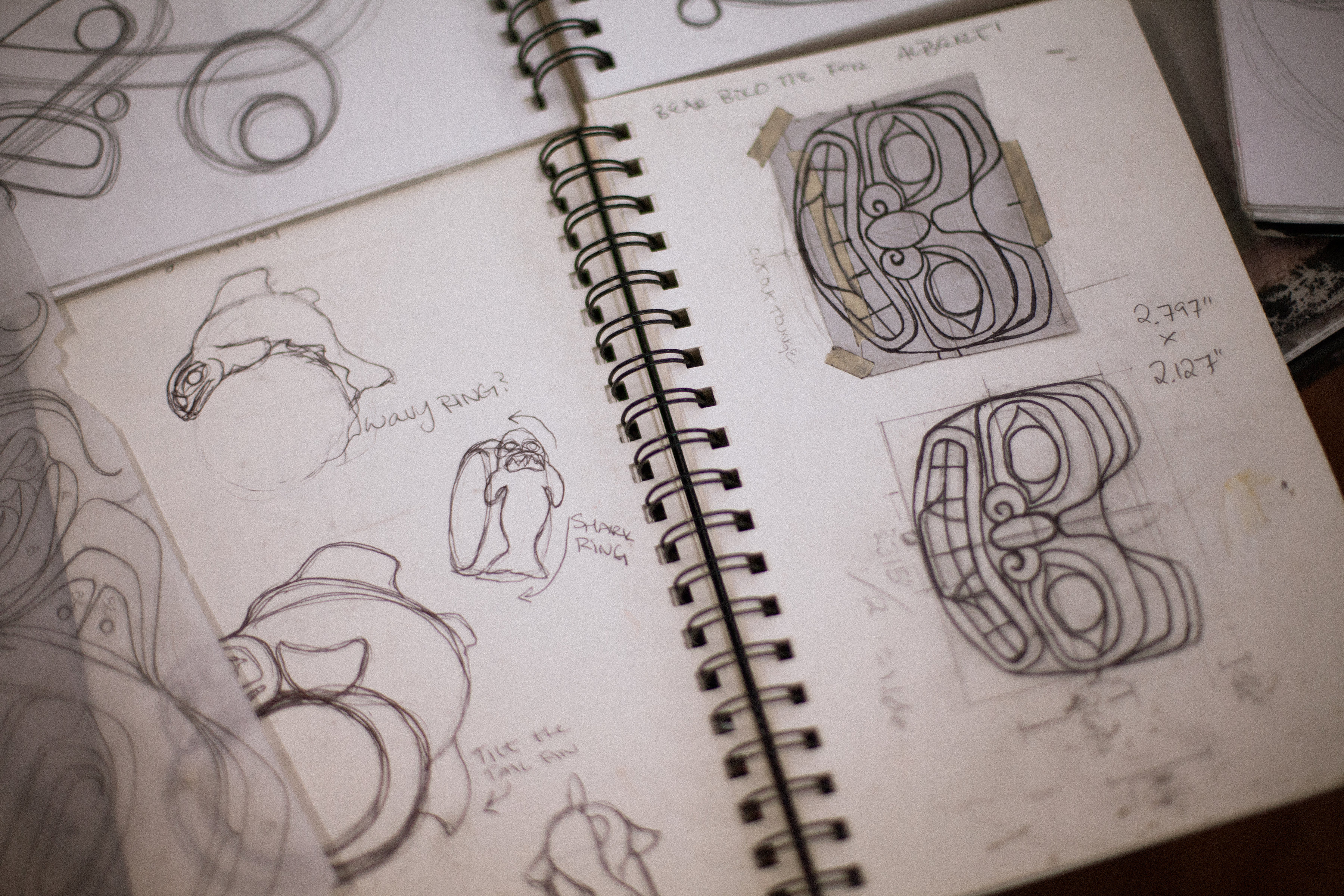 A peak inside Worl's sketchbook. Photo by Donavan Johnson.
AM: Your mural shows images of people fishing, a quintessential Alaska activity. Why did you choose to include fishing imagery?
CW: I was like, "What's the one commonality that connects all Alaska Native people and non-Natives? What is the one thing that connects us all the most?" It's not just the land, it's salmon; it's the migration of resources. [In the mural] there's human figures that are fishing for fish. That's like the one thing that really drives Alaska and Alaska culture and has great meaning since time immemorial. There's also caribou, and then a few other animals that are specific to Anchorage area.
AM: What does it mean to you that you have this opportunity to create this mural?
CW: Yesterday. I was up on this lift making repairs on a mural of Elizabeth Peratrovich I did in Juneau. And it was really a pain and a hassle, and lift was not super easy to drive. But I was up there doing repairs and physically in pain and exhausted and just being like, "Man, why am I doing this? Why did I think being a public art person or getting into murals is cool, it's exhausting!"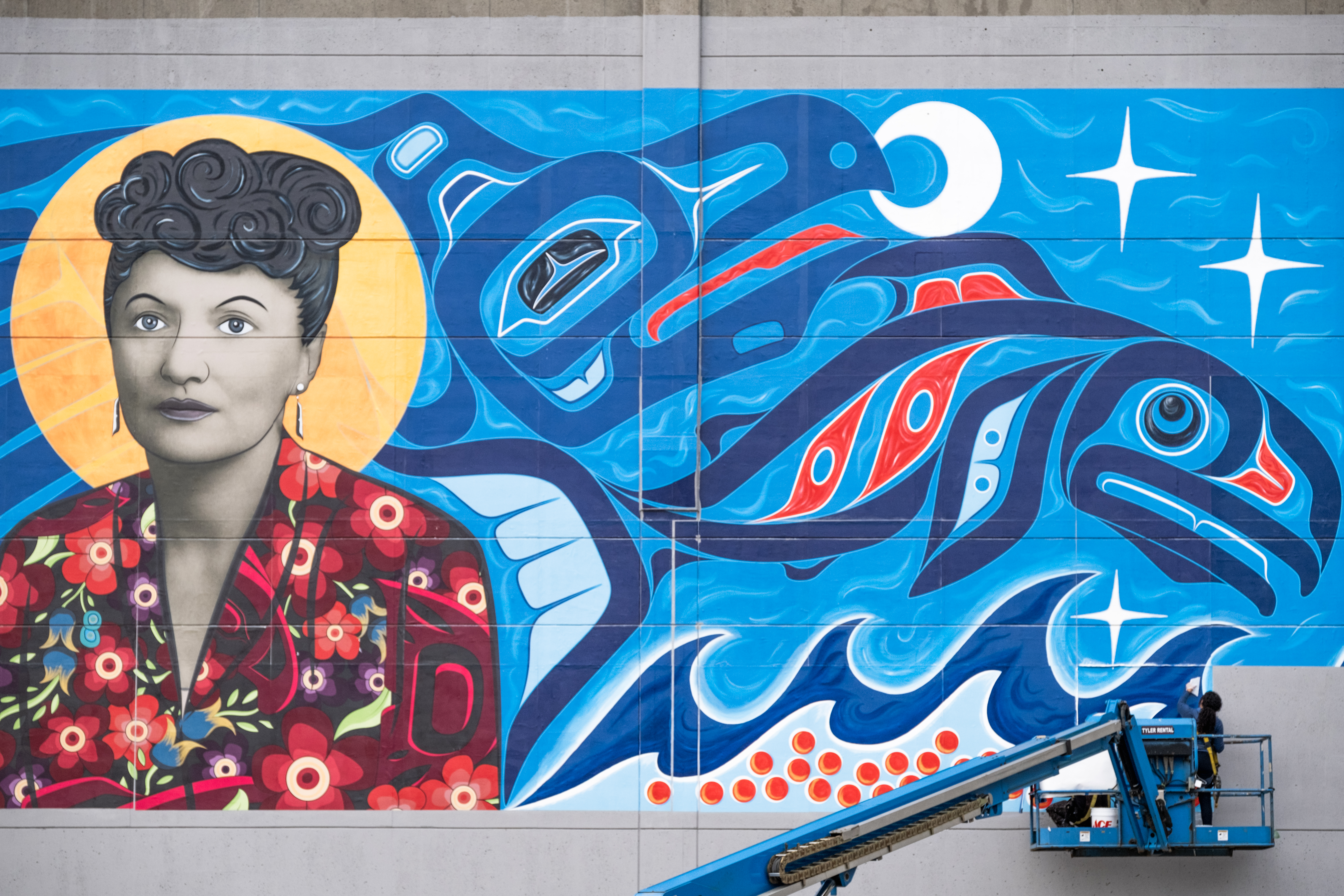 Worl working on her mural of Elizabeth Peratrovich in downtown Juneau. Photo by Konrad Frank.
But, it's not unusual for me to go through this often with many of my larger projects. You get your burnout. And in those moments, it's really important to remind myself like, "Oh, I'm, I'm playing a significant role in giving a voice to people like me, and sharing, not just my story, but stories that have great meaning and representation of who I am, where I come from, and my communities." As painful as it is to create a mural, it's absolutely rewarding.
AM: What do you hope people get from viewing your mural? What's the feeling you want to leave them with?
CW: I really would like people to feel the energy, to be inspired, to make Anchorage colorful. I just want people to think about how beautiful diversity is, especially in Anchorage. It's as beautiful as the land and the animals that are here. It's something that can be embraced and celebrated from all walks of life. And when they look at the art and feel that connection, whatever it means to them, I hope it gives them a sense of freedom. I hope people like it.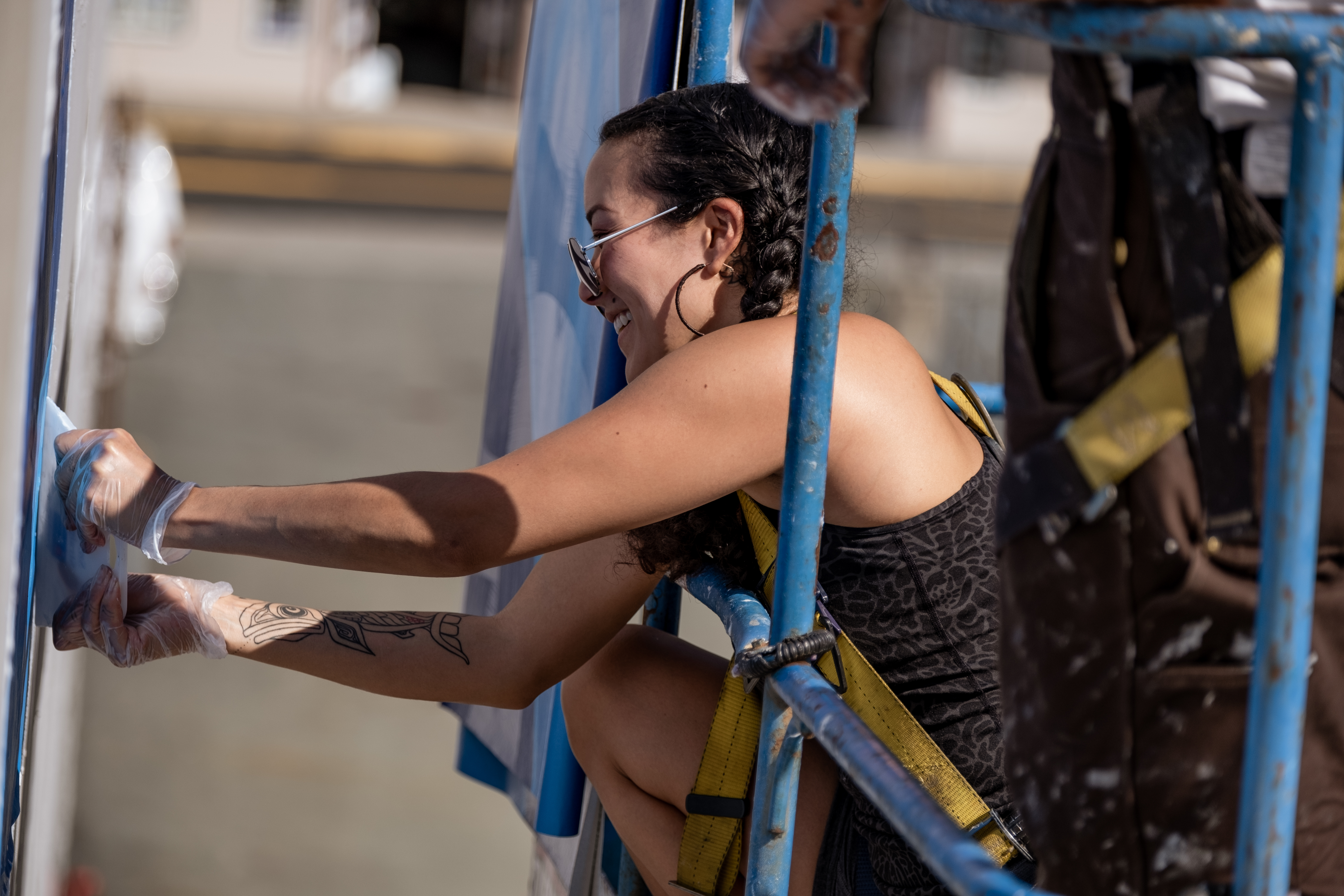 Worl smiles while working on her mural in downtown Juneau. Photo by Konrad Frank.
The project is a collaboration between the Anchorage Museum, the Alaska Mural Project, Alaska Pacific University, Anchorage Downtown Partnership, Roadmap for a Vital and Safe Anchorage, and building owners Barbara and Larry Cash, with support from Agnew::Beck Consulting and Easy Park.
To learn more about Worl and her art, visit her website, crystalworl.com.
Header photo by Donavan Johnson.