Kaasteen Jill Meserve on beadwork, humor, and cultural resilience
September 02, 2022
By Francesca Du Brock, Chief Curator
Artist and Lingít language teacher Kaasteen Jill Meserve grew up in Hoonah, a small town near Juneau in Southeast Alaska. Her love of artmaking and Indigenous languages was nurtured from a young age through Hoonah City Schools' innovative approach to teaching Lingít and cultural arts. Now a successful bead artist and immersion Lingít preschool teacher, she reflects that the experience of growing up in an environment that affirmed and celebrated Tlingit culture and values has "informed everything I do and love in my life as an adult: I create artwork, I love to be involved in cultural activities, I love to work in our language—it's always been a part of my life. I feel so fortunate now, looking back, to have had that experience."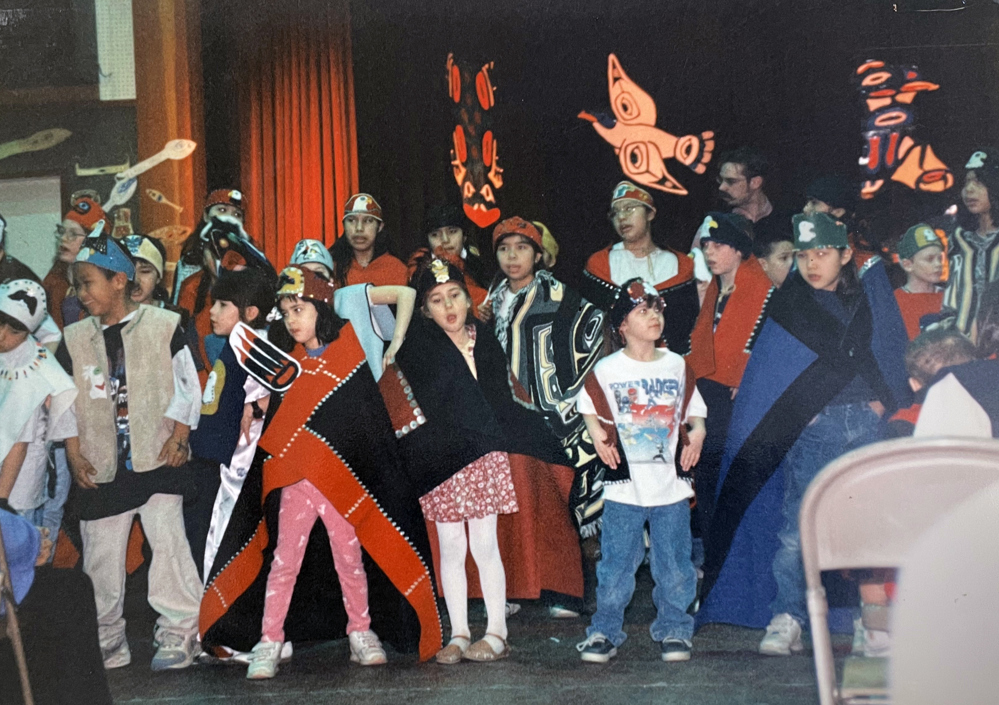 Gaawta'k.aan Dancers. The young Kaasteen is wearing a Power Rangers t-shirt.
When she isn't busy with her young daughter or teaching classes of 3-, 4-, and 5-year-olds, Kaasteen can be found in her studio creating regalia, jewelry, beaded medallions, and sewing her own clothing. Over the years she's experimented with a variety of materials and techniques, including knitting and crocheting, costume design, ceramics, and photography, but she is best known for her beadwork, which became the focus of her practice during the COVID-19 pandemic. During that time of isolation, Kaasteen discovered the "Native artist corner of Instagram," and was inspired by other Native artists to take her artmaking more seriously.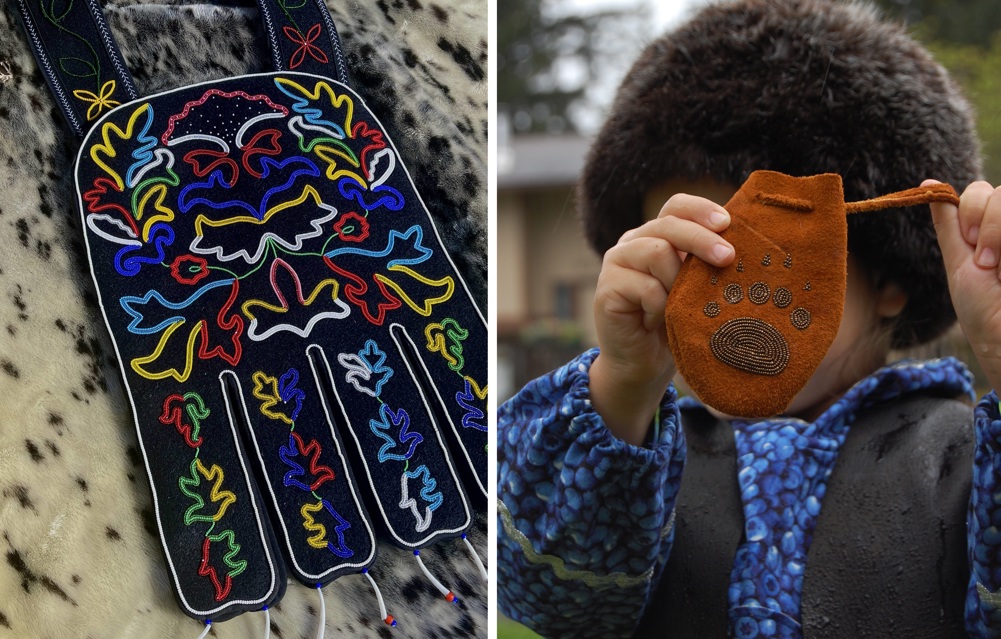 An octopus bag and a beaded pouch created by Kaasteen
Kaasteen draws on a range of sources for her beadwork designs: from pop culture and favorite TV shows like the sitcom Friends and the cartoon Rick and Morty, to traditional Tlingit forms, to everyday products and materials. Emphasizing her omnivorous approach to developing beading imagery, she explains that she was once even inspired to bead the floral pattern from a square of toilet paper on a pair of slides. She enjoys the challenge of translating diverse designs into beadwork. Likening the process to "making a painting with bingo daubers," she must figure out how to render a two-dimensional image with small, three-dimensional objects. She often sketches her designs first using an iPad and then beads directly onto a printed pattern affixed to cloth or animal hide.

Some of Kaasteen's sources of inspiration
As a teacher and culture bearer, a huge part of the process for Kaasteen involves sharing—learning from elders and aunties, helping teach the younger generations, and trading tips with her community on social media. Kaasteen reflects that "it's easy to get caught up in security of knowledge. For so long, under colonization, we were told we weren't even allowed to have our knowledge. So, some people feel that it's a sacred thing that we need to keep and protect. But if we want this knowledge to persist, we need to pass it on to others." To this end, Kasteen has been offering youth beading workshops through the Alaska State Museum. She says it's important to share a diversity of techniques and approaches to the medium.
Last year, Kaasteen's beadwork was featured on the hit FX Indigenous American teen comedy Reservation Dogs. Created by filmmakers Sterlin Harjo and Taika Waititi, the series features all Indigenous writers and directors, with a majority Indigenous cast and production crew as well. Kaasteen's beaded medallions are a pivotal part of the humorous plot of season one. "I feel so honored to have been a part of that," she says. "It's truly so groundbreaking. Sterlin is creating a pathway for so many Native actors, writers, and artists. He's following an Indigenous model of natural mentorship and apprenticeship—it's not a typical Hollywood approach, it's a community movement."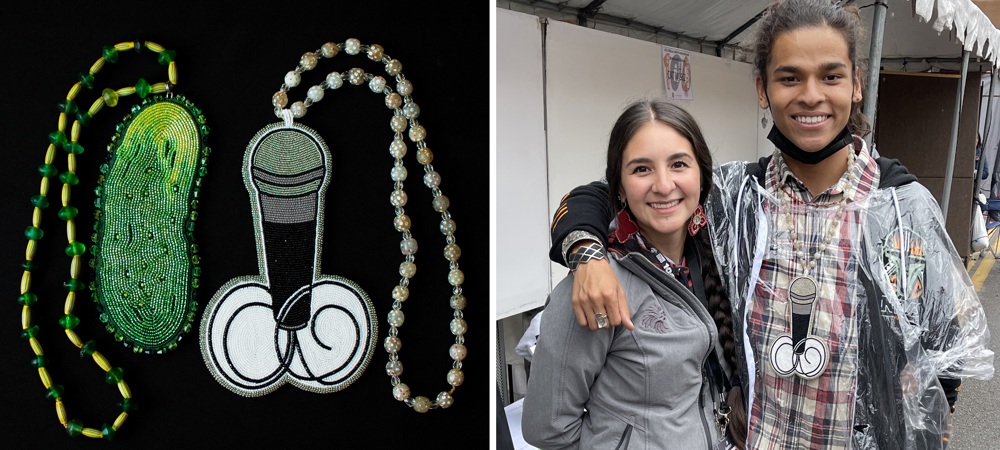 Left: medallions Kaasteen created for Reservation Dogs. Right: Kaasteen with one of the show's stars, D'Pharaoh Woon-A-Tai.
For Kaasteen, who has been working to create space for Indigenous ways of being her entire adult life, the experience of connecting with the Reservation Dogs team was a dream come true. Pointing to the traumas of colonization—the decimation of people, culture, and language—and the healing properties of laughter, she reflects that "laughter is medicine, that's what it really is for a lot of Native people. You've gotta laugh through the pain. For me, beading is about cultural resiliency and holding on to traditions, but it's also about having fun, trying to be funny."
Header image: The artist in the classroom with her fellow language teachers
Follow along with Kaasteen Jill Meserve's residency for the month of September via the Anchorage Museum's social media channels and stay tuned for her livestream studio demo at 4pm on Wednesday, September 28th via Facebook Live.