Teens take action: The work of addressing climate change during the pandemic
By Molissa Udevitz, Educator
Four dedicated teenagers concerned about climate change are serving on the Anchorage Museum's inaugural Teen Climate Action Advisory Group (TCAAG). These Anchorage and Eagle River teens have overcome the challenges of virtual collaboration, meeting regularly throughout the 2020-2021 academic year. This group of dedicated teens helped the museum facilitate a highly successful Teens for Climate Action Summit. They are currently supporting climate change action projects developed by their peers for implementation spring 2021.
Summit for Teens by Teens
Under the mentorship of Anchorage Museum education staff, TCAAG members Greta DeBerry, Emma Haas, Summer Powell, and Emery Richards-Lindeke were integral to the planning and execution of the summit.
They started by reading the Anchorage Climate Action Plan, a framework adopted in 2019 for Anchorage to reduce greenhouse gas emissions and adapt to climate change impacts.  This plan served as a guiding document for the Teens for Climate Action Summit, focusing the event on local climate-related challenges and local work addressing these issues.
"It's important to talk about and take action on climate change because I want to protect Alaska so that I and future generations will always have a place to call home," says DeBerry.
Based on their personal interests and potential teen projects, TCAAG selected three of the action plan's seven sectors to be the focus of the summit: Land Use and Transportation, Food Systems, and Urban Forests and Watersheds. 
The teens not only guided the summit's logistics but also gained practical event planning experience that will serve them beyond their involvement with TCAAG. This included designing and incorporating feedback on an event logo, inviting experts to be guest speakers at the summit, marketing the event, and co-hosting the summit. Some TCAAG members even expressed newfound interest in public speaking after doing several presentations related to this project.
Summit Success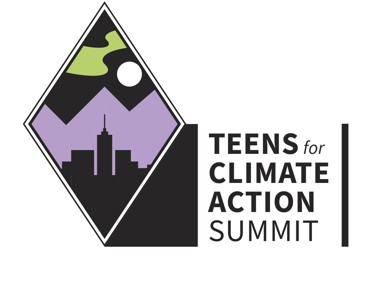 TCAAG's hard work paid off. Thirty-five teens from 14 different Anchorage and Matanuska-Susitna schools participated in the summit. On the first day, teens learned about the Anchorage Climate Action Plan and heard from guest speakers doing work related to the selected Action Plan sectors.
Community experts and partnerships were an important part of the event. Each selected action plan sector had a guest speaker:
The Anchorage Museum also partnered with two Anchorage School District teachers passionate about climate change education to recruit students: Mary Richards of Chugiak High and Adam Mackie of West High. This created three groups of teens: two groups from these teachers and a public group. Each group was matched with one of the action plan sectors.
The second day of the summit was the catalyst for teens to start developing the climate action projects taking place this spring semester. Each of the three teen groups joined a different breakout room with a TCAAG member, guest speaker, and museum staff to start brainstorming their group's project. Guest speakers continue to serve as project advisors throughout the spring.
Teen Action Projects Underway
Teens are currently working hard on their projects. The West High group is exploring the feasibility of implementing a composting program at their school. The public group is developing an educational campaign about how using non-car methods of transportation, such as walking or biking, can reduce greenhouse gas emissions. The Chugiak High group will start their urban forest and watershed project in mid-March so that their project can be integrated into their fourth quarter classwork.
Stay tuned to the Anchorage Museum's social media channels this spring to be updated on teens' progress. Their projects will conclude by the end of this school year and finish with a celebratory meeting so each teen group can share their work with their peers.
Smithsonian Connection
TCAAG, the Summit, and subsequent teen action projects emerged from the Anchorage Museum's selection to participate in the Smithsonian's National Earth Optimism Teen Conversations Project. This Smithsonian project, open only to Smithsonian affiliates, was created to bring teens together from all parts of the country to learn about and discuss their concerns about the environment. It has also provided grant funding that has allowed the Anchorage Museum to pay TCAAG members stipends and Summit guest speakers honorariums.
In late January, teens from each Smithsonian Affiliate involved in the National Earth Optimism Teen Conversations Project gave virtual presentations to Smithsonian officials and other participating affiliates to share their progress and earn up to $500 to support their work.
TCAAG's strong presentation resulted in the Smithsonian Institution awarding the full $500 to the Anchorage Museum to support the implementation of the teen spring action projects.
"Teens are uniquely positioned to be leaders in environmental action given the threats to their future and their fearless and optimistic approach to problem-solving," said Jennifer Brundage and Brian Coyle, the project's directors at the Smithsonian Institution. "Through its Affiliate partners, the Smithsonian is excited by this opportunity to empower students to be the transformational changemakers and environmental leaders we know they are. We are deeply invested in their success."
The Anchorage Museum wholeheartedly agrees and looks forward to continuing to invest in teen climate work.