Indigenous artists in Alaska continue to grow formline art with the help of serigraph printing
By John Hagen, Curator of Indigenous Arts and Initiatives Anchorage Museum  
What is serigraph printing? 
Serigraph, or silkscreen printing, is a process by which an image is created through a stencil. A stencil is fixed to a fine screen and ink is pressed through that mesh. Places where shapes are cut in the mesh, ink is pressed onto paper. Each color in a print requires its own screen. The name silkscreen comes from the material used for the printing screen. The first screens used for this process were made of silk; now, they are predominately made from synthetic materials.  
Serigraph printing involves creating images with solid blocks of color. For Northwest Coast Indigenous artists, it is a medium that is perfectly suited for showcasing formline design, the primary visual language of Indigenous People of the region.  
The term formline was coined by art historian Bill Holm. Holm describes it as a system of design incorporating line-like figures and shapes that form a kind of grid around a decorated area. Four standard shapes, including ovoid, u-shape, trigon, and circles, are arranged to create images depicting creatures both real and mythical. Formline design also describes where these shapes come together and how that junction is resolved. These shapes and how they are arranged varies from tribe to tribe and village to village.  
For many Northwest Coast Indigenous artists, serigraph printing is an important part of their practice. Depending on the type of work an artist creates, projects might be months or even years-long endeavors, often involving intensive carving, weaving, or casting processes. Serigraph prints can be a way of remaining active in galleries and producing new work on a shorter time scale.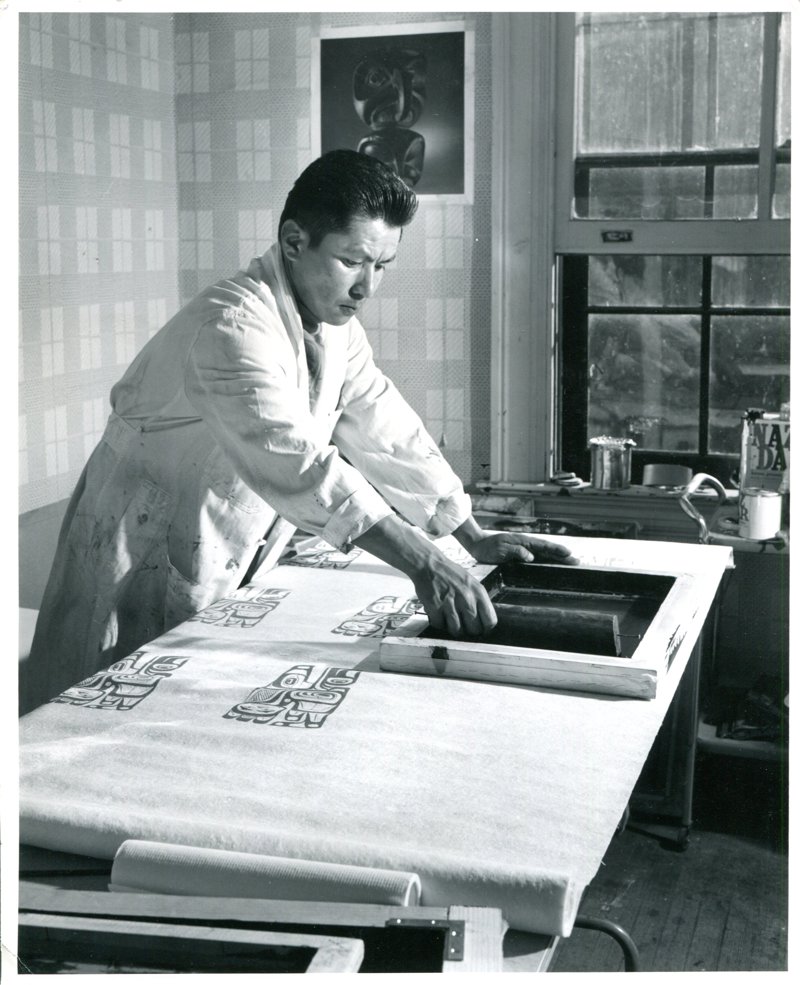 Tlingit carver Nathan Jackson pushes ink through a silk screen in Haines, Alaska in the 1960s. Jackson received early training in printmaking at the Institute of American Indian Arts in Santa Fe, New Mexico. Jackson later taught printmaking at Alaska Indian Arts in Haines. Photo courtesy of Haines Sheldon Museum, Haines, Alaska. 
The popularity of serigraph printing in Northwest Coast art likely has its roots in 1960s programs aiming to expand Indigenous participation in the trades to build financial independence for communities.   
Tlingit artist Nathan Jackson was pivotal in teaching generations of Alaska artists this technique through the 1962 Department of Labor the Manpower Development Training Act, which sought to retrain workers unemployed due to automation and technological change. That program provided funding for arts training at Alaska Indian Arts in Haines as well as elsewhere in Alaska. Jackson brought printing techniques he learned at the Institute of American Indian Arts in Santa Fe, New Mexico, to his teaching at Alaska Indian Arts in Haines.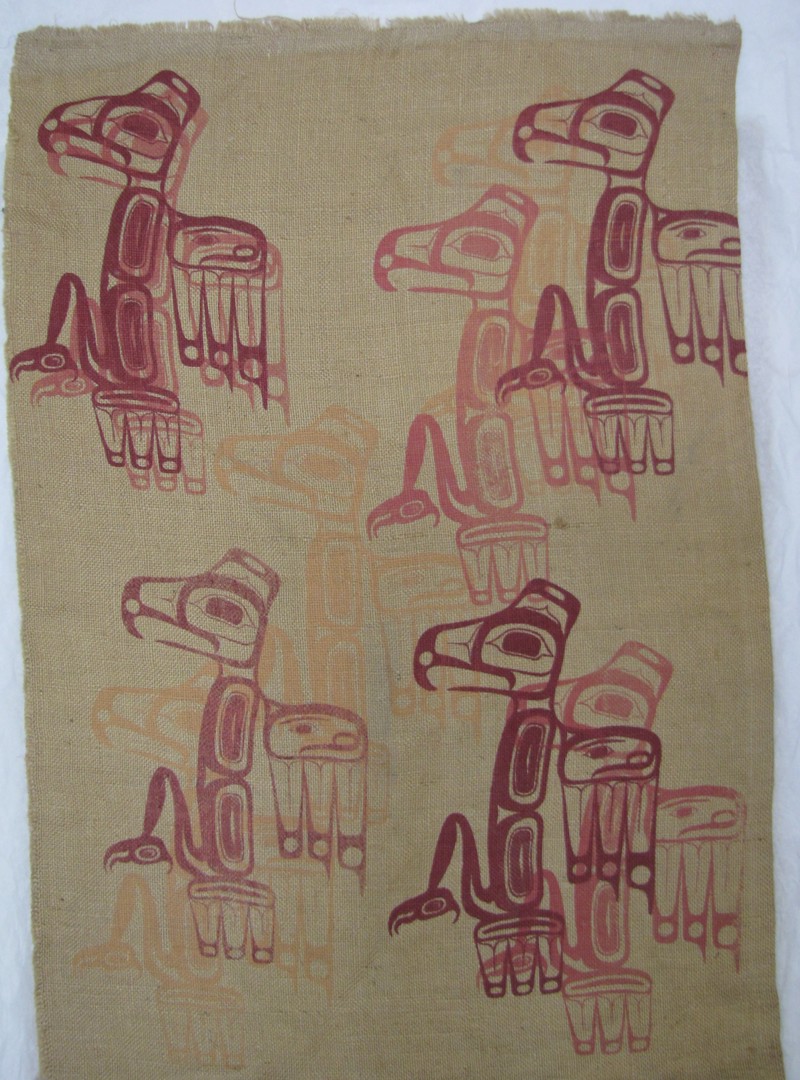 Repeated raven designs were printed on a piece of textile during class demonstrations or practice sessions at Alaska Indian Arts in Haines. Photo courtesy Haines Sheldon Museum, Haines, Alaska.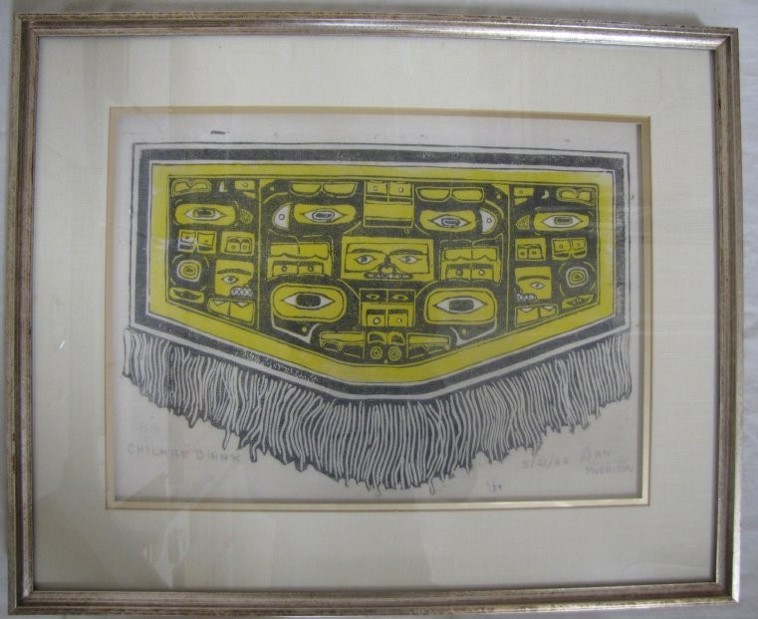 Chilkat Blank, 1965. Serigraph by Dan Morrison. Photo courtesy Haines Sheldon Museum, Haines, Alaska. 
Why is serigraph printing important?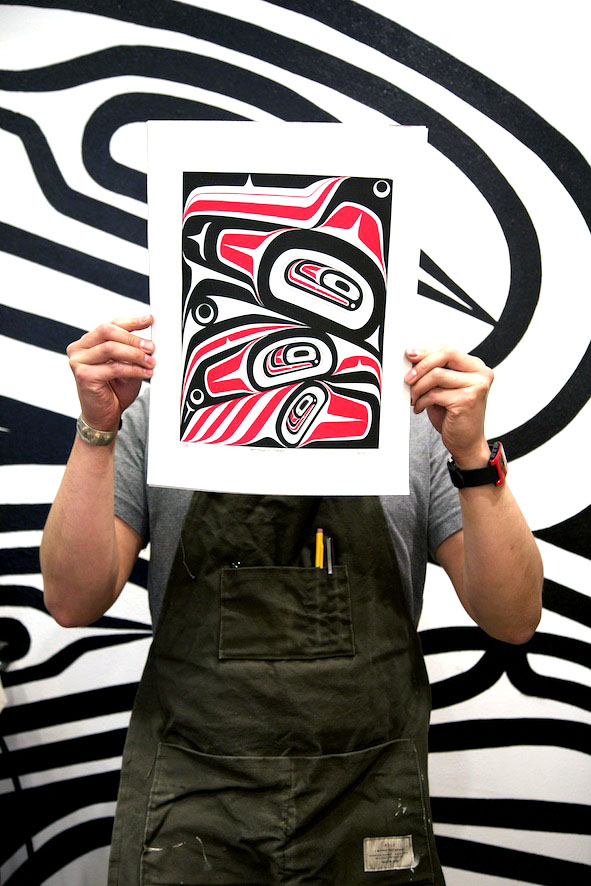 Artist Rico Worl holds his serigraph print Transforming Raven. Photo courtesy Rico Worl. 
For contemporary artists, accessibility is one of the most compelling aspects of serigraph printing. Carvings, jewelry, and paintings take a considerable amount of time to create and may need to be sold at higher prices to offset the costs of production. By contrast, a typical serigraph edition might include 100 prints and take a few days to create. Some artists choose to keep their editions open and reprint popular designs.  
Tlingit/Athabascan designer Rico Worl says, "The thing I like about serigraph is that it really lends itself to formline design. Formline is basically shapes and forms. Formline and serigraph play hand-in-hand."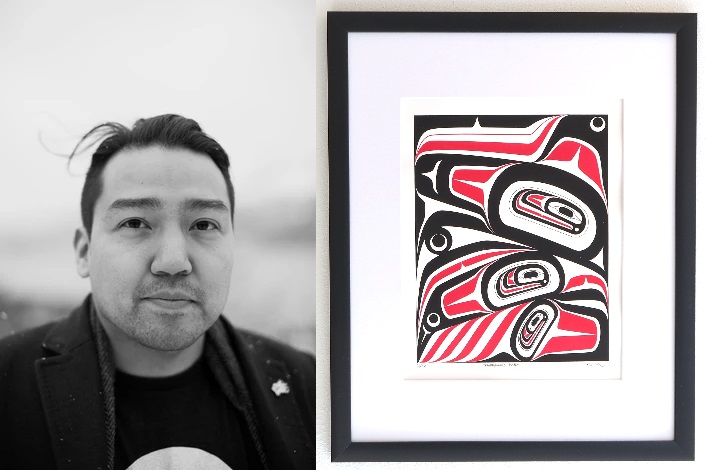 Left: Rico Worl, Photo courtesy of Rico Worl. Right: Rico Worl's Transforming Raven serigraph print. Photo courtesy Rico Worl. 
For Worl, serigraph is a way to develop his artwork. Creating multiples through printmaking allows him to sell work to a broader audience than he might reach if he focused solely on carving or a painting. "Prints have become a way to support the time I've invested in learning the art form and developing designs," said Worl. Typically, he creates one or two original print designs a year.  
Tlingit artist James Hart is a carver and formline designer. Last year, he purchased a screen-printing press. Hart said, "One thing that attracted me to this medium was that I could create something tangible for people who want to support my art but might not want to or be able to purchase a larger piece."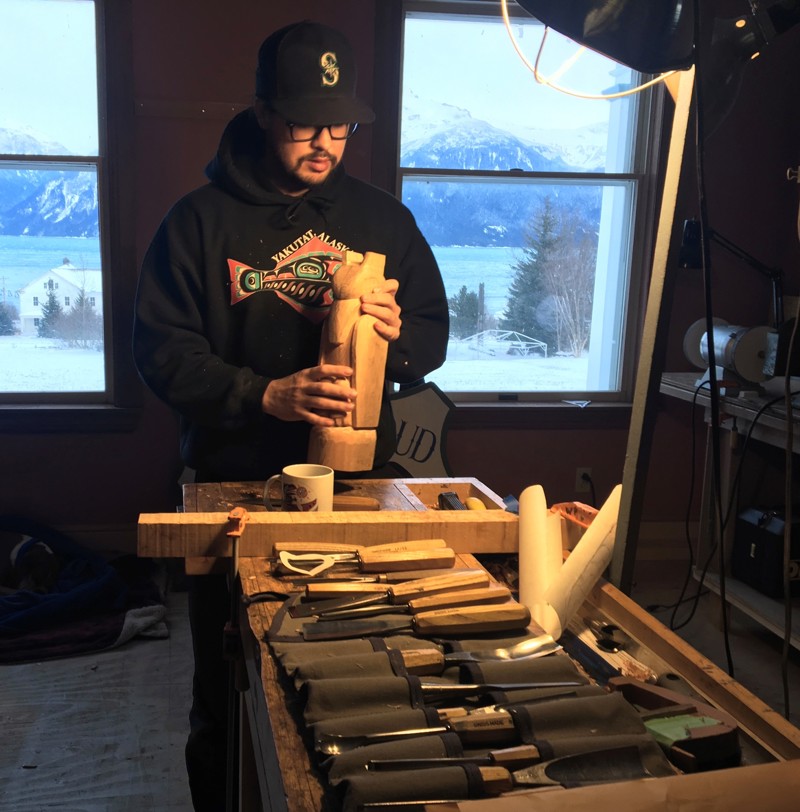 James Hart works on a carved raven. Photo by John Hagen.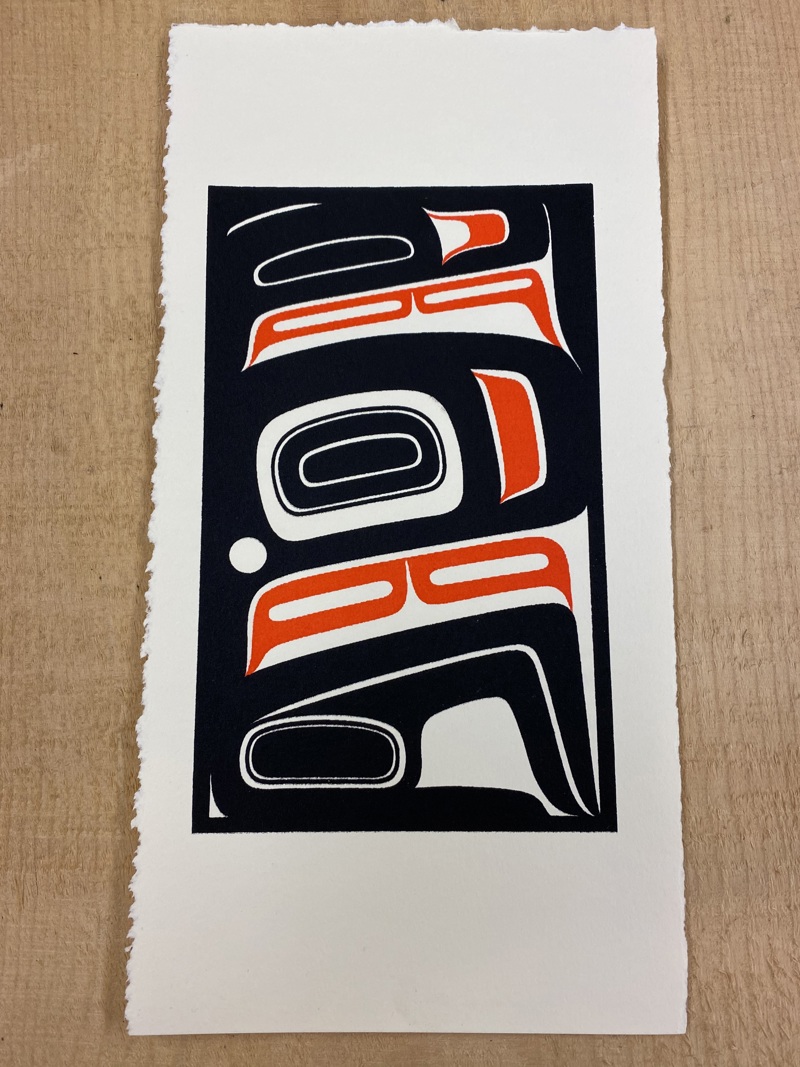 Growing Pains, 2020. Serigraph by James Hart. Photo courtesy James Hart. 
Tlingit artist Alison Bremner sees printmaking as a means of career building: "Prints can distribute an artist's work to a greater audience than individual paintings can."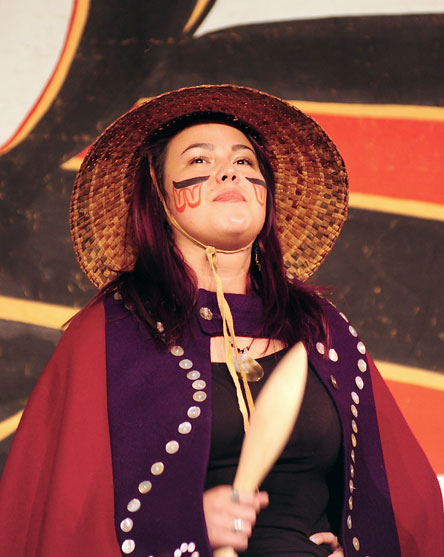 Artist Alison Bremner. Photo courtesy of Alison Bremner.  
Prints give people a chance to bring tangible cultural heritage into their own homes. The medium has allowed artists to adapt and innovate, offering fresh expressions and interpretations of traditional formline design.  
Alison Bremner's Malibu Raven is an example of a contemporary reinterpretation of formline design. Evident in the composition are Bremner's characteristic use of humor and pop cultural references. Her take on a traditional raven design incorporates formline high-heeled shoes.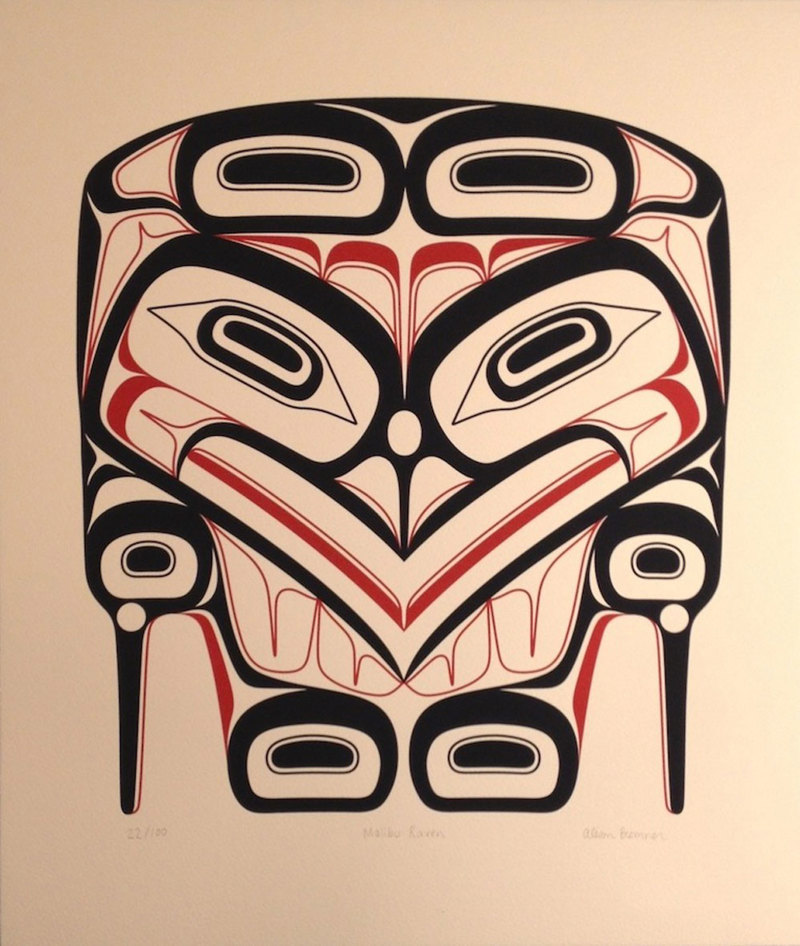 Malibu Raven, 2013. Serigraph by Alison Bremner. Photo courtesy of Alison Bremner. 
Silkscreened formline designs can be found on fine-art paper as well as on hoodies and t-shirts. The process can be used to apply ink to just about any surface. In our image-saturated contemporary world, Northwest Coast artists thrive and experiment, and the result is increasing public appreciation for their work and visual traditions.