Extra Tough Panel: Immigrant and Refugee Perspectives on Education
This panel featuring women from immigrant and refugee backgrounds explores the challenges of accessing educational systems in the United States, as well as the importance of preserving traditional cultural education for future generations, including art, language, and beliefs. Presented as part of the exhibition Extra Tough: Women of the North, on view through Sept. 6, 2021. Watch an archived recording of the panel HERE.
Virtual event co-hosted by: Alaska Literacy Program, Bridge Builders of Anchorage, Catholic Social Services Refugee Assistance & Immigration Services, and the Anchorage Mayor's Office.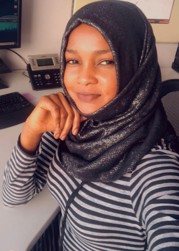 I am from Sudan, but I was raised in Cameroon where I was a refugee because there was a war in my own country. Education in Cameroon is a lot different than here in the US. Over there, for education you must have money to go to school. As a refugee, my school was paid for by an assistance program. Food is not provided for free there as it is in school here in the US. In our classes, we had 100 students and one teacher, and that teacher taught every subject. I felt more educationally challenged there. When I moved here in Anchorage, it was different for me to not be able to have time off for (Eid) Muslim holiday. Cameroon is a non-Muslim country, but I was able to observe my Muslim practices, the practices of my culture. I did not have that here in school. I value school a lot. My parents didn't get to go to school, and that was a motivation for me to go and to model that for my kids. I have gone to diverse schools and will continue learning different cultures and people and helping people and making them feel comfortable as my family were helped when we came to Anchorage. My dream is to be a nurse, and my hope is that once I graduate, I will be able to help my community. - Marioma Ismael, Anchorage student and panel participant