Colleen Firmin Thomas on Painting as a Process of Reflection and Transformation
By Francesca Du Brock, Chief Curator
Artist Colleen Firmin Thomas' early forays into art making were encouraged by her parents. As a young girl growing up in Ft. Yukon, where commercial art supplies were scarce, she improvised with what was at hand, finding inspiration in the world around her. An early memory involves leading her younger siblings in a sculpture lesson, gluing found objects to logs. Her current work is informed by her Gwich'in mother's beading designs and by materials her father, a fur trapper, would bring home. Her work reveals the significance of her lineage and early influences, blending and remixing materials from the land and design elements derived from Indigenous beadwork and skin sewing. "I always feel like I'm trying to recapture my childhood when I'm painting," reflects Firmin Thomas.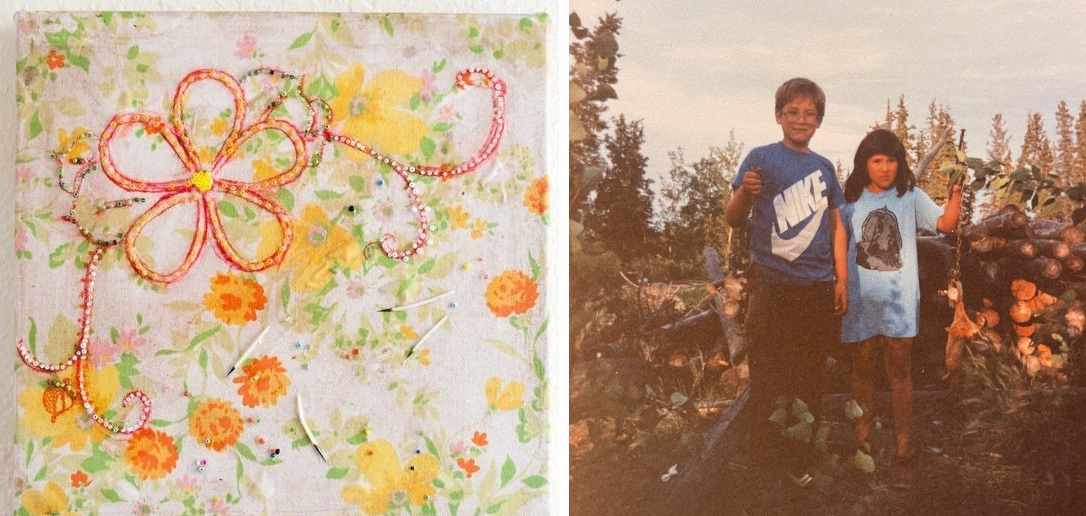 Untitled work in progress. The artist and her cousin Andrew Firmin in Ft. Yukon, 1990.
When she was 12, her family relocated to Fairbanks, where she later studied printmaking at the University of Alaska. She created her first mixed-media work as she was graduating from the BFA program – conceived as a bird's eye view of a tabletop recreating the look and feel  of her mother's workspace strewn with beads and quills and thread. This work, like much of Firmin Thomas' body of work, explores the emotional and physical resonances of mark making and the power of materials to convey deep, personal memories and cultural connections.  
Moose fur, porcupine quills, grouse feathers, old clothing patterns, discarded maps, gel mediums and acrylic paint are just some of the materials that Firmin Thomas employs in her work. She started painting on top of collaged sewing patterns on the advice of a teacher as a way to get over the intimidating blankness of a fresh canvas. Although she started using the patterns to gain confidence, these underlying paper layers have become deeply integral to her work. Formally, the warm brown of sewing patterns echoes the tawny hues of tanned moosehide. Conceptually, the presence of patterns creates a link to the act of sewing: "It is my heritage...sewing  and survival. Sewing is practical and it's beautiful and it speaks to the innovations of Indigenous peoples using the materials around them," she says. 

I Don't Want Your Anger, 2020.  Detail from Tiny Teeth, 2017. 
Firmin Thomas says she's "interested in each of us looking inward and seeing what we can do for each other and how we can help each other right now." Her tactile pieces, suggestive of landscapes or maps, often carry titles hinting at her own process of confronting darkness and trauma or grappling with issues that confuse and frighten her. She sees painting as a way of facing challenging issues and finding beauty in unexpected places.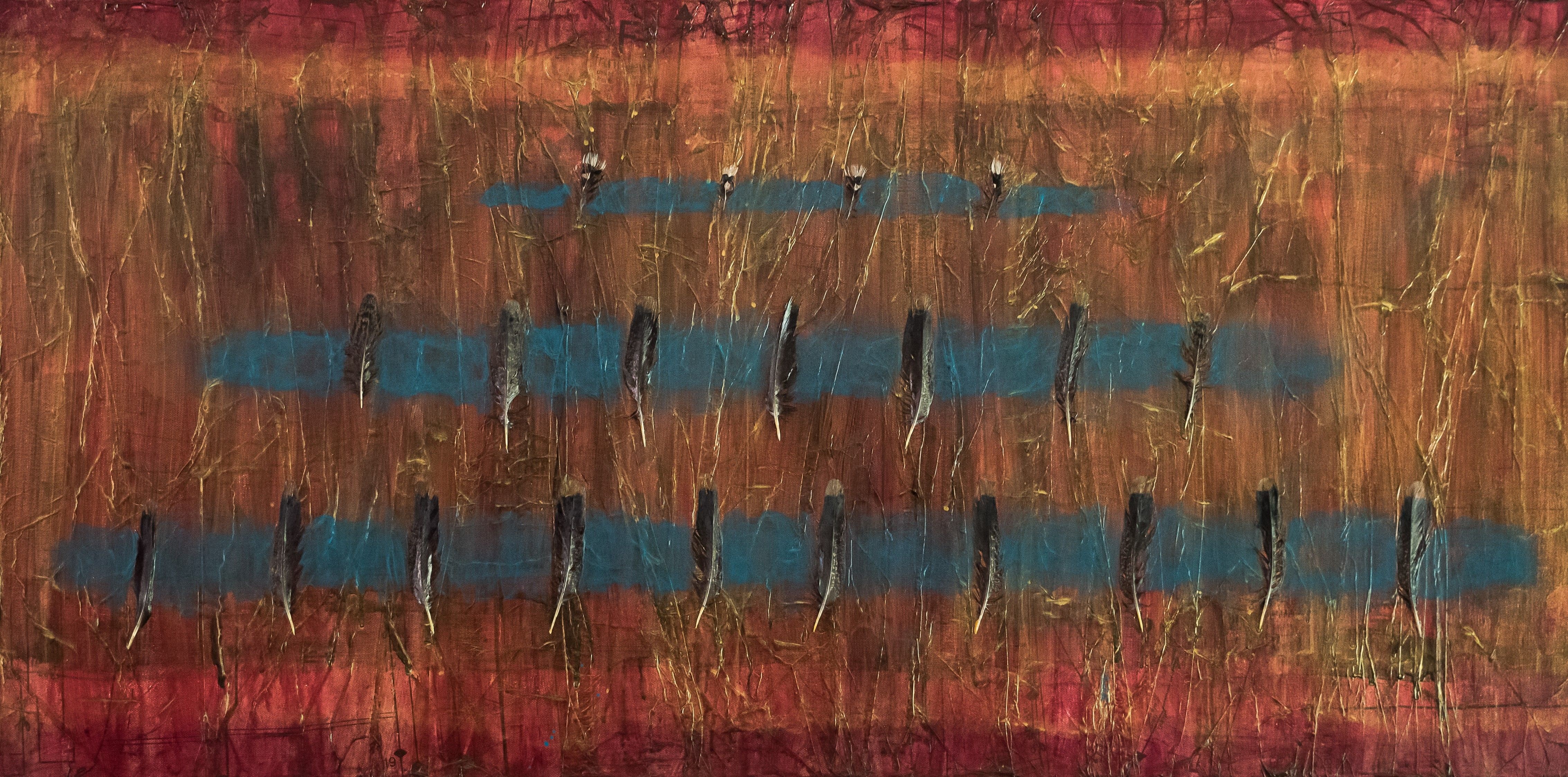 I am the Warrior, 2019.  
A work from her most recent exhibition, I am the Warrior, was made with the feathers from her son's first grouse hunt. While painting the work, Firmin Thomas considered traditional gender roles and her own responses to challenges in her life. "I was feeling strong and weak at the same time," she says. Part of creating the work was acknowledging to herself that "being brave doesn't mean being without fear. A warrior is the one willing to do the work and to fight, even if the outcome is unknown."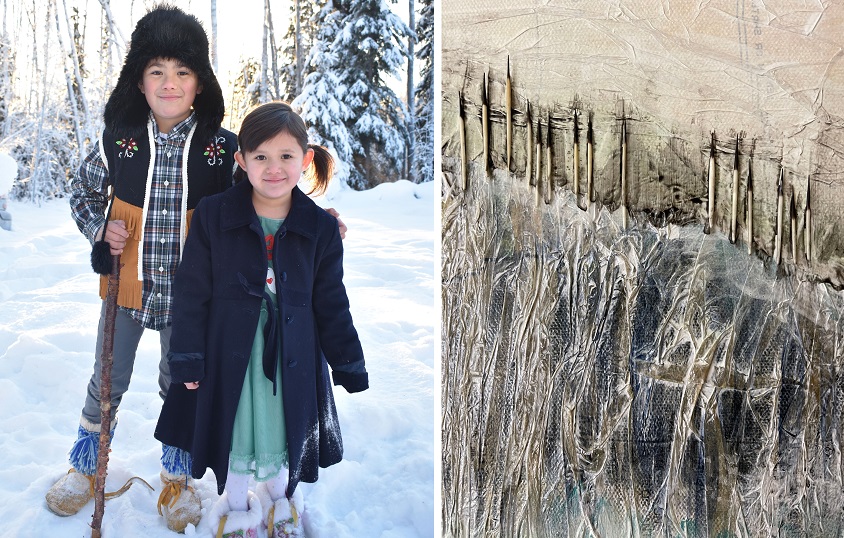 Image of the artist's two children, Rowan and Meadow, and a current work in progress in the studio, 2020-2021. 
With the past year of the pandemic and with two young children at home, Firmin Thomas has had to adapt her painting schedule to accommodate remote schooling demands. With the national protests surrounding racial inequity and police violence in the summer of 2020, she reached a point where she was so emotionally and physically drained, she decided to take a break. "There was so much coming at us, so much happening, it was really hard to process and know where to start with a painting." She is slowly coming back to making work, with several canvases currently in process in her studio. Painting, she says is the best way she knows how to process and make sense of the world. Her new works help us to consider what might be salvaged from the challenge and grief of the past year.
This residency was made possible with funding from the Rasmuson Foundation, administered by the Alaska State Council on the Arts.
Header image: Portrait of the artist, 2020. Courtesy of Sarah Lewis Photography.