The artists behind "To Become A Person"
By Francesca Du Brock, von der Heydt Chief Curator
Ash Adams' To Become A Person project focuses on coming of age in Indigenous Alaska. She developed this body of work over the course of several years working on assignment as a photojournalist in rural communities throughout the state. For the exhibition, she collaborated with Iñupiaq writer Laureli Ivanoff, whose lyrical prose illuminates key themes from the images: the negative impacts of climate change and colonization, as well as deep cultural pride, resilience, love, and joy.
Adams found her way into photography during her own adolescence. Growing up in difficult circumstances, Adams says she often felt that she didn't fit in—at home, among peers, or in the world. A photography class in high school ignited her passion for the medium: "I didn't belong anywhere, and as soon as I had a camera, I belonged everywhere. I had access." Now a seasoned professional in the field, Adams views her practice as story-driven, using her lens to make connections between people and viewers, and to reflect real-life situations and realities. Although she acknowledges that photography is, by nature, an exploitative act, she sees her role as a facilitator and collaborator with her subjects. She is driven to represent a view of Alaska that stands in contrast to the exoticizing images produced by outsider photographers, particularly in rural Alaska. Her images often reflect complex hybridity in the Alaska Native cultural landscape, as well as quotidian moments of quietude.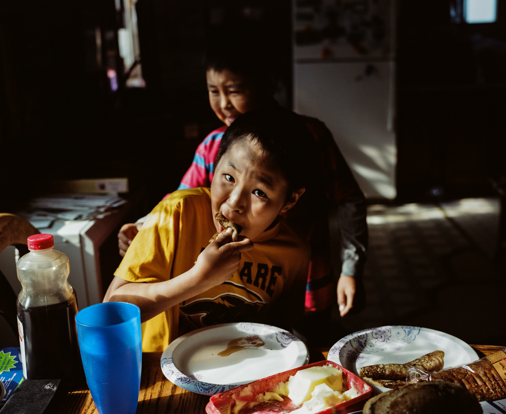 Kivalina, July 2017. David Adams eats his grandmother Lucy Adams' hotcakes for lunch in her home.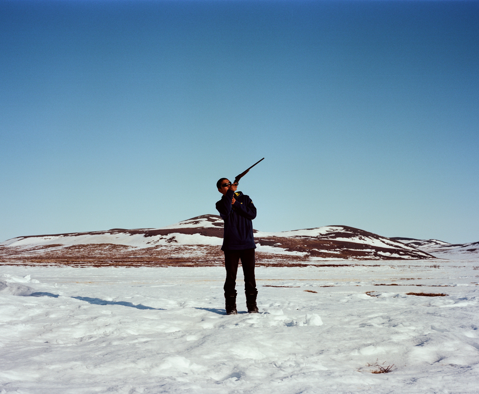 Kivalina, April 2017. Waiting for the wind to change to go out whaling with his father, Sakkan practices firing his shotgun at a cabin about 20 miles outside of Kivalina, Alaska.
The threshold of adolescence appeals to Adams because it is marked by transformation and change, both inward and outward. Young Indigenous people live in worlds shaped by climate change and social media, by rich cultural traditions and enduring connections to the land, as well as lingering social trauma from colonization. "I want people to see how bright and resilient the adolescents I meet all over the state are, and also how many challenges they are overcoming…Their story has the ability to really show where we are now, and where we've come from, and where we're going, all at the same time."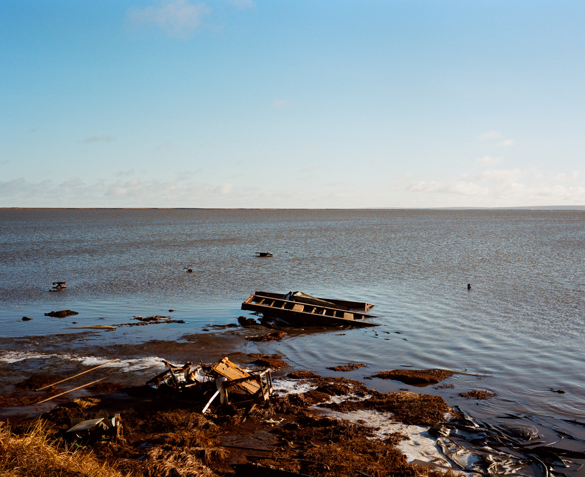 Newtok, October 2018. Debris from a home floats in the water off the coast of Newtok. Residents have watched the coastline creep closer and closer inland for decades, and in 2019, relocation began to the village's new location at Metarvik.
Both Adams and Ivanoff echo their shared desire to platform the experiences of Alaska Native peoples and youth. Ivanoff reflects: "I write so other Alaska Native people can see a story they relate to…that's a huge passion and a huge drive behind what I do." For Adams, the collaboration with Ivanoff, who grew up in rural Alaska, and who is raising children in rural Alaska, was critical. As an "absolute insider," Ivanoff's prose speaks with warm intimacy of her own experiences growing up on the land. One story in the exhibition recounts the day Ivanoff's daughter caught her first seal, butchered it, proudly presented the meat to her relatives, and then afterwards spruced herself up to attend the high school prom. One rite of passage rooted deeply to a specific place and culture, the other a nearly ubiquitous experience shared by millions of teenagers across the US. "That kind of thing doesn't happen in normal America…Ash's photos brought me back to that moment and that day when so much happened in my daughter's life."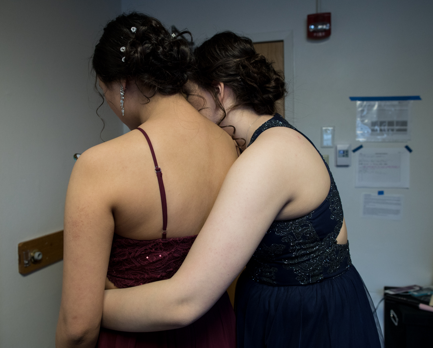 Sitka, April 2018. Kaisa Kotch, 14, hugs Courtney Lestenkof, 16, after getting ready for prom in their dorm at Mount Edgecumbe High School.
Ivanoff has been writing since she was a child, but it wasn't until she was much older that she realized she had a story to tell – a story based on richness of her culture and experiences living in Nome and Unalakleet. Although both women came up professionally in the field of journalism, Adam's gaze is trained outwards, while Ivanoff looks inwards. Together, they weave a compelling, clear-eyed vision of what it means to young and Indigenous in Alaska today. Although there are many challenges ahead, To Become A Person suggests that today's youth are well equipped to confront them.
Over the coming year, the Anchorage Museum's Aperture series will showcase the work of artists exploring contemporary life in the North through film and photography.
Header image: Gambell, September 2017. Selena Campbell, 10, plays on whale bones.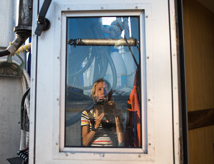 Follow Ash Adams @ashadamsphoto and at http://www.ashadamsphoto.com/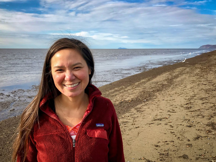 Read Laureli Ivanoff's work and to listen to her recent project Living Village here: https://laureliivanoff.com/