Stop-motion films reclaim Indigenous history, language and culture in museum's new theater space
A pivotal art form of the last 100 years, film is a powerful medium for telling stories of people and place. The Anchorage Museum has transformed its Northern Narratives gallery into four temporary experimental theaters for viewing films, which will change periodically through Jan. 10, 2021. Circumpolar Cinema is part of the Anchorage Museum's Aperture project, which brings multiple exhibitions and artists together with public programming in a year-long series that testifies to the power of images.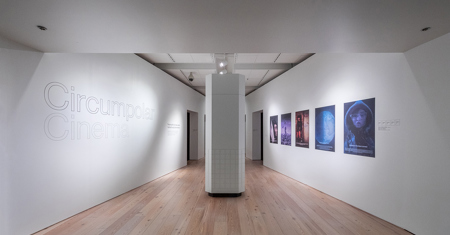 In photography, aperture is the opening in the lens that allows the photographer to create single or multidimensional views. This namesake project demonstrates how photography and video may offer new views of Northern place and people.
Many of the exhibitions presented through Aperture are documentary, using photography as a way to record the changing physical and social landscape, while others employ still or moving images to explore process, place and power. Topics include truth, media, climate change and the speed at which ideas are processed.
Circumpolar Cinema opens with films by Amanda Strong, an Indigenous (Michif) media artist and director. She is the owner and director of Spotted Fawn Productions, a stop-motion animation studio based in Vancouver, BC. With a cross-discipline focus, common themes in her work include the reclamation of Indigenous histories, lineage, language and culture. Film screenings are included with museum admission (free for museum members).
Strong's films, on view through Sept. 6, 2020, include: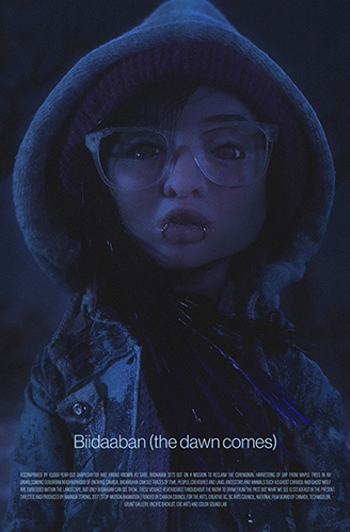 Biidaaban (The Dawn Comes)
Accompanied by 10,000-year-old shapeshifter and friend known as Sabe, Biidaaban sets out on a mission to reclaim the ceremonial harvesting of sap from maple trees in an unwelcoming suburban neighborhood of Ontario, Canada. Biidaaban can see traces of time, people, creatures and land. Ancestors and animals such as Ghost Caribou and Ghost Wolf are embedded within the landscape, but only Biidaaban can see them. These visuals reverberate throughout the work to draw from the past, but what we see is steadfast in the present.
Directed and produced by Amanda Strong, 2017
Stop-motion animation
Funded by Canada Council for the Arts, Creative BC, BC Arts Council, National Film Board of Canada, Technicolor, Grunt Gallery, Pacific Backlot, CBC Arts and Color Sound Lab
Flood
Spider Woman and Thunderbird act as vessels, composing and carrying the story of an Indigenous youth named Thunder as she navigates her way through a colonial flood. Spider Woman battles against an old Ghost Judge, who frenetically writes history from the side of oppression and displacement. The Ghost Judge fills the entire world with his writings and law.
Directed by Amanda Strong; produced by Amanda Strong and Dusty Hagerud, 2017
Shadow puppet and stop-motion animation
Funded by CBC Arts Original Series and National Film Board of Canada
How To Steal A Canoe
This film features the story of a young Nishnaabeg woman and an elder Nishnaabeg man rescuing a canoe from a museum and returning it to the lake with which it was meant to be. Witness the act of stealing back the precious parts of us that were always ours in the first place as Indigenous people.
Directed and produced by Amanda Strong, 2016
Spoken lyrics recorded by Nishnaabeg poet Leanne Betasamosake Simpson
Original score composed by Cree cellist Cris Derksen
Stop-motion animation
Funded by Aboriginal Arts Program at the Ontario Arts Council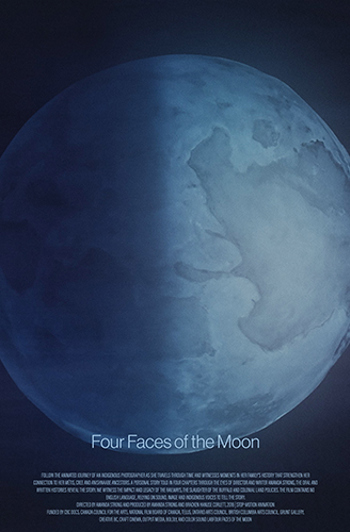 Four Faces of the Moon
Follow the animated journey of an Indigenous photographer as she travels through time witnessing moments in her family's history that strengthen her connection to her Métis, Cree and Anishinaabe ancestors. A personal story told in four chapters through the eyes of director and writer Amanda Strong, the oral and written histories reveal the story. Witness the impact and legacy of the railways, the slaughter of the buffalo and colonial land policies. The film contains no English language, relying on sound, image and Indigenous voices to tell the story.
Directed by Amanda Strong and produced by Amanda Strong and Bracken Hanuse Corlett, 2016
Stop-motion animation
Funded by CBC Docs, Canada Council for the Arts, National Film Board of Canada, Telus, Ontario Arts Council, British Columbia Arts Council, Grunt Gallery, Creative BC, Craft Cinema, Output Media, Boldly, and Color Sound Lab
Mia'
Mia' struggles to return home as she traverses through polluted waters and skies, witnessing various forms of industrial violence and imprint that have occurred upon the land. This hybrid documentary using animation and sound as a vehicle to tell the story of transformation and re-connection and presenting Indigenous oral traditions as truth—not myth or legend.
Directed and produced by Amanda Strong and Bracken Hanuse Corlett, 2015
Stop-motion animation
Funded by National Screen Institute and NFB
Circumpolar Cinema is presented with support from JL Properties.