Fairbanks artist Tamara Wilson talks inspiration, fabrication, and life under pandemic
By Francesca Du Brock, von der Heydt Chief Curator
Tamara Wilson can fix cars, mend clothing, build houses, and make art. Raised in Fairbanks by parents who nurtured her creativity and desire to learn manual skills, she created one of her first major works as a child by muraling on her bedroom walls. She strategically unveiled and dedicated the giant painting on Mother's Day in a bid to diffuse negative reactions.
Wilson retains this sense of imagination in her current practice, creating large-scale installations from felt, paper, wood, and other materials that mimic or distort the appearance of the surrounding world. Her sense of resourcefulness in art making stems from growing up in a family of builders, sewers, and gardeners who were always repurposing available materials to suit emergent needs. Often creating work from recycled or scrap remnants, Wilson delights in the tactility and mutability of materials. "It's definitely a pioneer attitude, making do with what you have," she reflects. She finds these skills are coming in handy now, during this time of prolonged social distancing due to the COVID-19 pandemic. "Artists know how to work with solitude."
While working on building her own home ten miles outside of Fairbanks, Wilson also refurbished a derelict trailer to become a mobile gallery. Returning to Alaska after studying a Master's in fine art in Albuquerque, Wilson found that she missed her proximity to the arts community in the Lower 48. She also saw a need for a space that could accommodate experimental artwork and bridge the distances that separate Alaska's urban centers. So, she set about tackling the problem – by finding something cheap and discarded that she could breathe new life into. The gallery, a 1965 Playmate trailer called The Lemonade Stand, now sports neon, lemon-wedge signage, fresh paint, and white shag carpet. Due to the pandemic, the first exhibitions have been virtual, via an iPad hung on the wall and an Instagram account.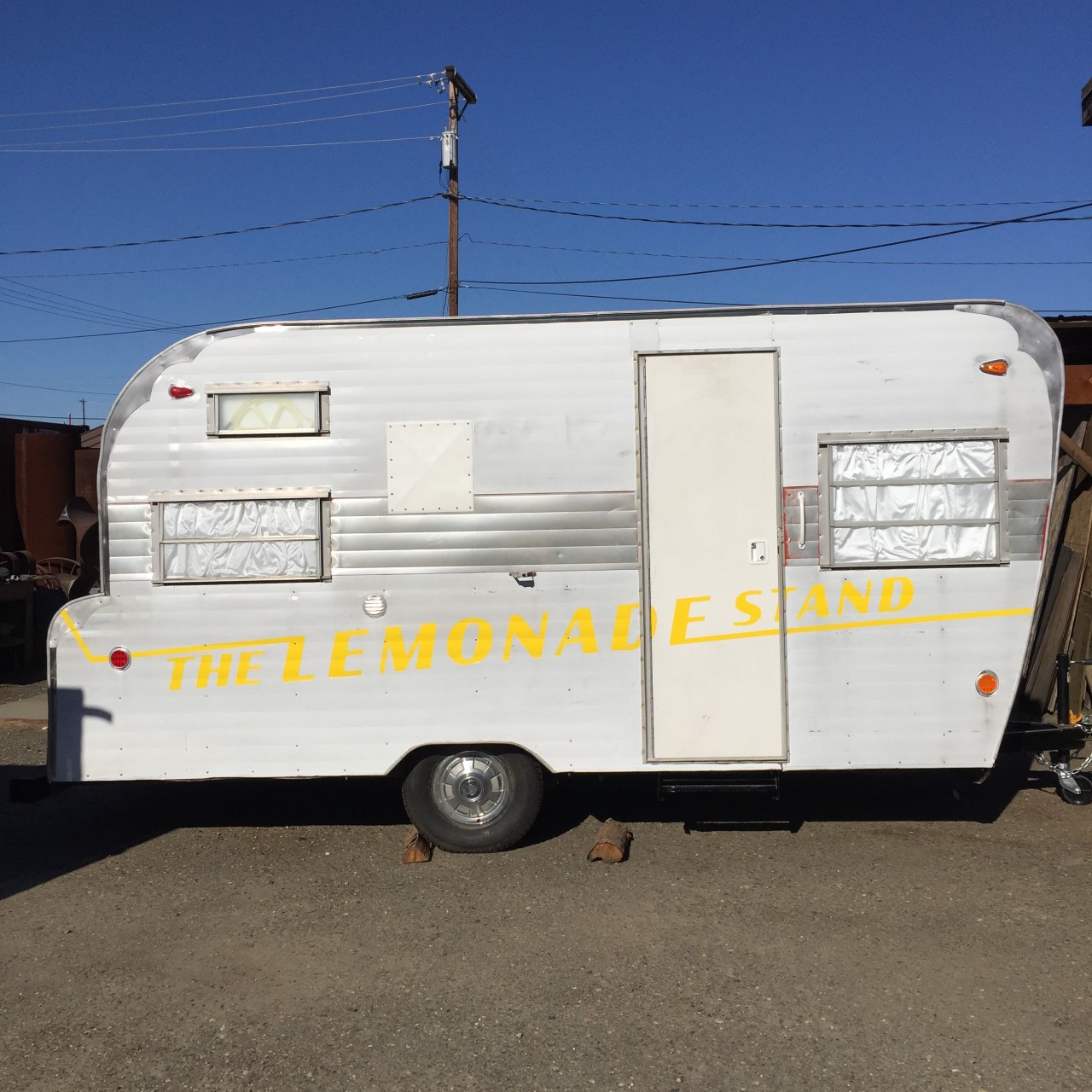 When she's not making art, Wilson works part-time at the Fairbanks hospital and surgery centers, as a neuromonitor. At the onset of the pandemic, her nursing colleagues were looking for ways to better protect themselves while caring for possible COVID patients. Intubation procedures are of particular concern, because fluids in the airway can vaporize and easily spread the virus. This led Wilson to experiment with the creation of a custom intubation shield, which she manufactured in collaboration with Mike Knoche, her partner and owner of Straight Ahead Construction in Fairbanks.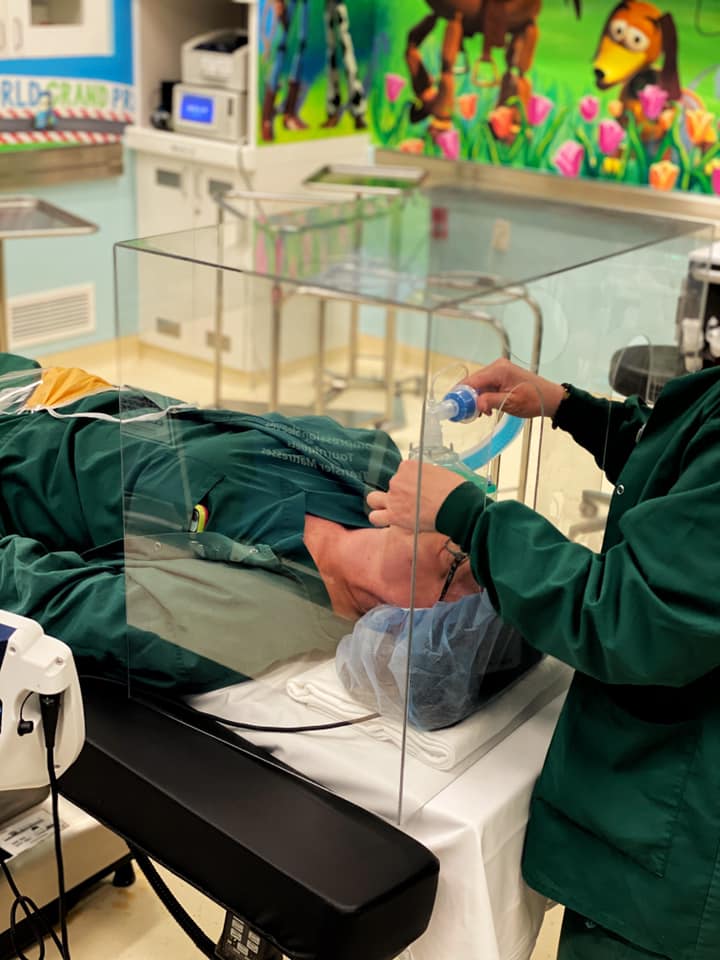 Deciding to work with Lexan, a shatter-resistant polycarbonate material she had previously used making artist frames, she based the initial prototype on Knoche's body measurements. She then brought the model to the surgery center for finetuning, visiting the operating room with a sanitized tape measure to take measurements of nurses, patients, and surgery tables. She also conducted a survey with nurses to collect additional data. The resulting intubation shield is currently being used by medical professionals in Fairbanks. Wilson wryly remarked that after the process of prototyping and producing the shield, a friend sent her a link to an online pattern from an organization in Massachusetts. Her shield matched the pattern's measurements to within fractions of an inch.
Wilson sees artists as facilitators. "You can easily cross into different worlds," she says, "You have an excuse to go anywhere and learn anything." And she is perhaps uniquely poised to mediate between worlds with her battery of practical skills gleaned from years of Northern living, as well as a newly minted gallery on wheels.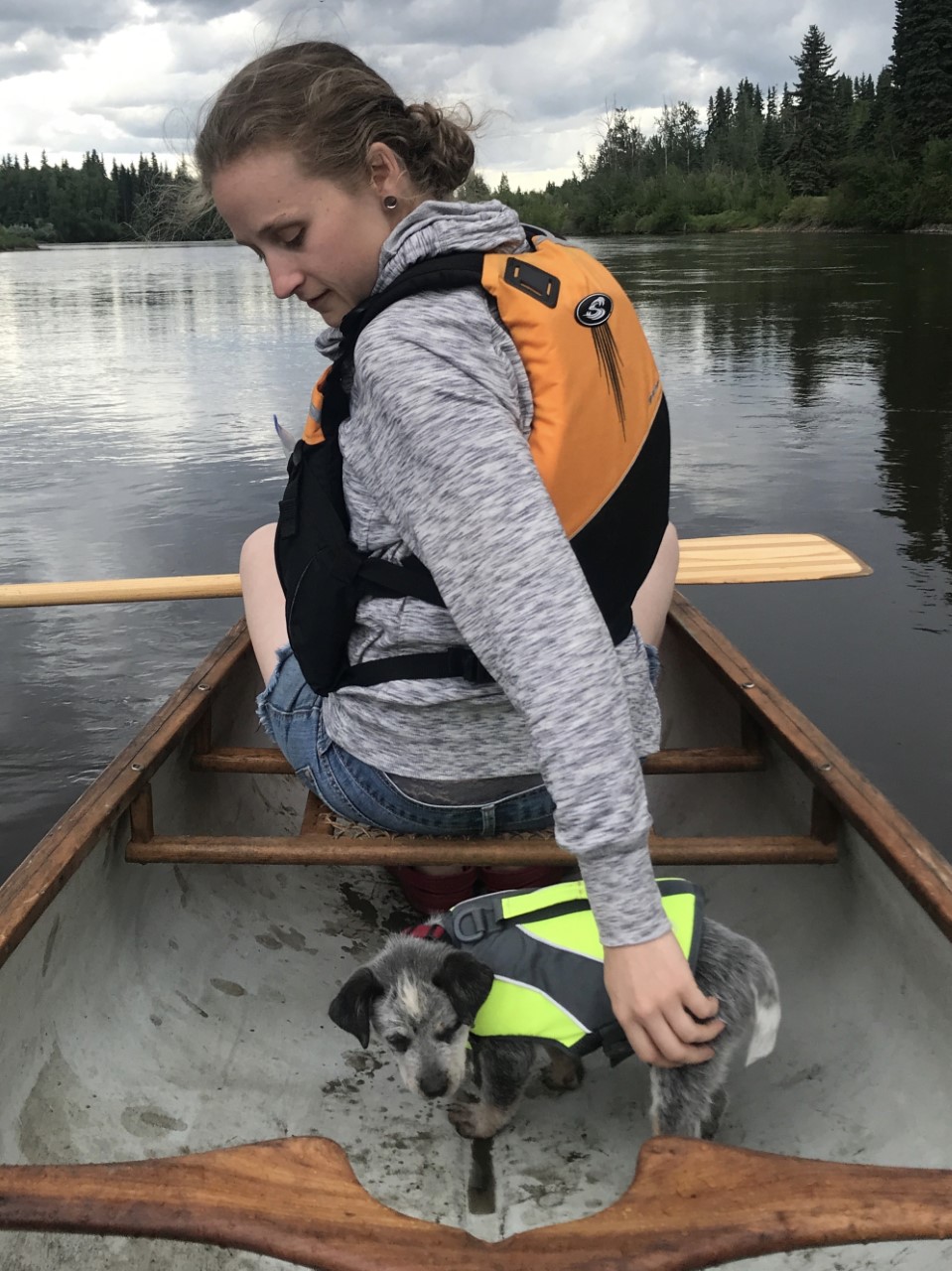 Wilson and her studio assistant, "Lefty."
All photos courtesy of the artist. Follow the Lemonade Stand on Instagram @lemonadester and Tamara Wilson @tamarakwilson.