Ethan Lauesen: Identity, Belonging, and Not Disappearing
By Francesca Du Brock, von der Heydt Chief Curator
Ethan Lauesen's work is a generously open and deeply felt examination of personal identity, social belonging, and cultural pride. With family roots in Lawáak (Klawock) in Southeastern Alaska, Lauesen negotiated and adapted to many different environments as a queer Indigenous person growing up in both urban and rural Alaska. Currently living in Fairbanks, Alaska, they explore these experiences through printmaking. The images are laden with feelings and ideas of isolation, anxiety, self-acceptance, resistance, and transformation.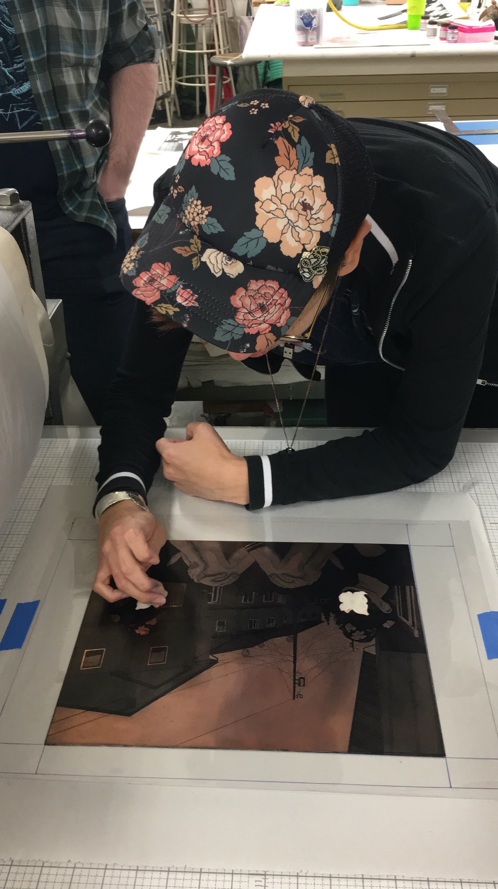 Lauesen working on a chine-collé plate
Following their childhood interest in the arts to a Bachelor of Fine Arts at the University of Alaska, Fairbanks, Lauesen was introduced to printmaking by artist and teacher Karinna Gomez. She helped shape their early aesthetic and conceptual focus in the medium. For Lauesen, the unpredictability of the etching process forces a tolerance for unintentional blemishes and markings, a process that mirrors their own journey of self-acceptance. More practically, working in multiples allows Lauesen to make affordable work for the benefit and enjoyment of their communities.

For My Comfort, c. 2018 and Paranoia, What Others Think About My Existence, c.2019
Lauesen often uses mirror imaging or multiplication of forms to emphasize a sense of unease. In the pair of self-portraits For My Comfort and Paranoia, What Others Think About My Existence, two figures pose at a Fairbanks apartment complex. In both images, dogwood flowers obscure the face, referencing the favorite flower of the artist's mother and grandmother. In the backyard scene, the flower is full and open, and a sense of calm and ease pervades. The figures recline, arms and legs exposed to the air. Two formline ravens representing Lauesen's family clan hang in the sky. In the front driveway scene, the tone is moodier, and the figures are bundled in winter coats. They gesticulate with many hands as though whispering to each other. The dogwood flowers appear shrunken. For Lauesen, who has experienced feelings of unbelonging and negative self-image, these pieces reflect the way public and private space can harm or nurture an authentic sense of self.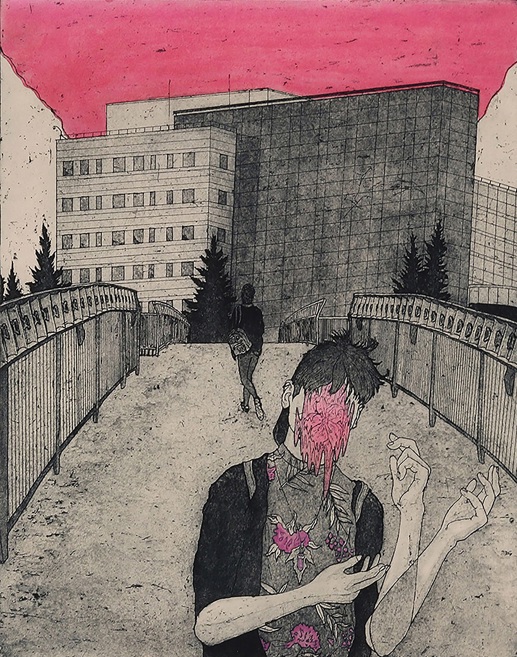 Unequal, Make a Scene, 2018
Unequal Make a Scene was made in response to Fairbanks Mayor Jim Matherly's veto of an anti-discrimination ordinance intended to protect equal rights for LGTBQIA+ people. In the image, a figure walks away from the Fairbanks courthouse, their face crumpling in a pink ooze. "When you feel like so many people are against you and your identity, it feels like you are just falling apart, melting away," Lauesen noted. Although many challenging and heavy emotions are channeled in the work, Lauesen sees artmaking as a way of transforming negative experiences into something positive. They are a visual reminder that "You should be able to dress how you want to dress, speak how you want to speak, and just be who you want to be."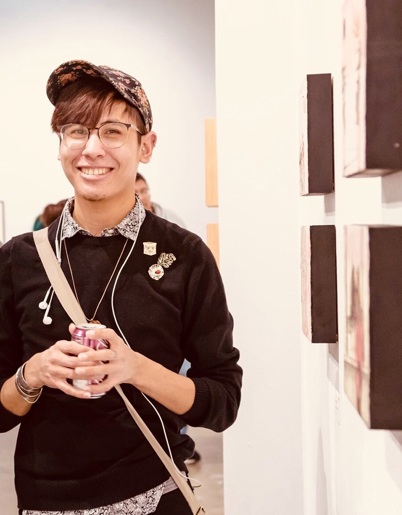 Lauesen's work affirms the positive role of Alaska Native culture in their identity formation, helping nurture a sense of endurance and belonging in the face of negative stereotyping and oppression.
This summer, with support from The CIRI Foundation, the Anchorage Museum will be hosting three virtual artists-in-residence. Follow Ethan Lauesen's artwork and process for the month of June. Tune in on Wednesday, June 17, at 5:30 p.m. to see an intaglio demonstration in their studio, and on June 24, at 5:30 p.m. for a printmaking demonstration and Q&A with the artist.
Header image: Not Going to Disappear For Your Comfort, 2019