By Shina DuVall, Senior Collections Manager, Anchorage Museum Collections Department
In 2013, Anchorage Museum Atwood Resource Center Manager and Librarian Teressa Williams and Archivist Sara Piasecki began an outreach effort to identify individuals, places, natural features, and elements of the built environment in historic photographs taken of rural Alaska villages. To support the project, the Anchorage Museum hosted a booth at the Alaska Federation of Natives (AFN) annual meeting and invited conference attendees help identify any unknown people, places, or features in the photographs. The AFN Convention is the largest representative annual gathering in the United States of any Native peoples, drawing nearly 6,000 attendees from urban and rural areas across Alaska.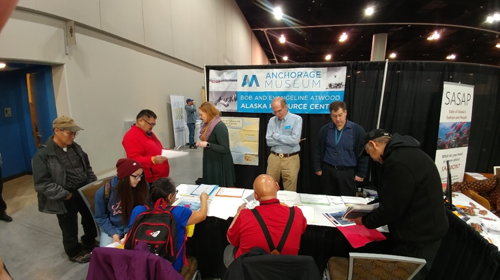 Anchorage Museum personnel and volunteers supported this three-day effort, staffing a booth and talking with AFN members, conference attendees, and the public. Visitors to museum's booth were given sets of folders filled with as-yet unidentified historic photographs from around the state of Alaska. The folders were organized regionally, and visitors were invited to flip through the photographs and provide any details they could to assist with identification - including names of people, places, notable landscape features or waterways, elements of the built environment, etc. For their participation, visitors to the booth were offered two free prints of photographs of their choice.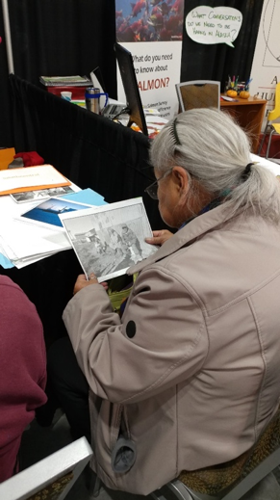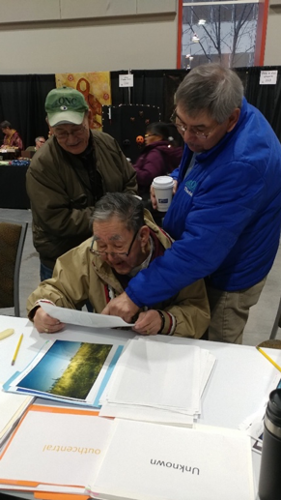 That first year, the Resource Center took 441 images to AFN and came back with 240 partial or complete identifications. The project has continued annually since then, and to date, more than 1,600 images have been partially or fully identified at this venue. This outreach was recently recognized as an example of archival excellence by the Alaska State Historical Records Advisory Board (ASHRAB).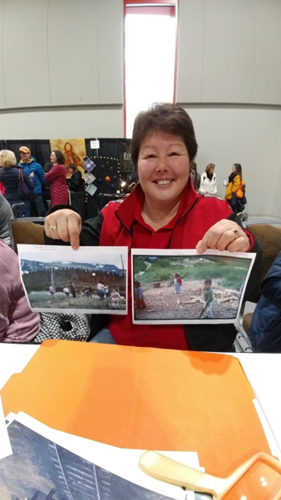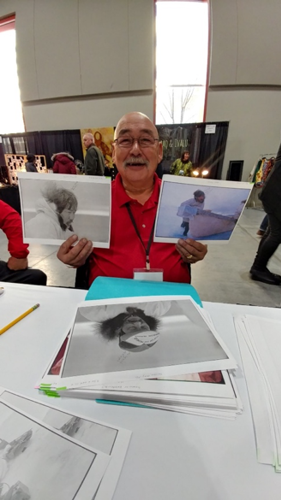 This project has been successful on several levels. Without the feedback received from visitors, irreplaceable knowledge of our place could be at risk of being forever lost. It may be too late for most of the earliest photographs in the collection, as there are fewer individuals who can identify photographs dating to the early 1900s. But, the work remains important. One year, an elder at AFN was able to identify a photograph that showed the original location of her village, which had relocated decades ago.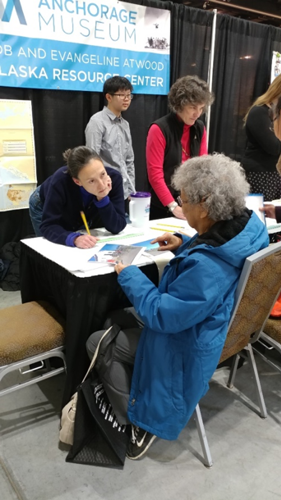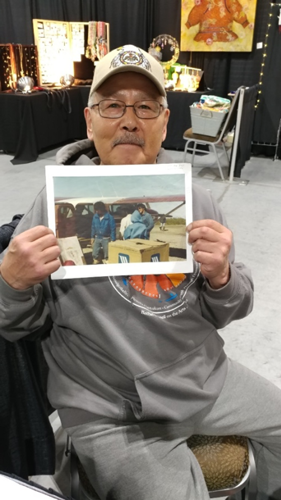 The Resource Center benefits greatly from the knowledge received from individuals all over Alaska - many of whom are linked to their communities through multiple generations. It is not uncommon for an individual to identify a great-great-grandparent in a photograph of his or her home village. We hope the project also directly benefits those who visit the booth and peruse photos. Even if no identifications are made, it is an opportunity for Alaskans to see historic photographs from areas of the state familiar to them and to perhaps run into an old friend, colleague, or relative doing the same. Visitors laugh, reminisce, and share stories with each other and with us.
Finally, the project raises awareness of the often lesser-known resources that are available at the Anchorage Museum through the Atwood Resource Center, a library and archives focusing on the history, ethnography, science, and art of Alaska and the North. The collection includes more than 750,000 photographic images, 15,000 books, 800 rare books, 800 maps, auction catalogs, periodicals, and thousands of artist files of Northern artists. We are extremely proud of this simple yet powerful outreach effort.
Click here for a look at the Anchorage Museum's collection.