A Universe of Sound in One Melting Glacier
Alaska-born sound artist Matthew Burtner specializes in concert chamber music and interactive new media. He is professor of composition and computer technologies at the University of Virginia. He is also the founder and director of the non-profit organization EcoSono, an ensemble of musicians with a focus on environmental sustainability. As a technologist, Burtner develops systems for human-computer-environment interaction featured in his music.
Burtner joins us in Anchorage Friday, July 7, for our Live in the Planetarium series. He also performs an outdoor concert with the EcoSono Ensemble on Thursday, July 27, on the museum lawn, part of the three day EcoSono Environmental Music and Sound Art Festival.
We chatted with him last week about what informs his work and inspires him about Alaska.
—
AM: What led to incorporating nature sounds in your work?
MB: I played saxophone as a child and I had a great teacher at the King's Lake Camp in Alaska. I spent a lot of time practicing outdoors, by the river and trees and listening to the sounds of the wind. Something about those hours instilled this idea that humans make music in company with nature. I started recording and using real-world sounds. The wind and patterns of ocean can all be recreated with filtered noise, and they create an abstract model that then can be played — so we really interact with the wind — in a way that you couldn't if you were just playing music outside. I work less with saxophone now, but I still have this idea of the human-nature interaction and working at the threshold between human-created music and natural sound.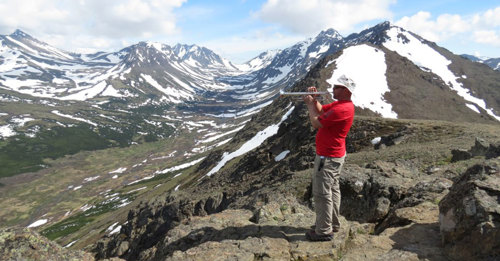 Trumpet practice on Flattop Mountain, image courtesy of artist Matthew Burtner
AM: Tell us more about this process?
MB: My work is a mix of performance, computer generated sound and field recordings from nature. Between those three things I have a flexible toolkit for my ideas. Listeners sometimes find it unusual and ask: 'Where's the melody? Where's the beat?' It's not about those human systems. It's the melody crossing over into the patterns of the wind or snow.
AM: You travel to glaciers for your recordings. What's that like?
MB: I've been going to the Matanuska Glacier for many years and recording since 2013, putting microphones inside the glacier, on the surface, using ice climbing tools. I attach contact mics to the surface and then record it in multichannel to get a multi-channel recording in real-time.
"A glacier is singing millions of melodies…it's quite an amazing symphony. It's like a whole universe of sound in that one melting glacier. Every glacier is like that, it has its own unique characteristics..."
– Matthew Burtner
AM: What sounds are emitted?
MB: You're listening to every trickle of melting water in the glacier. You put the mic right by that trickle, and it's creating its own beat and melody. The whole glacier is singing millions of melodies, and you hear that collapsed together — it's quite an amazing symphony. It's like a whole universe of sound in that one melting glacier. Every glacier is like that. It has its own unique characteristics.
AM: Tell us about the sound installation you currently have at the in the museum's Art of the North preview exhibition on the second floor.
MB: There's a piece accompanying the Thomas Hill painting, Muir Glacier, which was painted in 1889. The audio installation next to the painting creates a sonification [mix of recordings] to model the retreat of the Muir glacier. I didn't record the sounds on that particular glacier for the piece but used characteristic sounds from different glaciers I've recorded to recreate how the Muir might have sounded as it has retreated since 1889. In effect, the field recordings and synthesis "document" how the Muir Glacier changed from a sea glacier to a land glacier. Those have very distinct, sonic, acoustic qualities, so if you listen to that music, you'll notice it changes over time because the glacier has changed.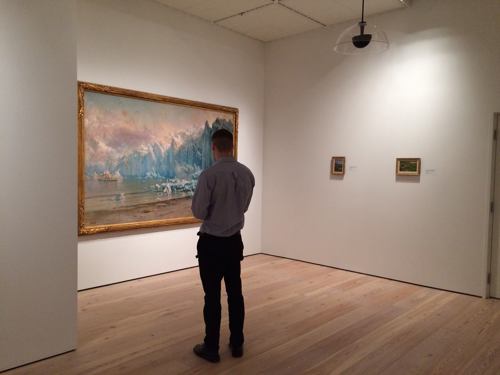 A sound installation in the Art of the North preview gallery recreates a glacier's transition from sea to land
AM: Will we hear these recordings at your planetarium performance and the EcoSono Festival in July?
MB: The EcoSono Ensemble and I will be in Anchorage performing concerts of Alaska music from July 26-29 as part of the first EcoSono Environmental Music and Sound Art Festival. We are playing at the International Gallery of Contemporary Art and the Church of Love in Spenard. We're also performing a concert on the museum lawn on Thursday, July 27, at 5 p.m. during rush hour. We invite people to pause during their commute home to listen to the beautiful sounds of Alaska nature. I'll be previewing those sounds with visuals and performing saxophone at the Live in the Planetarium show.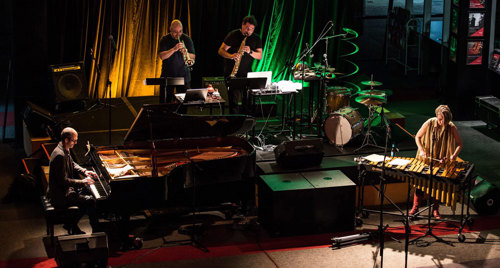 The EcoSono Ensemble performing in Australia this past summer, image courtesy of artist Matthew Burtner
AM: Is there anything you do to get in the zone before a show?
MB: My performance zone is not much different than my regular zone. Playing my music requires a lot of concentration and patience, so I don't drink coffee before.
AM: What's it like performing back in Alaska?
MB: The idea of making music out of the place that you love resonates with me. We love to have imagery of Alaska in our art. You'll notice Alaskans are always hanging up pictures of mountains and animals as artwork in their homes. I think this is similar to that — the music that we listen to can also be made of the mountains and animals in Alaska. It tracks really well across the aesthetic of a place that's very impressive in its natural beauty.
I'm also excited to be performing solo with surround sound in the museum's beautiful Thomas Planetarium.