6 to 7 p.m. Friday, Nov. 24
Join artist and photographer Acacia Johnson to learn about her exploration of life and anthropology in the Arctic. Johnson has previously exhibited work at the Anchorage Museum and and most recently at Gallery SYNTHESIS in Bulgaria. She will discuss her Under the Same Stars project and experiences photographing the Circumpolar North. Free.
Image: Acacia Johnson,"Driving Into Night (The Last Time We Saw The Sun)," Baffin Island, Canada, 2014; courtesy of the artist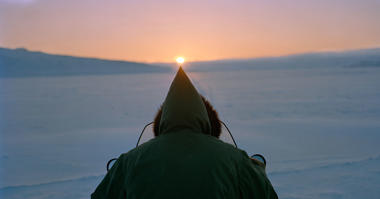 6 p.m. Thursday, Nov. 30
Directed by Karen Weinberg, "Keep Talking" was shot in Kodiak and Anchorage over five years and follows the efforts of Alaska Native women as they work to preserve their endangered language. The film screening, in partnership with the Anchorage International Film Festival, will be followed by a panel discussion addressing issues of revitalization, historical trauma and recovery. Free; use the museum's 7th Avenue entrance.
Panel speakers:
Roy Mitchell (Research Analyst at Alaska Native Language Preservation and Advisory Council)
Melissa Borton (Tribal Administrator at Native Village of Afognak)
Alisha Drabek (Executive Vice President of Afognak Native Corporation)
Karen Weinberg (co-producer of Keep Talking)
Candace Branson (co-teacher; featured in film)
Marya Halvorsen (co-teacher; featured in film)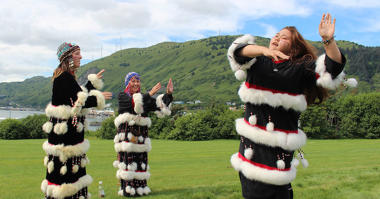 7 p.m. Friday Dec. 8
Steven Johnson is an American popular science author and media theorist. He authored nine books focusing on the intersection of science, technology and personal experience. He is co-creator of three influential websites: the pioneering online magazine FEED; the Webby Award-winning community site Plastic.com; and the hyperlocal media site outside.in. A contributing editor to Wired, he writes regularly for The New York Times, Wall Street Journal and Financial Times, among others. His book, How We Got to Now, became a PBS six-part series. $20, $18 members.
—
The Anchorage Museum's Vision & Voice lecture series features thought leaders from history, film, literature, science and culture, who reflect upon the human experience. In conjunction with the opening of the Alaska exhibition, this series explores powerful storytelling, issues of race and gender, and the possibilities that come with thought-provoking conversations and innovative thinking.