Where
Across from the Anchorage Museum in the city's Design District
109 W. 6th Avenue
Corner of 6th Avenue & A Street
What
A convening space, an experimental space inside and out. Bringing people together across sectors and across the city for conversations around civic issues related to climate change.
With Whom
SEED Lab works with organizations, individuals and the creative sector. We believe in collaboration. SEED Lab is a space for programs addressing climate change and the future of Anchorage. We organize and facilitate conversations and we provide space for community organizations and efforts to do the same.
When
Wednesdays 10a – 2p; 6:30 – 8:30p
Thursdays 10a – 2p
First Fridays 6 – 9p
Repair & Mending Workshops third Wednesday of each month, 6:30-8:30p
+ Special events and programs (both by invitation and open to the public)
Each week SEED Lab is hosting a changing calendar of convenings in collaboration with artists and community groups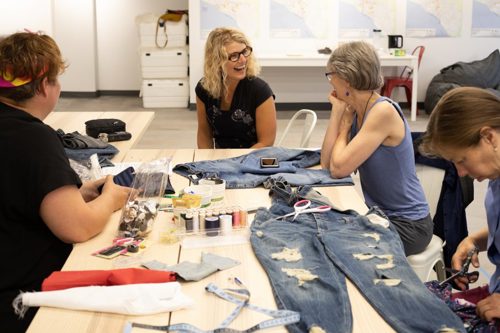 LISTEN: Anchorage clothes-repair workshops revive the practice of mending