Fall 2020
The Boreal Film Festival is a way to celebrate the Northern region, the art of filmmaking and to highlight issues relevant to the contemporary and future North.
Schedule Subject to Change
Monday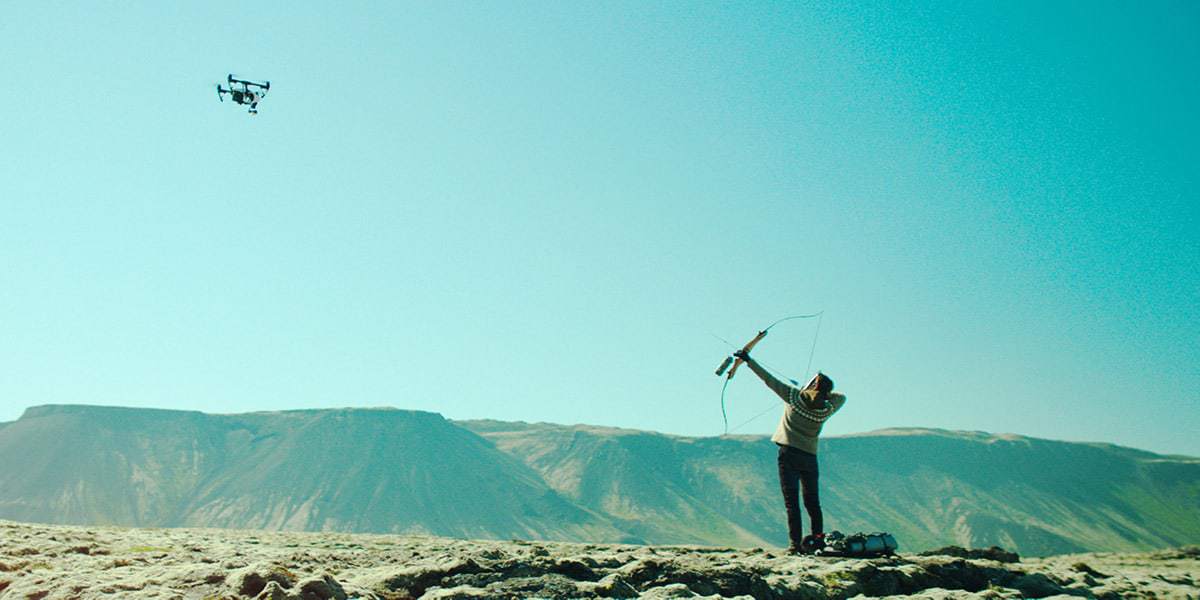 Woman at War
8:00 p.m., BearTooth TheatrePub
Directed by Benedikt Erlingsson. Iceland, 2019
Narrative Feature, 101 min.
Halla is a 50-year-old independent woman. But behind the scenes of a quiet routine, she leads a double life as a passionate environmental activist. Known to others only by her alias "The Woman of the Mountain," Halla secretly wages a one-woman-war on the local aluminum industry. As Halla's actions grow bolder, from petty vandalism to outright industrial sabotage, she succeeds in pausing the negotiations between the Icelandic government and the corporation building a new aluminum smelter. But right as she begins planning her biggest and boldest operation yet, she receives an unexpected letter that changes everything. Her application to adopt a child has finally been accepted and there is a little girl waiting for her in Ukraine. As Halla prepares to abandon her role as saboteur and savior of the Highlands to fulfill her dream of becoming a mother, she decides to plot one final attack to deal the aluminum industry a crippling blow. (Icelandic with English subtitles)
Trailer: https://www.youtube.com/watch?v=U2v3_jHrvBQ
Friday
Arctic Shorts
3:00 p.m., Anchorage Museum auditorium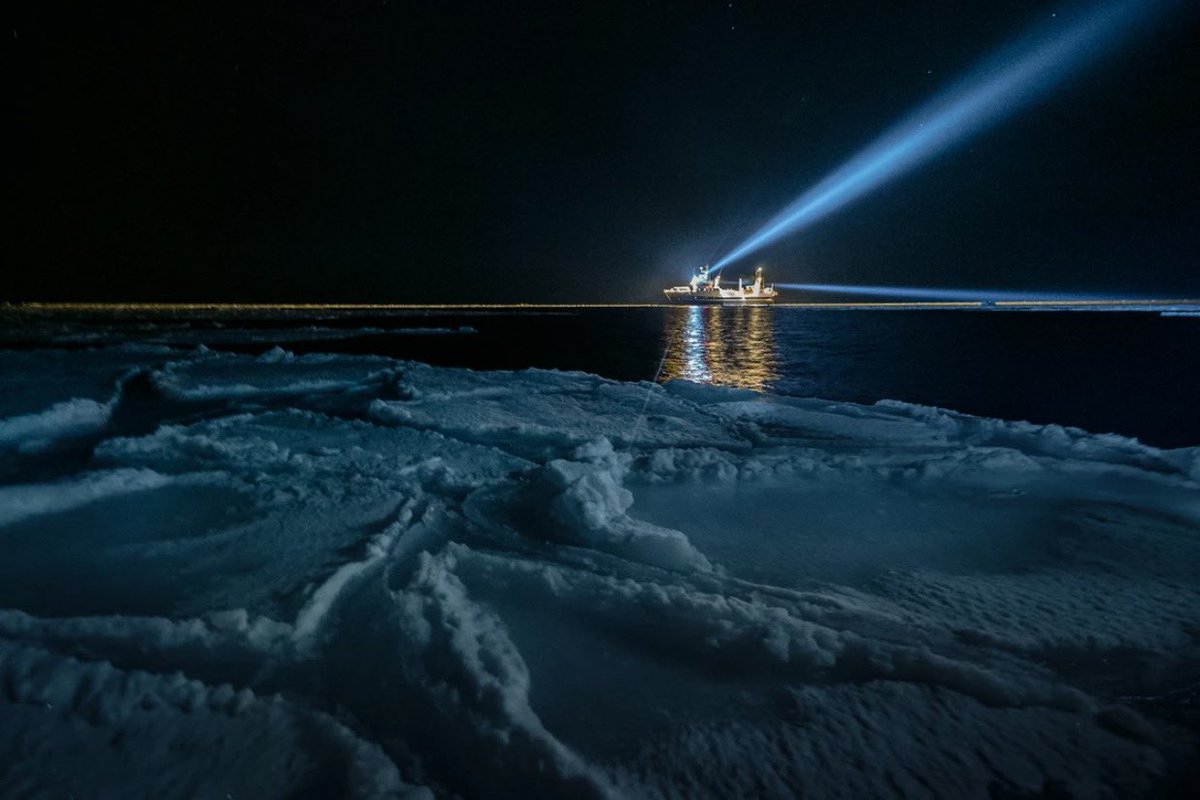 Into the Dark
Directed by Michael O Snyder. Documentary Short. Norway, 2019
Battling subzero temperatures and 40-foot seas, a team of scientists embark on a perilous winter expedition into the darkest regions of the Arctic. Their mission: to understand how trace amounts of light may be radically altering the mysterious world of the polar night. What they discover has implications for the global climate and the future of the Arctic. (28 min.)
Website: https://www.interdependentpictures.org/intothedark
Anvik
Directed by Rachel Weaver. Documentary Short. Alaska, USA 2019
A meditation on impermanence, loss of indigenous language, an inability to understand our fathers, and an attempt to honor the natural cycles of life and death. Low-res camera trap footage from community-driven Yukon River ecology surveys is juxtaposed with cell phone recordings, Skype interviews, field recordings, and music composed by the filmmaker. (8 min.)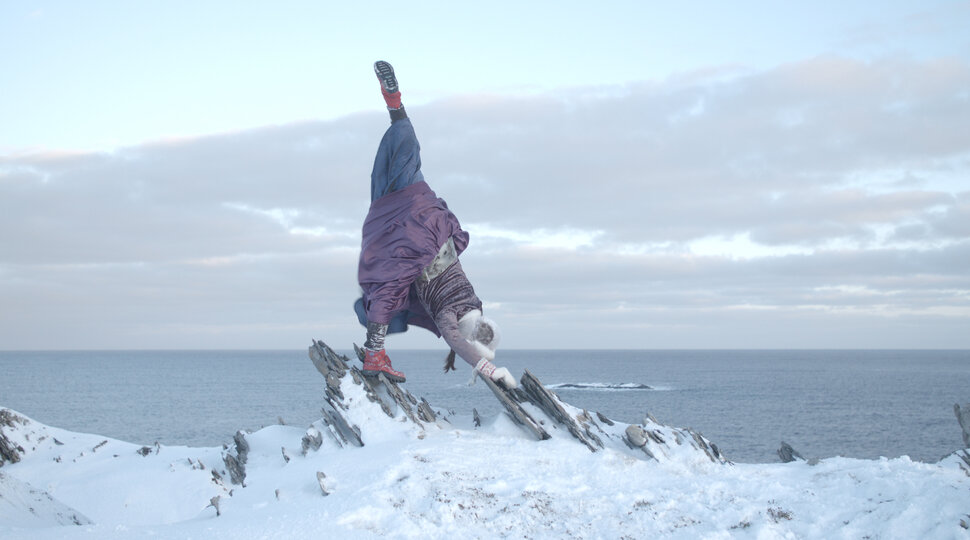 Human Habitat
Directed by Favia Devonas Hoffmann. Experimental Short. Norway, 2019
Human Habitat has its origin in the clash between untouched nature and growing industry in the Arctic and explores the oscillation between human resistibility and fragility. A female dancer takes us on an associative, non-narrative journey through emotional states facing the changing from a sustainable to a destructive relationship of humans and landscape. Dance, music and film are equated in this experimental short film. (9 min)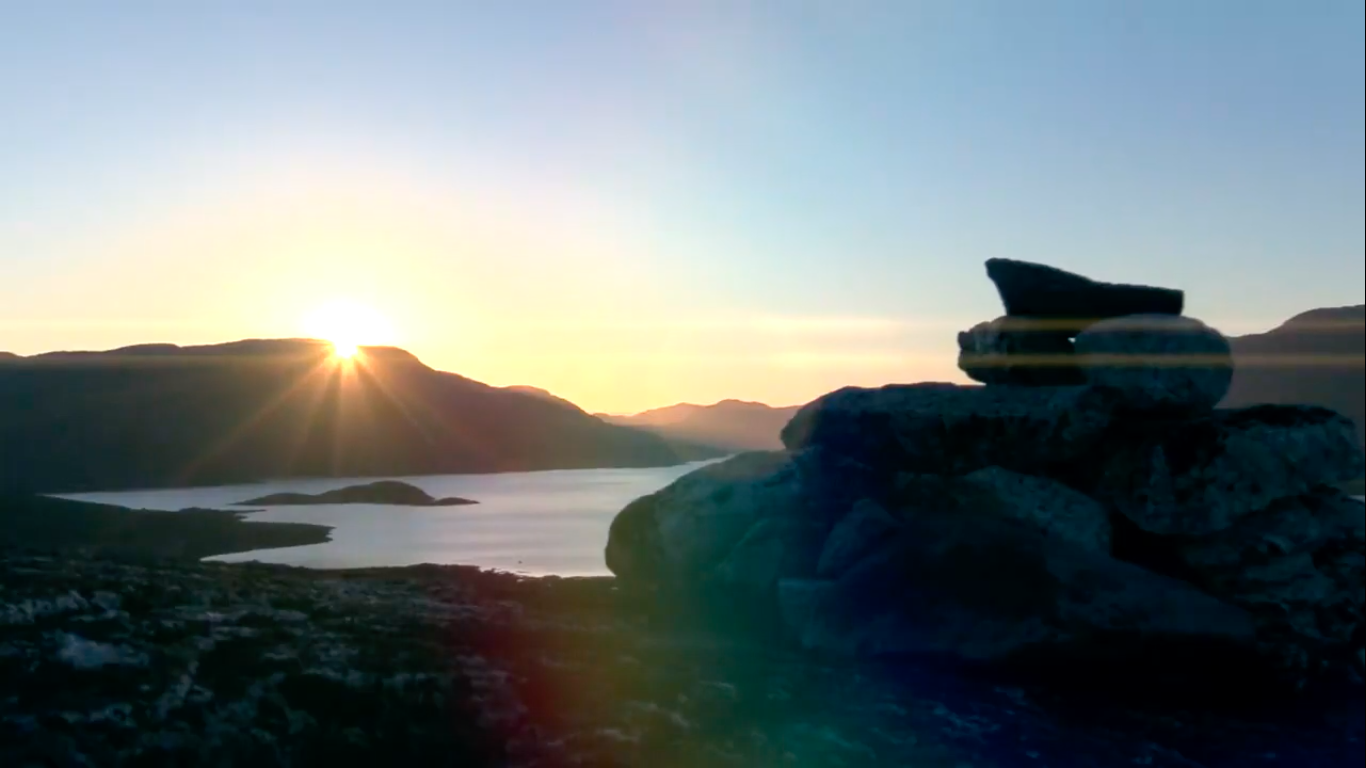 Home
Directed by Inuk Jørgensen. Documentary Short. Greenland, 2019
A personal perspective on coming home after nearly a decade abroad and finding that something is off in the familiar paradise. A warning that profound change is coming. Change that will influence future generations. (8 min.)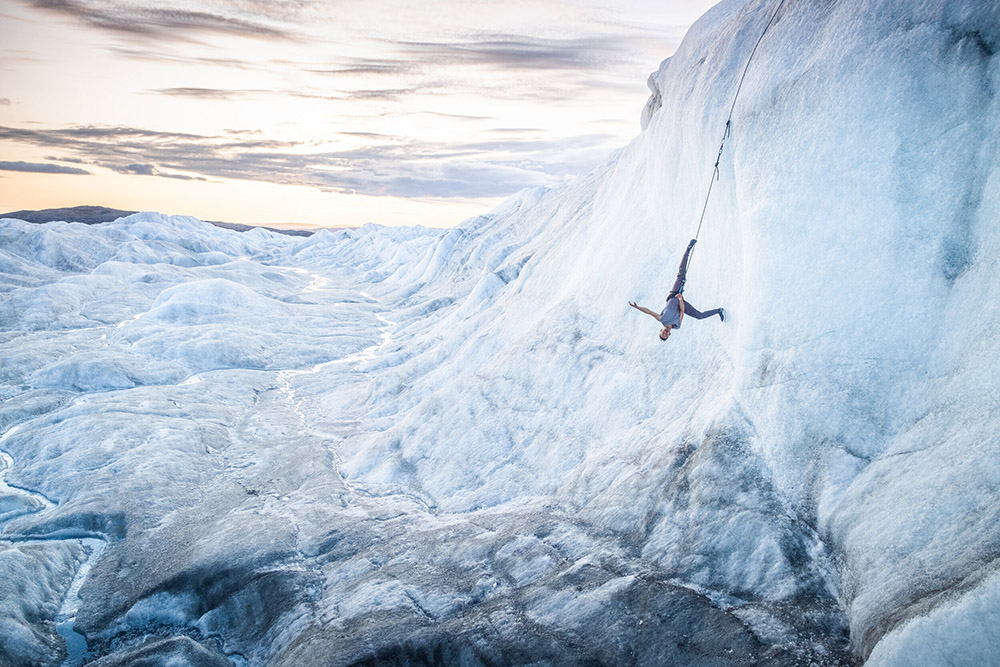 Re-forming Glaciers
Created by Maliina Jensen. Documentary Feature, Greenland, 2019
When people think about Greenland these days there is a lot of talk about melt. But one of the things to keep in mind about glaciers, and Greenland's ice sheet in particular, is that the ice not only melts but it also slides from where it's cold in the interior, out towards the margins where it's warm and it can melt. Ice moves in different speeds at different points. The ice can move very smoothly and uniformly, in a wavy, undulating form, or it can move very jerkily. Ice does all sorts of strange things if you watch it. This is a short film communicating the science of the glacial dynamics of Greenland's ice sheet, together with the visual aesthetics of vertical dance in ice environments. (2 min.)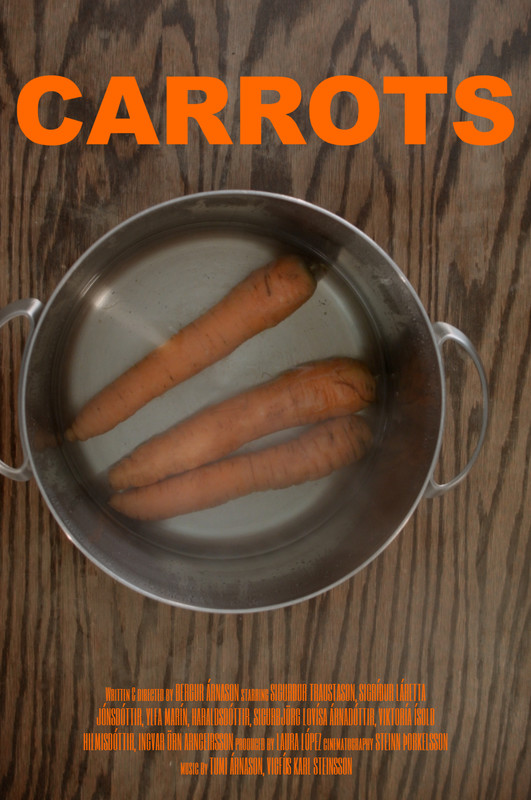 Carrots
Created by Bergur Árnason. Narrative short, Iceland, 2019
Based on a short story by Haraldur D Thorvaldsson, Siggi, a young man, tries to deal with a world where he does not fit in and where everyone around him seems to be obsessed with carrots, forcing them upon him. An analogy that examines his relationship with love, family and isolation. (16 min)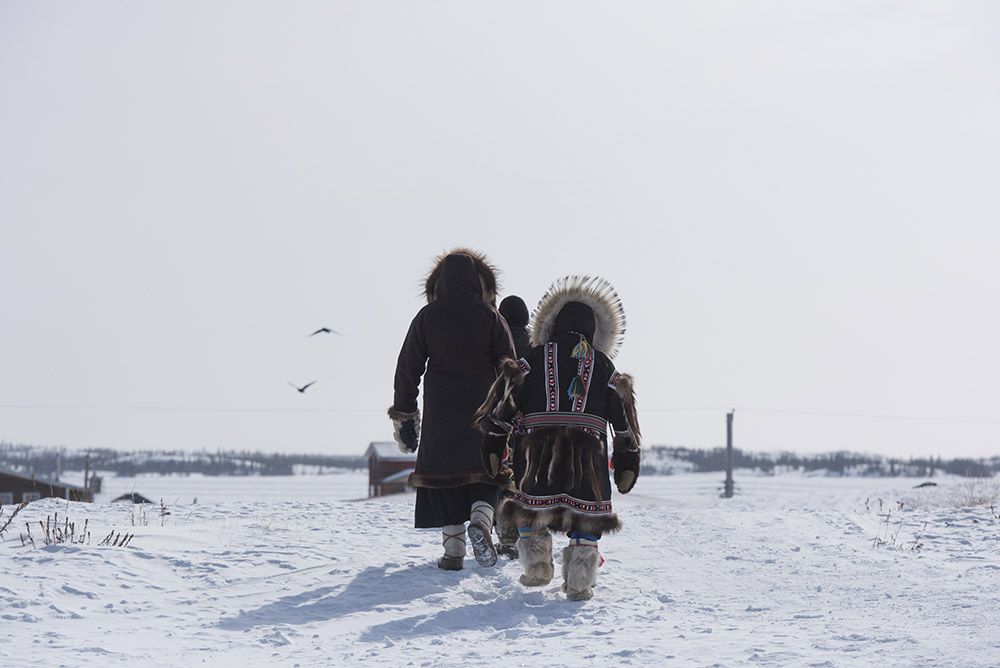 Red Snow
5:00 p.m., Anchorage Museum auditorium
Directed by Marie Clements . British Columbia, NWT, Canada. 2019
Narrative Feature, 100 min.
Dylan, a Gwich'in soldier from the Canadian Arctic, is caught in an ambush in Kandahar, Afghanistan. His capture and interrogation by a Taliban Commander releases a cache of memories connected to the love and death of his Inuit cousin, Asana, and binds him closer to a Pashtun family as they escape across treacherous landscapes and through a blizzard that becomes their key to survival. Filmed on location in Canada's Northwest Territories and the desert interior region of British Columbia Red Snow paints the story of a Gwich'in man who must contend with his past in order to find his way to freedom. A story told in three languages - Gwich'in, Inuktitut and Pashtun - Red Snow binds two distant cultures together in this fast-paced thriller. Winner of the Best Canadian Feature prize at the Edmonton Film Festival and nominated Best Film at the American Indian Film Festival.
Website: https://www.redsnow.ca/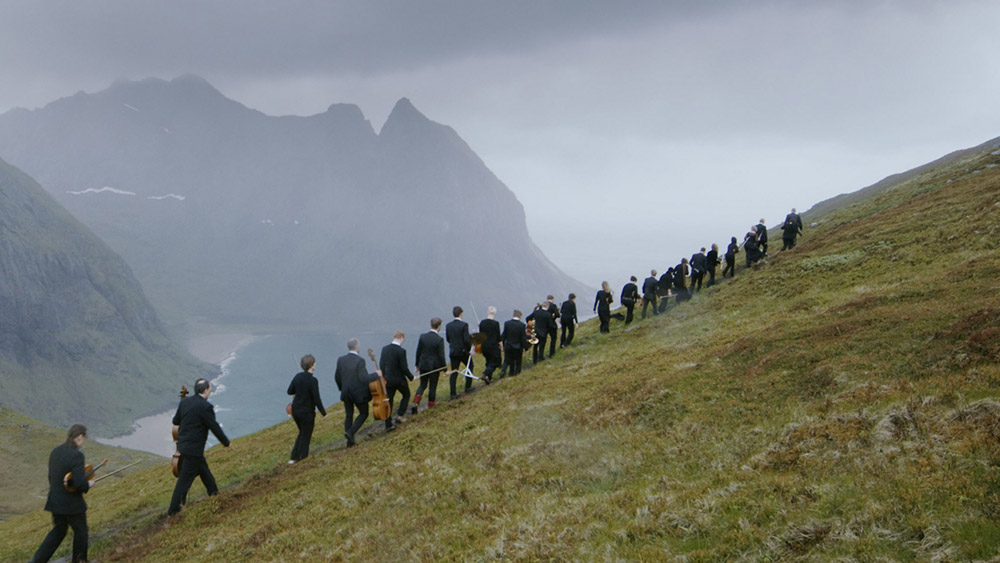 Descent into the Maelstrom
7:30 p.m., Anchorage Museum auditorium
Directed by Jan Vardøen. Norway, 2019 (*Director potentially in attendance)
Documentary Feature, 67 min.
In 1841, Edgar Allan Poe wrote the short story "Descent into the Maelstrom." A tale of two brothers who sailed their fishing boat into the raging waters of the "Moskenestraumen" in Lofoten in the Arctic Circle of Northern Norway. The boat sank and only one of the brothers survived. In 1980, Philip Glass was commissioned to write a 66-minute piece of music based on the work of E.A. Poe. The work was performed in Australia for a dance company and the original recording has been lost. The piece was recorded again for posterity by the Philip Glass Ensemble in 1981. After arranging the music for the Arctic Philharmonic Orchestra (the world's youngest and northernmost professional orchestral institution), the group marched up Kvalvik mountain in Lofoten and the orchestra performed the piece anew at its place of birth. The music combines with cinematic footage of the people of Lofoten hard at work in the toughest imaginable weather conditions. Strong people surviving in an inhospitable, yet beautiful landscape.
Trailer: https://www.glassmaelstrom.com/
Saturday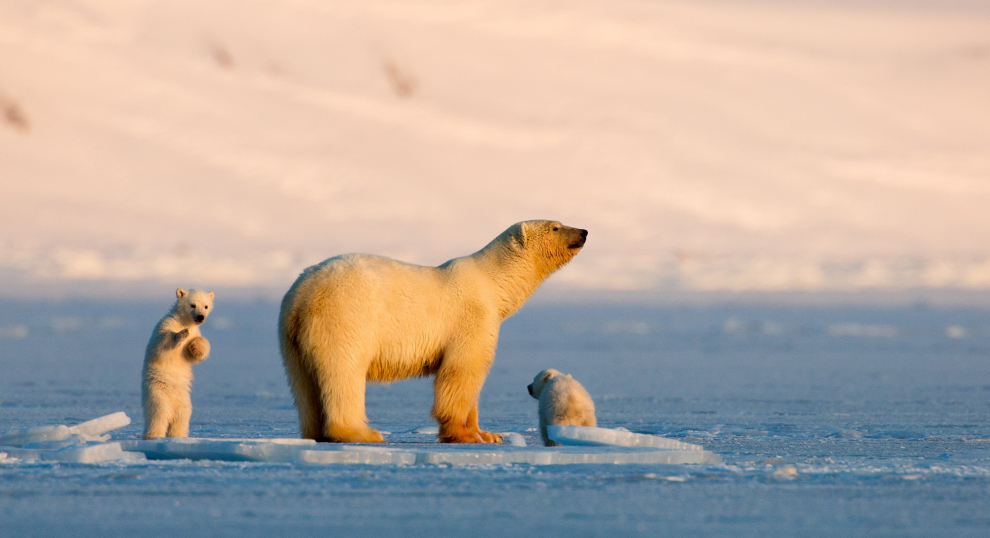 Queen Without Land
11:00 a.m., Anchorage Museum auditorium
Directed by Asgeir Helgestad. Norway, 2018
Documentary Feature, 110 min.
This is a true story of the meeting between Frost, a beautiful polar bear mother, and Asgeir Helgestad, a Norwegian wildlife filmmaker. It is a four-year journey in Svalbard, Norway. Rising temperatures are responsible for dramatic changes in Frost's ecosystem as the ice is melting at record speed. From complete darkness to the absolute light of the midnight sun, Svalbard transforms from a cold and inhospitable place to the most joyous and lively scenery for ice algae, fish, birds and animals. But, alongside these seasonal transformations, the disappearing sea ice forces life to new limits. Fjords that were once full of ice and seals, get abandoned pushing Frost further away. Asgeir is determined to find her and document all that is being lost, but his task is far from easy. This film explores the question "this planet is home to all of us, can we afford to ignore it?" (English with English subtitles.)
Trailer: https://www.youtube.com/watch?v=8rC4ndHp9Ss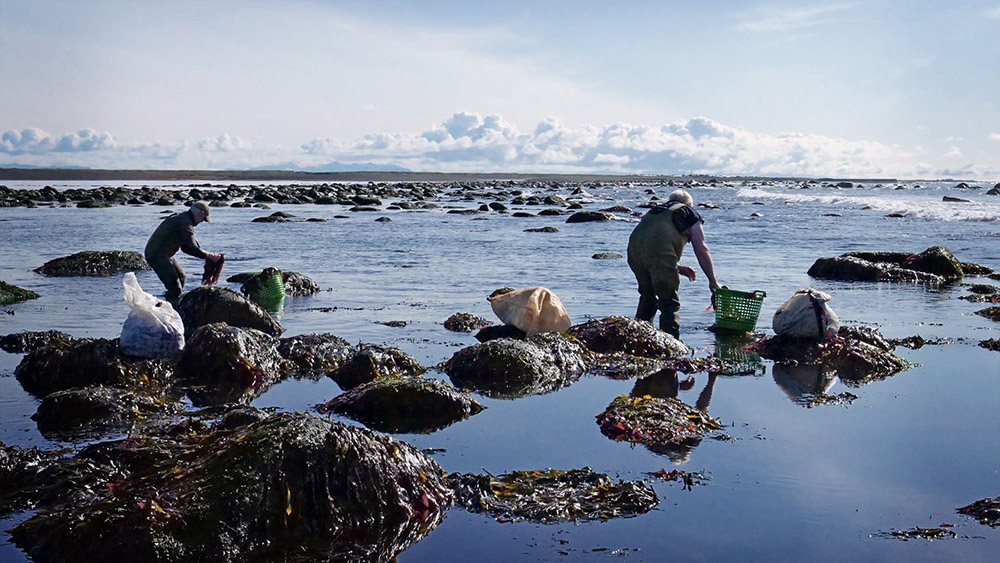 The Bountiful Land
1:00 p.m., Anchorage Museum auditorium
Directed by Ásdís Thoroddsen. Iceland, 2019
Documentary Feature, 97 min.
Foodmaking in Iceland is characterized by scarcity; there was no salt, no firewood, no cereals, something to which the neighboring peoples had easy access. Nevertheless, the inhabitants showed ingenuity in making food out of their livestock and what nature provided. That is why the name, The Bountiful Land, is not given only in irony. One can rather say that the food Icelanders ate in the old farmers society was healthy, although there was a lack of vitamins C and D in the last months of winter. Import of rye and other cereals started in the beginning of the 19th century and consumption of protein decreased accordingly. This development continued with the addition of sugar, so much that by the middle of the 20th century Icelanders where among the greatest sugar consumers per capita in the world. Denmark's rule influenced the local tastes and following the WWII the United States also served as a model. Now the Icelanders are truly a part of the global world with everything that goes with it; immigrants and their cultural influences, food tourism, bio culture and gastronomy.
Trailer: http://gjola.is/gl/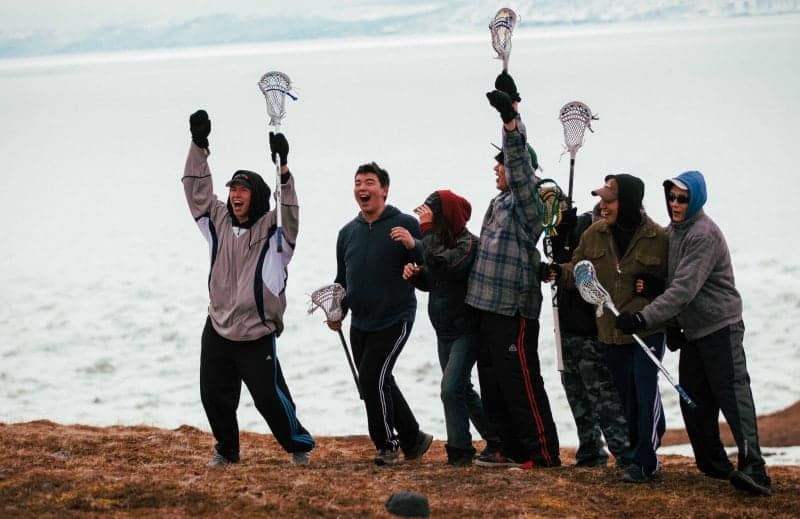 The Grizzlies
3:00 p.m., Anchorage Museum auditorium
Narrative Feature, 104 min.
Inuit youth in a small community gain a powerful sense of pride and purpose through the sport of lacrosse, in this true-story account of tenacity, renewal and inspiring resilience. In 1998, first-time teacher Russ Sheppard (Ben Schnetzer) moves north for a job at a local school in Kugluktuk, a town struggling with one of the highest suicide rates in North America. With no previous experience or knowledge of life in the north, Russ is shocked and overwhelmed by the numerous social issues facing the youth, all as a result of the massive legacy of colonization on their families and communities. Russ introduces a lacrosse program in the school. Although the program is at first met with skepticism and resistance, Russ's commitment begins to win the trust of the students and together they form the Grizzlies lacrosse team. Through the sport, the youth find a vital outlet for their emotions and the team creates a sense of pride and purpose in themselves and their community. (English & Inuktitut)
The Grizzlies http://www.mongrelmedia.com/index.php/filmlink?id=40991b89-e3fa-4f0f-9061-5472fb799998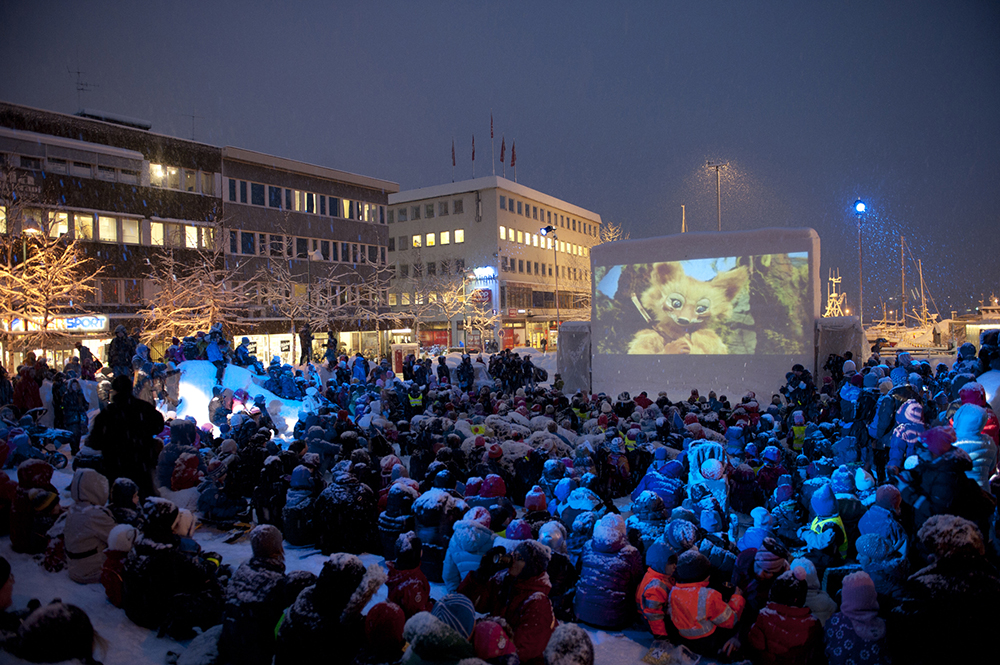 Norwegian Shorts
6:00 p.m., Anchorage Museum auditorium
(Film titles and runtime pending)
Transport to Norway and view life though the lenses of Norwegian filmmakers in this short film program curated by OsLove Film Festival founders and in partnership with Tromso International Film Festival.
https://tiff.no/en/program#taxonomy-term-7
Sunday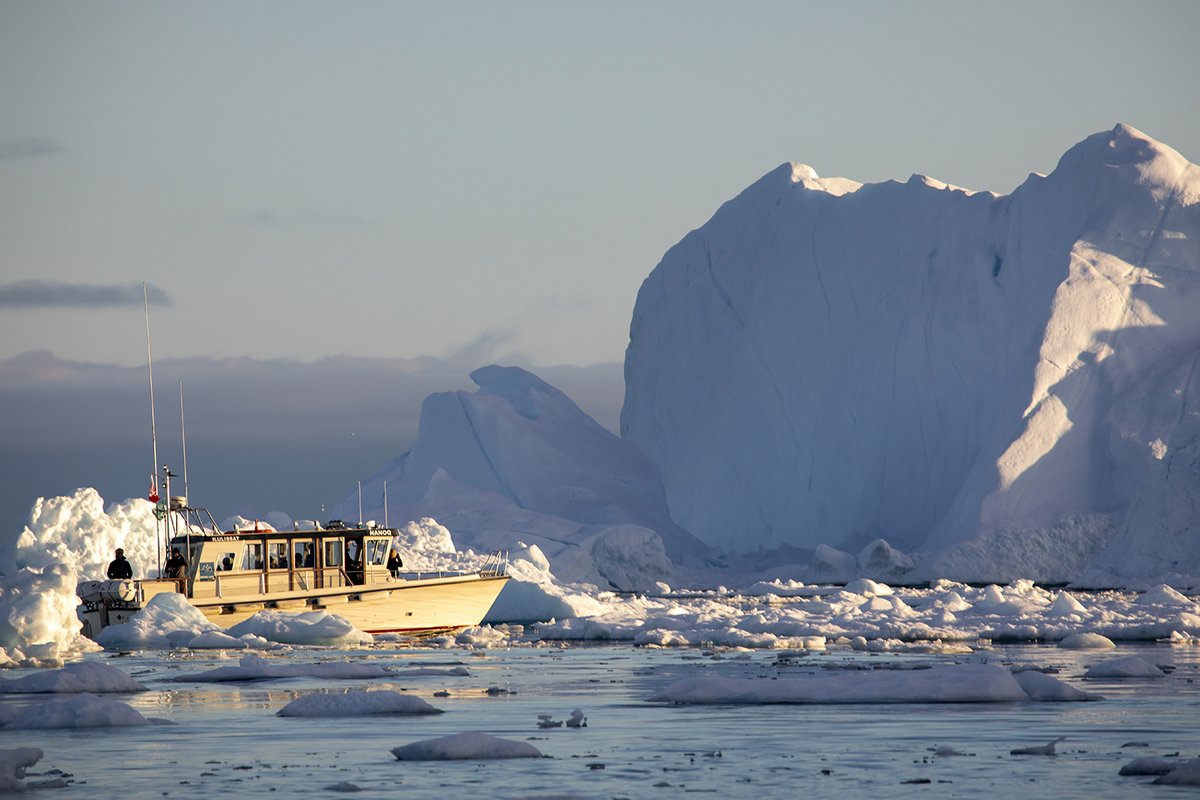 Under Thin Ice
1:00 p.m., Anchorage Museum auditorium
Directed by Denis Blaquière. Canada, Greenland, 2019
Documentary Feature, 88 min.
The Arctic is a majestic world. A legendary blanket of ice shelters its rich wildlife, from bowhead whales and polar bears to tiny plankton and algae. At the end of each spring, after long months of darkness, the sun shines for 24 hours a day and all living species gather at the floe edge — where ice meets open ocean — for a feeding frenzy. But global warming is melting the perennial polar ice at an alarming rate and Canadian extreme divers and cinematographers, Jill Heinerth and Mario Cyr, are concerned. In 2018, they combined their formidable skills to investigate how Arctic wildlife is adjusting to changes in their habitat. Things do not go as expected, and as they search for animals and travel over the ice, they experience first-hand the repercussions of rapid climate change. This film tells the story of this extraordinary expedition. Viewers will travel on ice floes with Jill and Mario to Tallurutiup Imanga, also known as Lancaster Sound in Nunavut, Canada, where they will dive with belugas and narwhals in the open Arctic Ocean. They will follow them to Greenland's Disko Bay to explore the underside of icebergs and discover the luminescent world of algae. Back to Canada in the Naujaat region, they will swim with walruses and polar bears, the supreme predators of the Arctic. Filmed in 4K, "Under Thin Ice" brings viewers into an awe-inspiring underwater world threatened by melting ice and rapid climate change.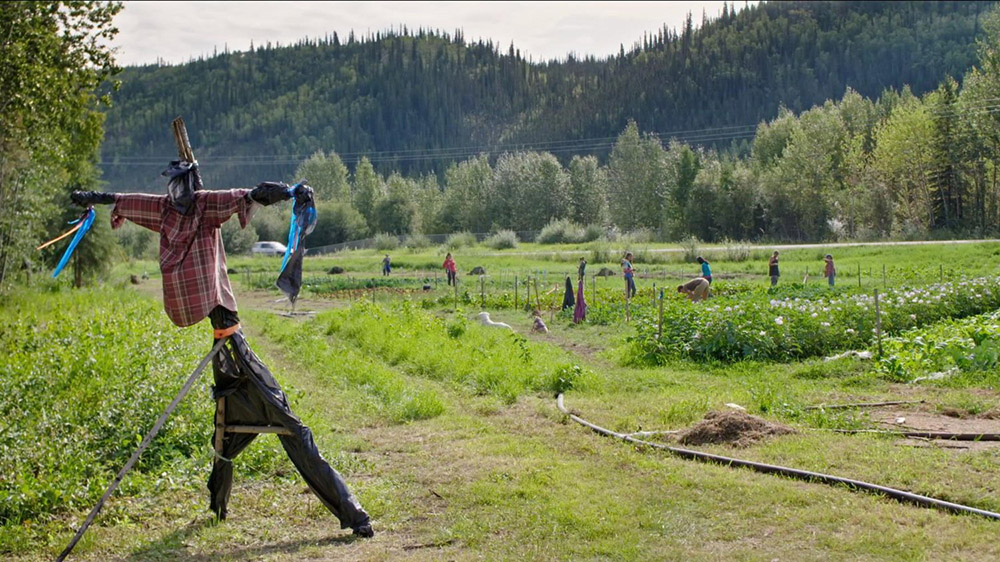 Sovereign Soil
3:00 p.m., Anchorage Museum auditorium
Directed by David Curtis. Canada, 2019
Documentary Feature, 91 min.
At the far-flung edge of Canada's boreal forest, outside the tiny sub-Arctic town of Dawson City, Yukon, a handful of unlikely farmers are growing everything from snow-covered Brussels sprouts to apples. These modern-day agrarians have carved out small patches of fertile soil in an otherwise unforgiving expanse of isolated wilderness to make a living and a life. Over the course of a year, Dawson filmmaker David Curtis follows these resilient, unassuming farmers—including a German immigrant, a young family that taps birch trees for syrup, a First Nations youth, and a matriarch who can shoot and quarter a moose—exploring life, death, and time through the simple, rich day-to-day of people deeply tied to the wilds. (English)
Trailer: https://vimeo.com/353649258
Virtual Reality Experience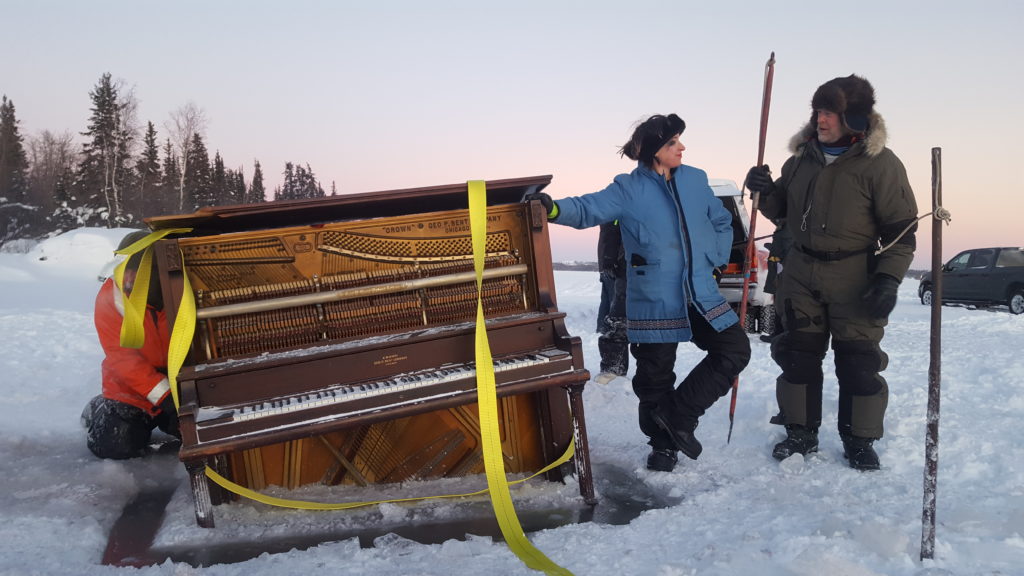 Northern Sights: A Virtual Reality Experience
5:00 to 9:00 p.m. Friday, Art of the North galleries, Anchorage Museum. Free
11:00 a.m. to 5:00 p.m. Saturday, Art of the North galleries, Anchorage Museum. Free
12:00 to 4:00 p.m. Sunday,  Art of the North galleries, Anchorage Museum. Free
In the face of geographical isolation from audiences, "Northern Sights" is a virtual reality (VR) project that uses new technology to broaden the reach of Northern artists, bringing their work to audiences around the world. People all around the world are fascinated with the North, but very few of them ever get a chance to visit. Through "Northern Sights", a varied selection of works from professional musicians, storytellers, sculptors, painters and media artists alike are being captured using virtual reality technology, creating immersive environments for audiences, giving them unprecedented realistic experiences of today's North. Presenting intimate experiences in remote locations across the Northwest Territories, Canada, Northern SIghts is a VR project produced by Western Arctic Moving Pictures with funding from the Canada Council for the Arts, and partnerships with the Initiative for Indigenous Futures and Telus World of Science Edmonton. The resulting works will be showcased in an exhibition that will tour communities across Canada and the Northwest Territories (NWT), finishing at the Yellowknife International Film Festival in November 2019.
Films include:
Changes Created by Carmen Braden, 5 min.
Composer Carmen Braden performs an original piece on an acoustic piano that has been sunk and frozen into the Great Slave Lake. The performance, which also captures sounds above and below the frozen lake, explores the physical and acoustic interactions between the mechanics of the piano and the acoustic qualities of ice and water.
Fish Eyes Created by Casey Koyczan, 5 min.
* Artist Talk 6:30 p.m. Friday
Multi-instrumentalist/artist Casey Koyczan creates a sculptural installation on the shore of Russell Lake. The installation is constructed not only to serve as a form of shelter in the future for local hunting, fishing, berry picking and cookouts, but also serves as a stage, as Koyczan performs his brand of live-looping electro-alternative music within the shelter as his artist persona 'The Bushman," Koyczan' creates an experience influenced by the landscape.
Tu Dze (Water Heart) Created by Leela Gilday, 5 min.
Juno-award winning singer/songwriter Leela Gilday travels to her home community of Deline, NWT, where she writes and performs a song with Deline drummers in celebration of their sacred connection with the Sahtu. In collaboration with members of the Deline drummers, the song is based on a traditional Dene story about the heart that lives in great bear lake and features the faces of Deline elders and youth. Thematically, it explores the role of generations entrusted with the protection of the water, and safeguarding it for generations into the future.
The Dancing Polar Bear Created by Derrald Taylor, 5 min.
Inuit sculptor and visual artist Derrald Taylor creates a snow sculpture of the North's most iconic animals, a polar bear. Filmed on the frozen Arctic Ocean, under the northern lights, this piece represents both the eternal permanence of the North, as well as the transience and fragility of our delicate environment. While the creation of the sculpture was filmed in virtual reality, the natural destruction of the piece would be a view reserved only for those in the community of Tuktoyaktuk.
@ Giant Mine The Borderless Art Movement (BAM), 5 min.
BAM, lead by artist Terry Pamplin, combines live painting with musical performances, but never before have they captured this experience in virtual reality. Working in a circle around the camera, accompanied by Yellowknife musicians, Andrea Bettger, William Greenland, and Sami Blanco, BAM (Terry Pamplin, Jen Walden, Jessica Mcvicker, Diane Boudreau, Rae Braden, Sheila Anderson) creates one of their memorable masterpieces about the past and future of the NWT, near the historic Giant Mine Site.
France: Isle of the Dead, 8 min.
A timeless trip, from an average apartment towards our final destination, guided by Charon, the ferryman of the Underworld.