Photographs break open stereotype of Arctic as untouched landscape
January 14, 2016
'Portraits of Place' on view Jan. 22 through April 24 at the Anchorage Museum

ANCHORAGE, Alaska – The predominant stereotype of the Arctic is that it is a place untouched. Yet, people have long found ways to explore and live in the Arctic. Indigenous peoples have lived in the Arctic for thousands of years. Residents of the Arctic include a number of Indigenous groups as well as more recent arrivals from more southern latitudes. About 4 million people live in the Arctic worldwide, and in most countries, Indigenous people make up a minority of the Arctic population.

An upcoming exhibition at the Anchorage Museum, "Portraits of Place: The Arctic in Photographs," breaks open the idea of the Arctic as a pristine landscape and replaces it with a North that is both inhabited and complex. The artists in this exhibition examine the Arctic through contemporary photography that conveys a sense of place through human impact and lifeways.

"We are a Northern museum, distinctly positioned to convey an authentic narrative for the region, which reflects the North in all of its complexity," says Anchorage Museum Director Julie Decker. "Exhibitions like this one expand perceptions of the North and ways of considering the Northern landscape and cultures – away from stereotypes. The interest in the North that preoccupied the artists of Romanticism and explorers from every corner has returned, greater than ever. But today's artists and photographers question the future, rather than depict the grandeur or the landscape. They know our extreme environment represents unprecedented change, which inspires unprecedented innovation in contemporary conditions."

The portraits in this exhibition explore the Arctic in Alaska, Greenland, Iceland, Canada and Russia in the works of Olaf Otto Becker, Brian Adams, Tiina Itkonen, Evgenia Arbugaeva and Acacia Johnson. Itkonen's "Two Polar Bear Trousers and Three Towels" captures a unique line of laundry in front of a snow field in Greenland. A man on a snow machine watches the sun set into the long Arctic winter in Johnson's "Driving Into Night (The Last Time We Saw The Sun)," taken in Baffin Island, Canada.

"Portraits of Place" looks at the Arctic through the lens of photographers, who reveal the landscape and its people. Expanding across international boundaries, these photographers present a complex Arctic, rich in history and culture and on the precipice of a changing environment and world.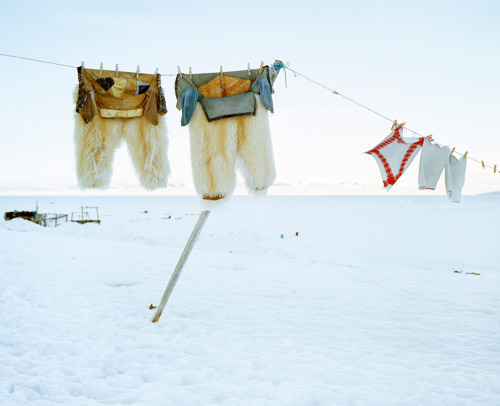 Image: Tiina Itkonen, "Two Polar Bear Trousers and Three Towels," Greenland, courtesy of the artist
The photographers:

Olaf Otto Becker, born 1959 in Travemünde, Northern Germany, has photographed landscapes from rainforests to Arctic regions. The images encompass both the beauty of the landscape and processes of environmental change and the presence of man, particularly at a time of intense interest in the Arctic. Becker works as a freelance designer and photographer and is a regular contributor for the New York Times Magazine. His works are presented internationally in galleries and museum exhibitions.

Brian Adams' work documents Alaska Native villages. He features both the landscape and the people, from the eroding coastlines of western Alaska to the northernmost points of the state. He has created portraits of Indigenous peoples through his series "I Am Alaskan" and "I Am Inuit." Adams is an editorial and commercial photographer based in Anchorage, Alaska. His work has been featured in both national and international publications, and his work documenting Alaska Native villages has been showcased in galleries across the United States.

Tiina Itkonen has traveled over 1000 miles on the west coast of Greenland by small plane, helicopter, cargo ship, oil tanker, sailboat, small fishing boat, and dog sled. Along the way she has spent time in small villages. In her work she captures both timeless beauty and an awareness of the changing environment. Itkonen has been traveling to Greenland to photograph arctic landscapes and people since 1995. She lives in Helsinki, Finland. Itkonen's work has ben exhibited internationally in the 54th Venice Biennial, 17th Biennale of Sydney, Danish National Museum of Photography, Kunstmuseum Wolfsburg, Ludwig Museum and New York Photo Festival.

Evgenia Arbugaeva was born in the town of Tiksi, located on the Arctic coast of Siberia in Russia. In her personal work she often looks to her homeland, discovering and capturing images of remote worlds and people who inhabit them. In the days of the Soviet Union, Tiksi was an important military and scientific base. People came from all over the country, some driven by employment opportunities, and others driven by a romantic dream of the far North. Tiksi is surrounded by vast expanses of tundra and an abundance of beauty. After the fall of the USSR, the Russian government stopped financing many Northern projects and many little towns were left to their own survival. In 1991, at the age of 8, Arbugaeva's family, along with many others, boarded the windows of their home and left for a bigger city. Arbugaeva now goes back to capture the scenery and colors of her memories. Arbugaeva studied photography in New York and works as a freelance photographer. Her work has been exhibited internationally and has appeared in such publications as National Geographic, mare, Le Monde, and The New Yorker, among others.

Acacia Johnson is a photographer and artist from Alaska. She has spent several years living in Norway and works as a seasonal expedition guide and photography lecturer in Greenland, Svalbard and the Canadian Arctic. Her photographic process can be described as expeditionary in nature, exploring her profound connection to the landscapes of the Circumpolar North. Recently, Johnson spent a year as a Fulbright scholar in Canada, pursuing a project about the winter landscape of Baffin Island in affiliation with the Ontario College of Art and Design University. She is now based somewhere between Norway, Alaska, and the polar sea and this year is traveling to Antarctica. Johnson's work has exhibited internationally, and is also included in collections at the Rhode Island School of Design Museum and the Smithsonian Museum of American History.

 

ANCHORAGE MUSEUM

The Anchorage Museum at Rasmuson Center is the largest museum in Alaska and one of the top 10 most visited attractions in the state. The museum's mission is to connect people, expand perspectives and encourage global dialogue about the North and its distinct environment. Learn more at anchoragemuseum.org.

 

###