Artists from Alaska and the Arctic will tell stories of the North through new works
May 24, 2016
Anchorage Museum selects artists for future exhibitions and residencies
ANCHORAGE, Alaska – The Anchorage Museum is dedicated to supporting living artists through exhibitions, residencies and programs. "Contemporary art is a reflection of our time. It is important in providing a narrative for the place and moment we are living in," said Anchorage Museum director Julie Decker. "The museum is a place for conversations about our past, present and future — artists are keen observers of the world around us."
One of the Anchorage Museum's core exhibition programs is the Patricia B. Wolf solo exhibition series, which features the work of Alaska artists. A review panel organized by the museum recently selected five Alaska artists to present exhibitions at the museum between 2017 and 2019. They include: Alison Bremner (Yakutat), Thomas Chung (Anchorage) Alanna DeRocchi (Anchorage), Elizabeth Irving (Fairbanks) and Amy Meissner (Anchorage).
Meissner works in textiles, creating small and large-scale works, often from vintage materials. Bremner incorporates oral history, ancient mythology, Tlingit design and present-day imagery in her work. Irving works in painting — both oil and acrylic. DeRocchi's ceramic sculptures reflect her interest in animals and nature. Chung works in a variety of media ranging from performance to large print photography, installation, sculpture, painting and drawing.
In addition to the upcoming solo exhibitions, the Anchorage Museum is working with artists from around the world to participate in residencies and programs — through installation, performance, research and other activities. The current list of participating artists appears below: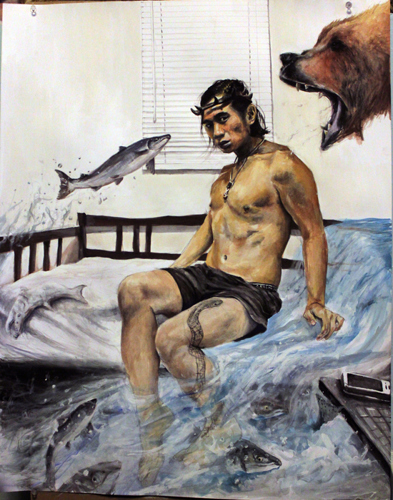 Image: Thomas Chung, "Young Handsome Guy Seeks Fishing Buddy," watercolor on paper, 2015 
Artist Residencies and Solo Exhibitions at the Anchorage Museum
Patricia B Wolf Solo Exhibitions (2017-2019)
Upcoming solo exhibition in 2016
Artist Residencies
Artists working in the Anchorage Museum's Discovery Center
Artists advising on the design of installations in the museum's new Alaska Gallery
Artists participating in the museum's Polar Lab international artist residency program in 2016 include:
The Anchorage Museum is grateful to the Alaska State Council on the Arts; National Endowment for the Arts, a federal agency; and Anchorage Museum Foundation's Alaska Airlines Silver Anniversary Fund for ongoing support of the museum's solo exhibition series. Polar Lab is made possible, in part, by the Carr Foundation, Rasmuson Foundation, National Endowment for the Arts, Andy Warhol Foundation, and Surdna Foundation.
ANCHORAGE MUSEUM
The Anchorage Museum at Rasmuson Center is the largest museum in Alaska and one of the top 10 most visited attractions in the state. The museum's mission is to connect people, expand perspectives and encourage global dialogue about the North and its distinct environment. Learn more at www.anchoragemuseum.org.
###