2021 TEENS FOR CLIMATE
ACTION SUMMIT
The Anchorage Museum partnered with the Smithsonian Institution to bring together teens and experts for a deep dive into climate change future projections and problem solving, which happened during a teen summit Jan. 23-24, 2021. Teens form our Teen Climate Action Advisory Group and designed and tackled virtual climate action projects for implementation Spring 2021.
Read about Teen Climate Action Summit outcomes in the museum blog.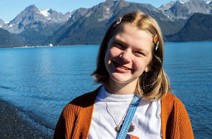 "It is important to talk about and take action on climate change because
I want to protect Alaska so that I and generations to come will always
have a place to call home."

- Greta DeBerry, Teens for Climate Action Summit participant
Teen Climate Action Advisory Group Projects