Artist James Temte talks about the power of murals in providing voice and visual identity for communities.
Seed Lab is continually transformed by artists and designers. Murals on the interior and exterior of the building highlight a community of local artists.
Front façade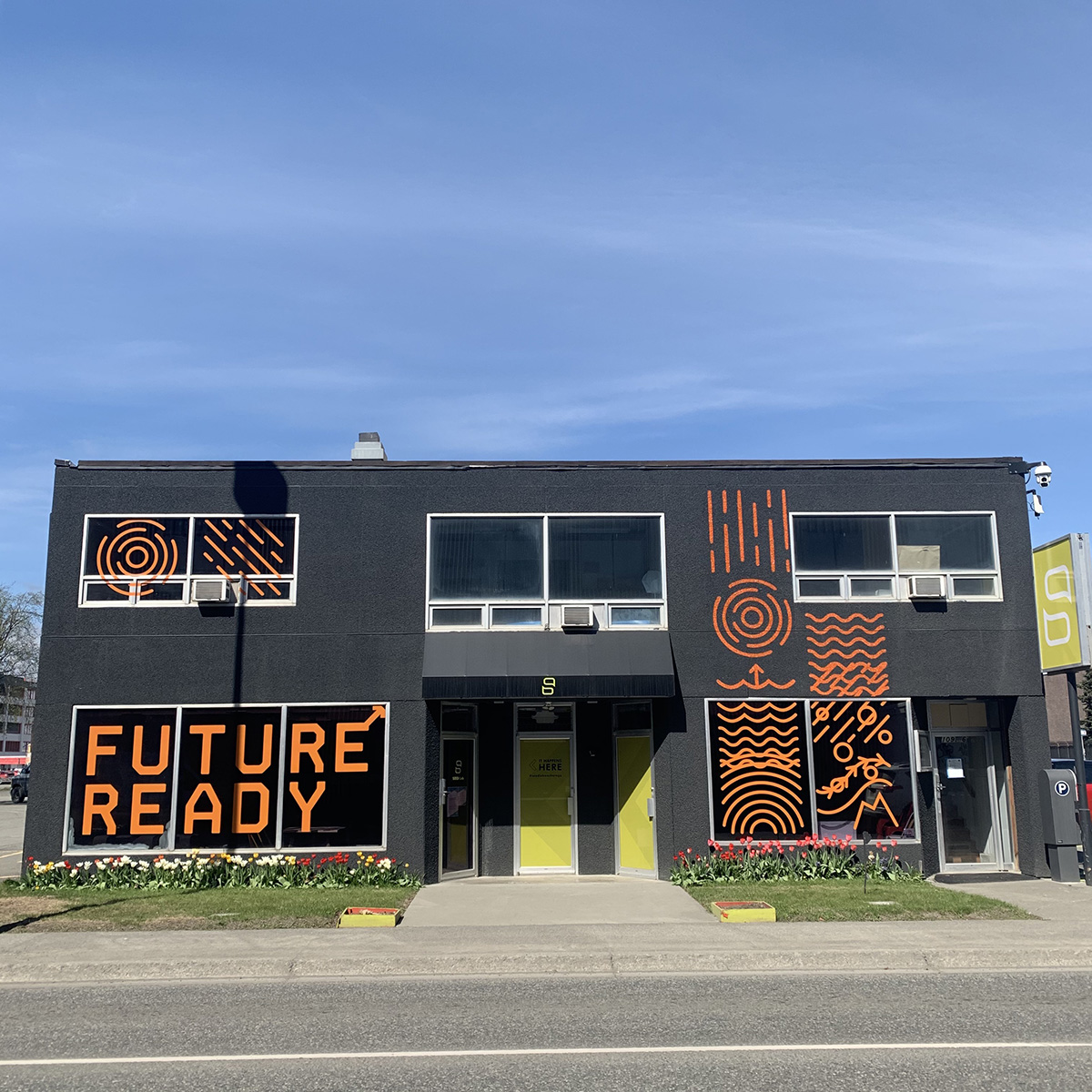 Future Ready, by Anchorage graphic designer Karen Larsen. Part of Seed Lab's goal is to focus on visuals, language, solutions, landscapes, and equity for the future.
East façade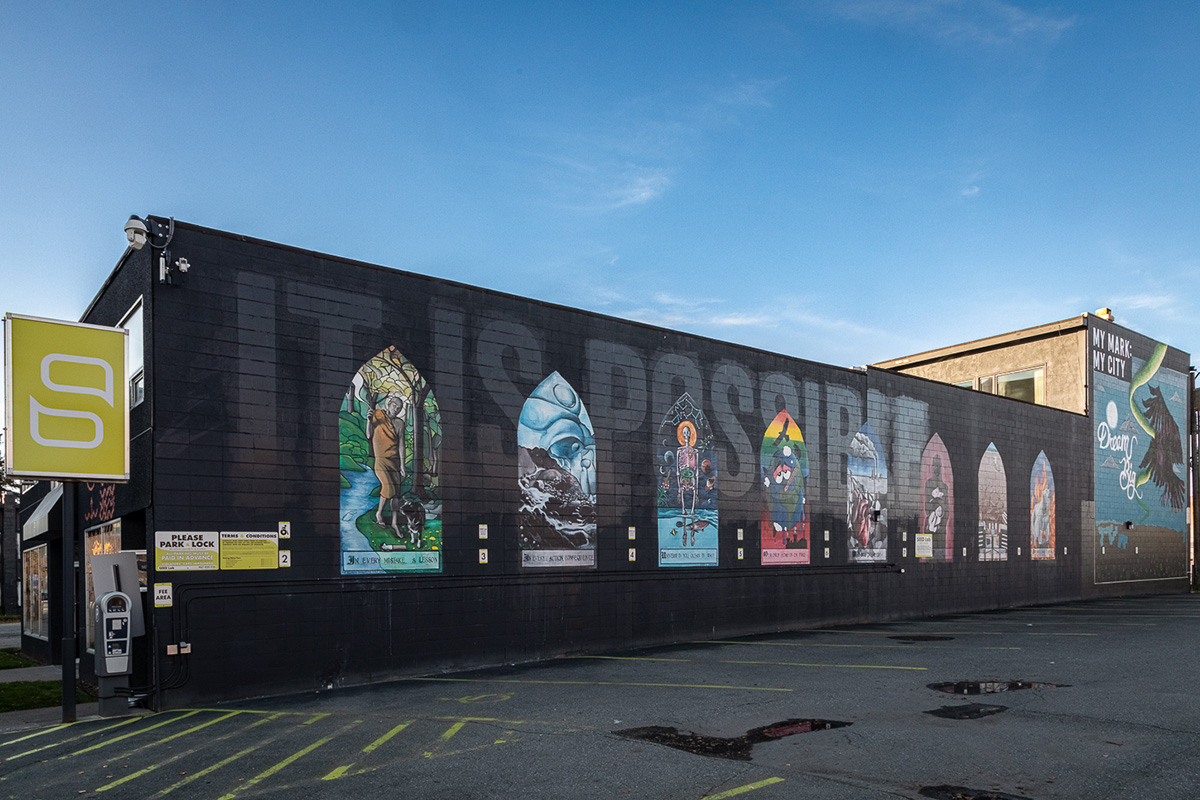 Murals by Thomas Chung and some of his painting students from the University of Alaska. Thomas Chung created the murals as part of his artist residency at Seed Lab in September 2020. The form of the mural is inspired by the forms of Tiffany stained-glass windows and represent ideas of relationships with the natural world by cultures around the world, reflecting on what it is we treasure for the future in the midst of a climate crisis and as we connect and reconnect with nature.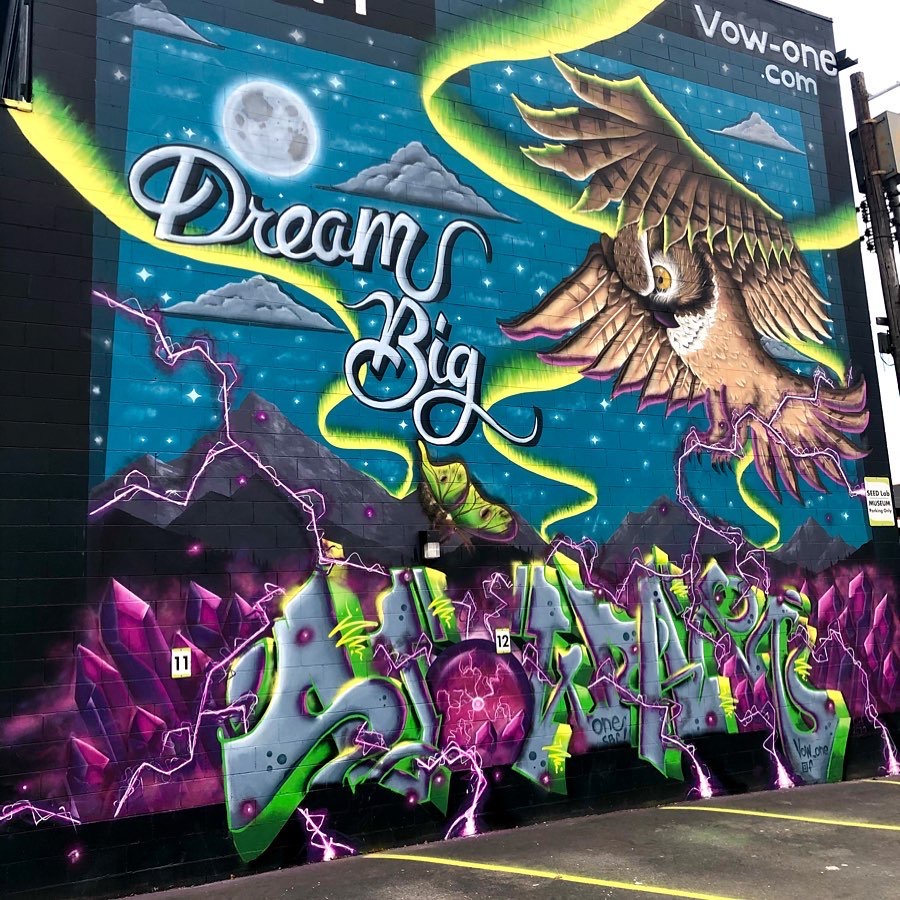 Mural by Andrew Garcia, who also goes by the artist name "Vow." He was born and raised in San Antonio, TX and joined the military. He would like to see more murals in Anchorage, from facades to alleyways. He says there is something about spray paint that he couldn't stay away from—"the feel of squeezing down on the of a nozzle of a can hoping to create something amazing is a rush. It's a feeling I can't explain. It's just me, my headphones and the wall with my paint; just in my own escape of reality and creativity." He says he hopes his artwork inspires people to chase what they love and not lose hope. For Garcia, being stationed in Alaska has been a great opportunity and the start of his creative journey.
North façade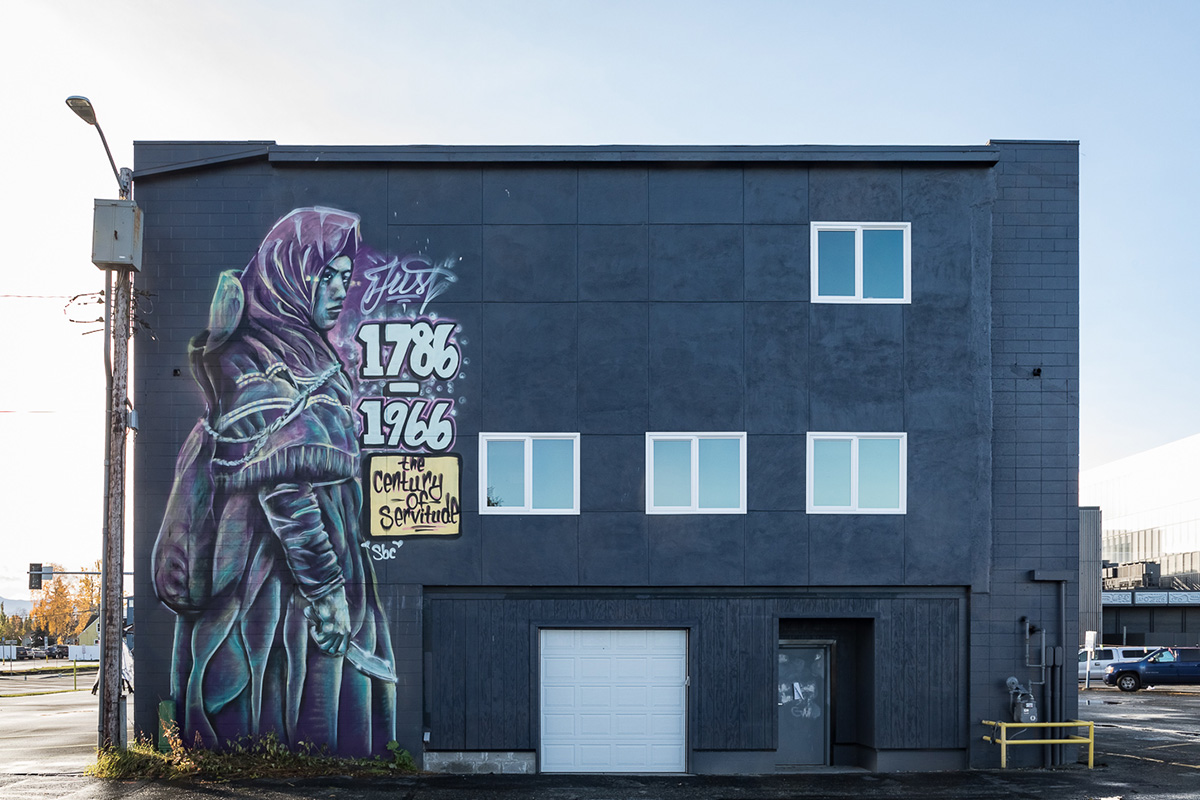 Mural by William Kozloff on the North side of Seed Lab completed October 2020, in collaboration with the Alaska Mural Project and Anchorage Downtown Partnership. Image is of an Unangan woman holding a skinning knife and wearing a salted bag that was used for preserving seal meat until the end of the day after seals were brought from the beach onto the grass where the skinners would work. Kozloff examines the impact of colonization on the Aleutians and the Century of Servitude.
West façade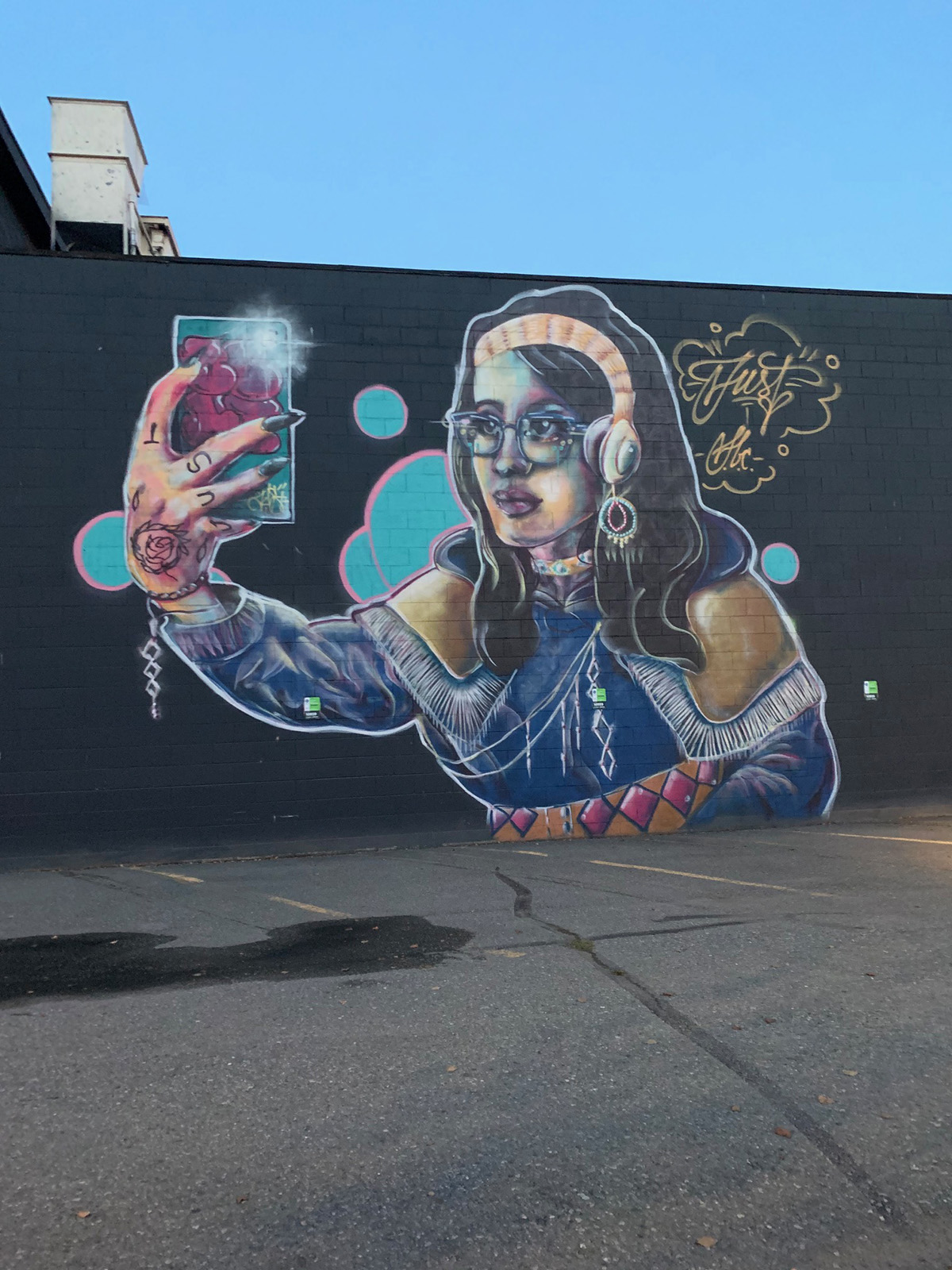 A mural by William Kozloff occupies the center of the west façade.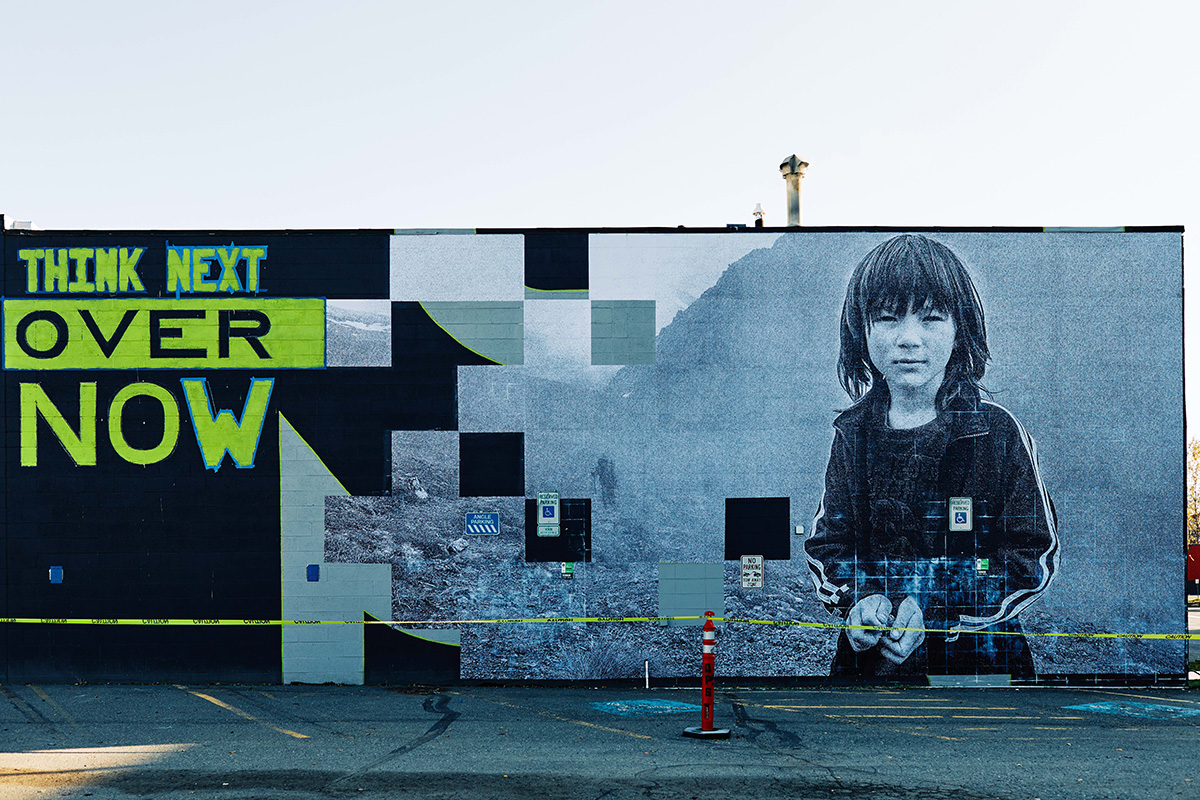 Think Next Over Now, a mural by James Temte, created with a photo by Michael Conti (2019))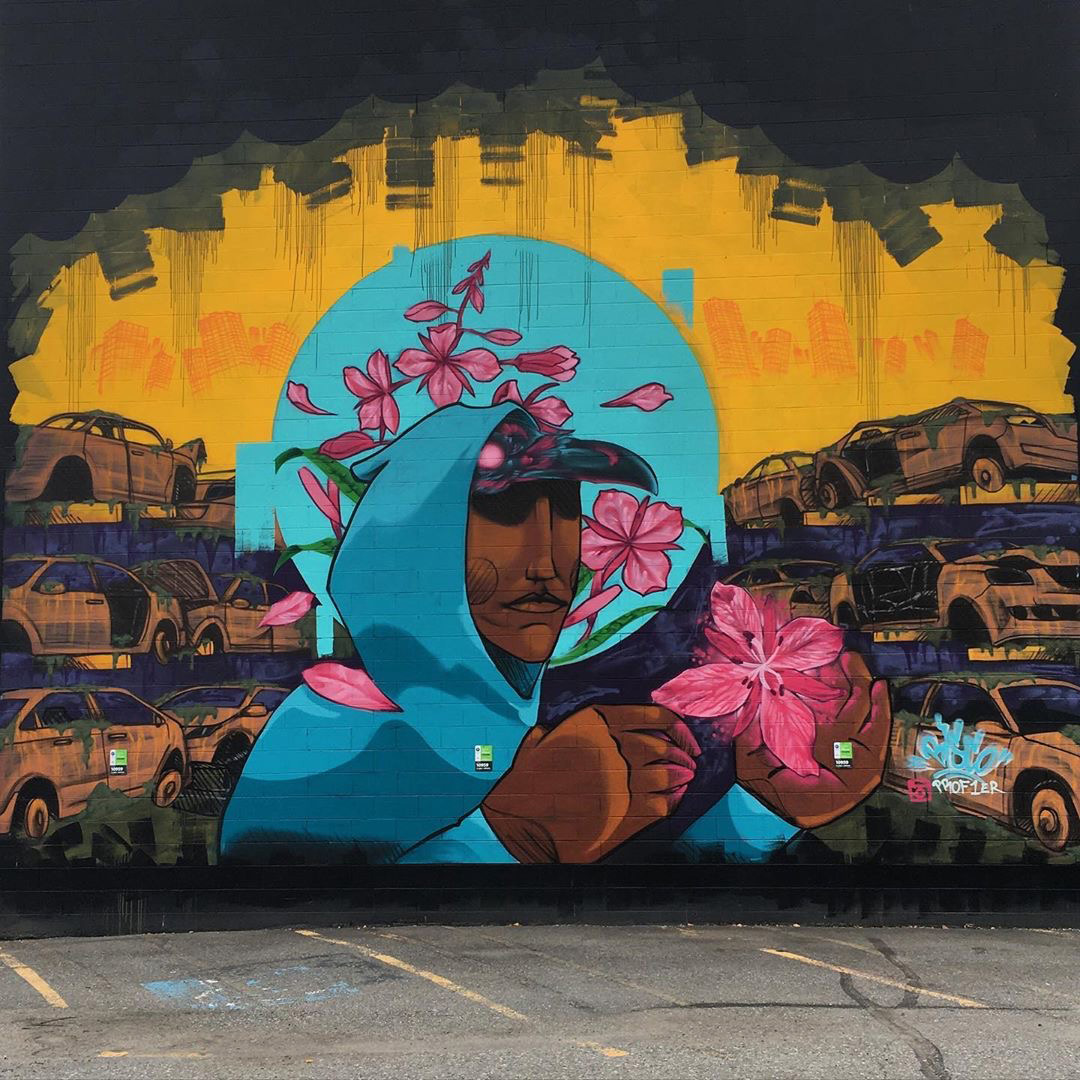 A mural by Arielo Bisco Taylor completed October 2020. Taylor ((Unangan/African-American) is a graphic, tattoo and graffiti artist living and working in Anchorage, exploring issues of race and identity and the forms of hip-hop culture in his work.
Murals are also happening inside Seed Lab by artists Ted Kim, Arielo Bisco Taylor, and Rejoy Armamento and William Kozloff. An interior mural created by artist Ted Kim in 2020 depicts a landscape moving from trash to a return to nature, reflecting on consumption and connections with the natural world.
Other Seed Lab murals extend into downtown Anchorage, such as the Warming Stripes mural on the former Nordstrom's building and the Ted Kim mural on L Street in the building that houses Snow City Café.