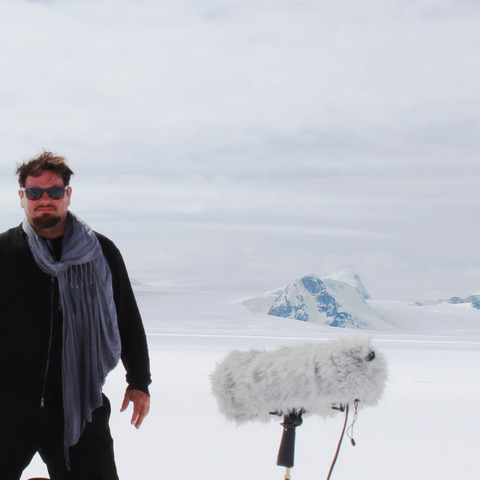 Matthew Burtner (Turtle Island) is an Alaskan-born composer and sound-artist whose work explores ecology, poly-temporality, embodiment, and noise. In the 1990s, inspired by the Alaskan wilderness and the computer music of Iannis Xenakis and Barry Truax, he developed "Ecoacoustic Music" to compose from environmental change during a time of dramatic global warming in the north. His climate-change music has been presented in concerts and galleries around the world and featured by NASA, the London Symphony Orchestra, PBS NewsHour, NPR Weekend Edition, the American Geophysical Union (AGU), the BBC, the U.S. State Department under President Obama, the Berlin Symphony Orchestra, and National Geographic. He is the composer of three Alaskan-themed multimedia operas including Winter Raven, Kuik, and the IDEA Award-winning Auksalaq.  
Matthew works closely with scientists and other artists such as choreographers, musicians, writers and architects to create imaginatively transportive experiences for audiences that strengthen our connection to the natural world. In 2020 he received an Emmy Award for "Composing Music with Snow and Glaciers" a feature on his Glacier Music by Alaska Public Media's Valerie Kern. Icefield (2022, PARMA Records), a mix of song and environmental sound art, intones the dynamics of large bodies of ice on Earth. Matthew's collaboration with US poet-laureate Rita Dove, The Ceiling Floats Away, received an NEA Art Works award and was presented at the Smithsonian American History Museum. In 2017 the Anchorage Museum commissioned and exhibited Muir Glacier 1889-2009 a sonification sound artwork to accompany the Thomas Hill painting, "Muir Glacier, 1889". Dwelling in the Enfolding, an immersive audio-visual environment made in collaboration with media artist Mona Kasra, was also presented by the Museum and is available for free download through the Facebook Oculus platform. 
Matthew is Founder and Director of the environmental music non-profit organization, EcoSono (www.ecosono.org). He currently splits his time between Alaska and Virginia where he holds a position as Eleanor Shea Professor of Music at the University of Virginia where he Co-Directs the Coastal Future Conservatory. More information is available at http://www.matthewburtner.com. 
Image courtesy Matthew Burtner.