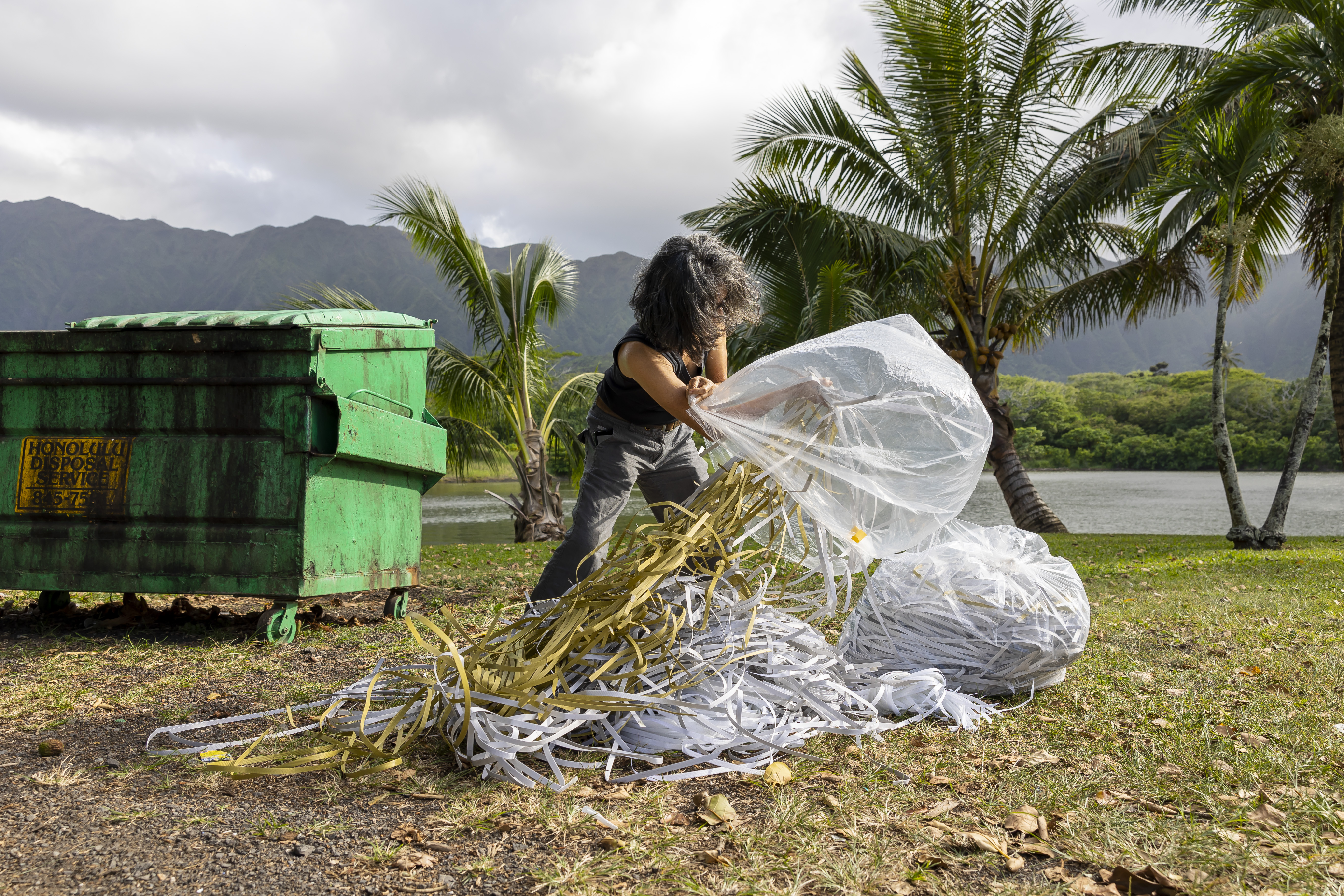 Gaye Chan is a conceptual artist who moves between solo and collaborative activities that take place on the web, in publications, streets as well as galleries. She co-founded Eating in Public in 2003, an anti-capitalism project to nudge a little space outside of the State and capitalist systems. Following the path of pirates and nomads, hunters and gathers, diggers and levelers, they gather at people's homes, plant free food gardens on private and public land, set up free stores and other autonomous systems of exchange, generally without permission. On occasion they take part in art exhibitions in the forms of distribution centers or how-to demonstrations, including at venues such as EFA Project Space (New York), Flux Factory (Bronx), Honolulu Museum of Art, San Jose Museum of Art, and Southern Exposure (San Francisco).
Gaye Chan was born in Hong Kong and immigrated to the United States in 1969. She received her MFA from San Francisco Art Institute and is a professor of the Department of Art and Art History at the University of Hawai'i at Manoa.
For the Anchorage Museum's upcoming exhibition How to Survive, Chan is developing an offshoot of Carrying Capacity, a durational project she began in 2012 stemming from a chance encounter at a produce distribution company. With the expressed purpose to get a case of overripe tomatoes to make sauce, she noticed heaps of baling straps. As commodities move across the globe, baling straps like these are found binding box to box, paper to paper, and everything to pallets. Used once and discarded into the waste stream. Unable to simply walk away, Chan gave herself the task of figuring out how to reuse them. After watching countless YouTube videos on basket making methods from around the world, she managed to develop a basic weaving technique. Nine years and nearly a thousand baskets later, she continues to extend the life of this 'waste' material through making and skill-sharing in a variety of tactics. The Alaska iteration of this project aims to partner with basket makers from Indigenous and immigrant communities, sharing basket-making techniques employing reusable and or naturally renewable materials. Learning will occur in-person and virtually, connecting communities across distance. Because baling straps are a ubiquitous material tied to global capitalism and trade, they can be found in abundance almost anywhere in the world, including remote Alaska villages as well as in Chan's Hawaiian home.