Riverbank protection and cultivation.
The primary two sites chosen are Botanic Gardens Dublin, and Donabate Co Dublin.
First Botanic Gardens a suburban site on the north side of Dublin. Two field study trips support this site they are a disused German mine brought back to life with a bio diversity centre which harnesses the disused gases underground as building energy, a model building for the bio diversity centre for the Botanic Gardens site located along the river bank opposite the Gardens. This centre has a large area for plants with a propagation centre and library.
This site also has terraced gardens running along the river bank as flood protection a Leitrim field study trip informs the choice of plants for each of the terraced gardens. The terraced gardens are designed as individual units spaced along the river bank with fenced gates above and below to be closed during pluvial rain when there is a risk of flooding.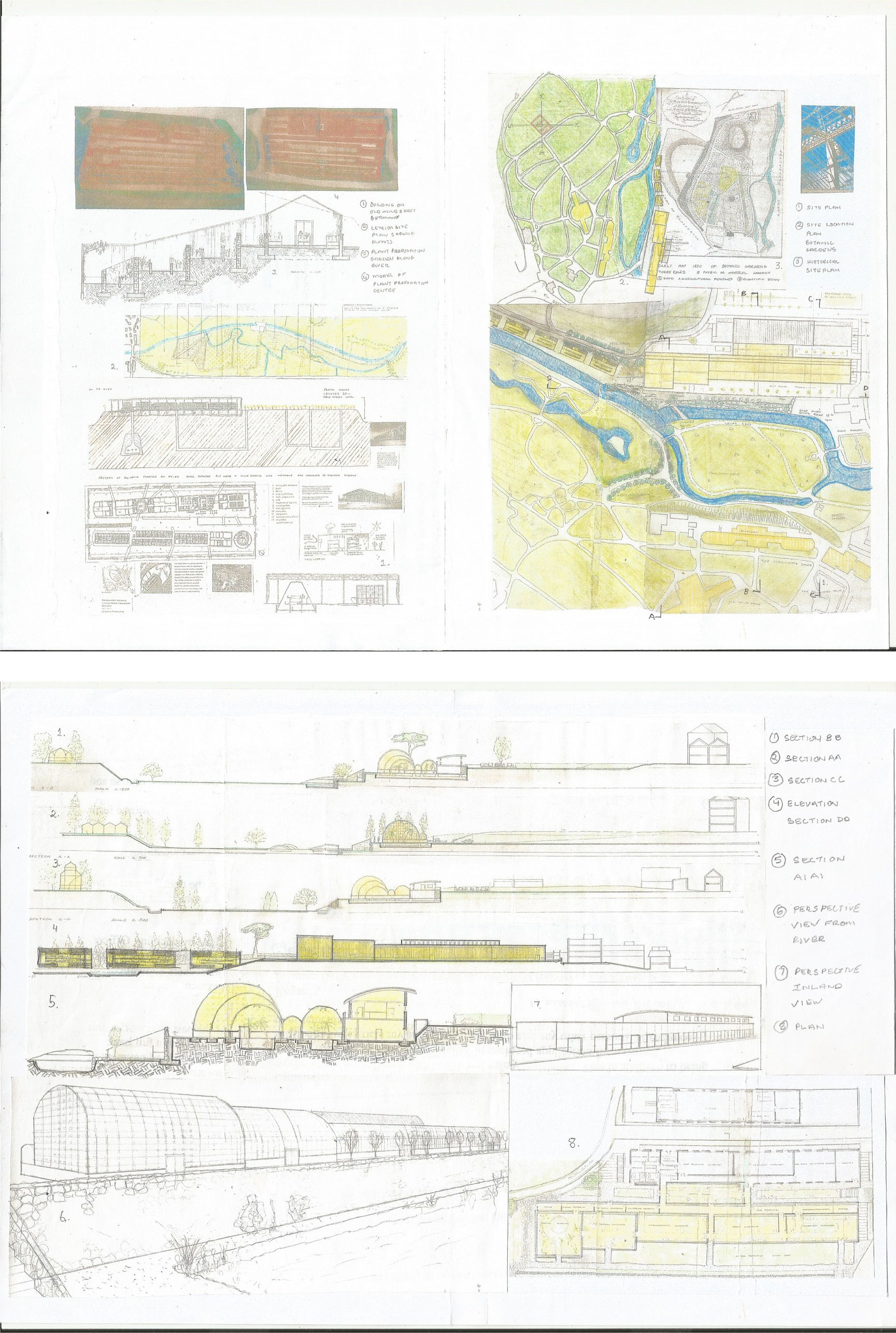 The second site is Prospect Point near to Donabate town on the northern outskirts of Dublin City. The field trip to support this site is Darina Allen's Cookery School in Ballymaloue Co. Cork.
Prospect point is a proposal for a similar type of cookery school with the advantage of a costal site near the estuary where the swans breed. This location gives the potential of fish farming salmon and trout along with other species of fish. The location of a stream on site provides a good basis for the inclusion of large outdoor fish tanks.
In addition to the fruit and vegetables grown in Ballymaloue in small kitchen garden plots, a similar layout is proposed at Prospect Point. The layout is a checked arrangement which facilitates crop rotation on a small scale.
The Cookery School sits on a podium with a double height space and a rooftop Library. A lecture theatre looks onto the water front.